If you are budgeting for a Walt Disney World honeymoon but are a bit sticker-shocked by the prices of Deluxe Resorts, Value and Moderate resorts can be just as magical – it's all about what's the most important to you on your Honeymoon! Your favorite resort may not be listed! We chose just 5 of the many options Disney has to offer that gave us romantic vibes on a smaller budget. We hope this helps narrow your search and makes your first trip as a married couple special!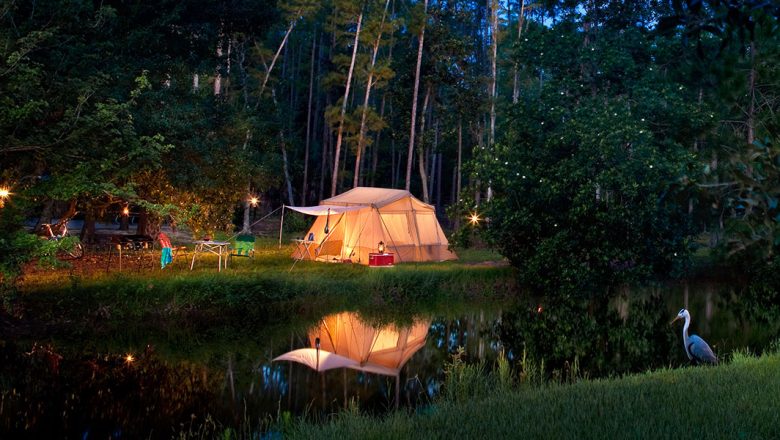 Disney's Fort Wilderness Resort – Value/Campground
It goes without saying that staying at this resort is for couples looking for multiple things: Seeing Disney, Saving Money, and Enjoying the Outdoors. There are several options (Cabins and Campsites) at Fort Wilderness which gives you some flexibility of what you want out of a trip! On a personal note, my parents actually did their honeymoon and stayed at Fort Wilderness in the late 70s and still talk about it to this day. With the option of camping under the stars at night and seeing Disney during the day – what could be more romantic? Definitely recommend this for those who want a different honeymoon while still staying at the happiest place on earth.
Disney's Art of Animation Resort – Value
While some people prefer to have a wedding in a humble, scenic venue – and some prefer the lights and spontaneity of a White Chapel in Las Vegas! Not everyone is looking for the same thing out of a Honeymoon – some are just looking to do something different. Art of Animation may not be what a lot of people look for in a Honeymoon Suite but some couples like the idea of a themed, funky room, and Art of Animation has just that! Depending on your favorite – you can choose between Finding Nemo, Little Mermaid, Lion King, or Cars-themed rooms! A little bit of fun that you and your significant other may be interested in. Additionally, the location of this resort is perfect if you're looking to take advantage of The Skyliner!
Disney's Port Orleans Resort – French Quarter- Moderate
Let it be known that you cannot lose if you choose one of the Port Orleans Resorts over the other. Both have romantic theming and are simply stunning places to immerse yourselves if you're planning a Disney vacation. If you've been to New Orleans, you have definitely made a point to stop by the French Quarter. The Walt Disney World Imagineers and planners have done a simply magical job in working to replicate the feeling you get at the actual French Quarter within a Disney park. Enjoy romantic lamp-lighting at dusk and the mansard roofing that really works to make you question – Am I still at Disney World?
Disney's Port Orleans Resort – Riverside- Moderate
With the same immersive theming, Riverside gives you another slice of escapism that you can really enjoy after a long day at the parks. At this resort, you get similar antique lighting that bounces off the rivers that surround you. It truly is a romantic setting and one that should be high on your list if you're a fan of ambiance. With both the French Quarter and Riverside, you also get to take advantage of the nearby Skyliner stop which, at a moment's notice, can take you to Hollywood Studios, and Epcot, as well as dining along the boardwalk.
Disney's Coronado Springs Resort- Moderate
For those who like a view, the views from the Gran Destino Tower at Coronado Springs are something special. This is also for people who like a newer resort. Though the main resort itself opened in 1997, the Gran Destino Tower is the newer kid on the block, opened in 2017, with stunning architecture and, of course, the theming to match. If you decide to choose this sprawling resort which feels like its own island and choose to stay in the Tower, depending on where you choose your view, you'll get sights of The Tower of Terror, IllumiNations, Spaceship Earth, and Exhibition Everest!
Now, as stated before, your favorite Value or Moderate resort may not be listed, but that's not to say that it's not a perfect place to spend your post-wedding celebration. Follow your heart and let us know why yours should make the list in the comments below!
Photo: Disney / Walt Disney World
Let our friends at Destinations to Travel help you book your next Disney Vacation. They are the preferred Travel Agency of Chip and Company and Disney Addicts, and who we use ourselves.
Get started Now for your FREE No Obligation Quote.
Book With our friends at Destinations to Travel
Latest posts by Danielle H
(see all)