Behind the Scenes Look at Designing Disney Dole Whips
Dole Whips are one of the most iconic Disney treats! Today Disney shared how the all-new Orange Bird Sundae was designed and created for Swirls on the Water at Disney Springs.
Related – Celebrate Dole Whip Day With These Delicious Treats At Disney Parks!
This cute concoction is the perfect example of Chef Amanda's creative process! She begins by looking at the timeframe for the offering and picking flavors that suit the season: think orange, strawberry, citrus, or lemon for summer. With a flavor and focus identified, she does a deep-dive into the character's colors, identifying hues that match the ingredients on her master list of DOLE Whip and soft-serve flavors as well as toppings.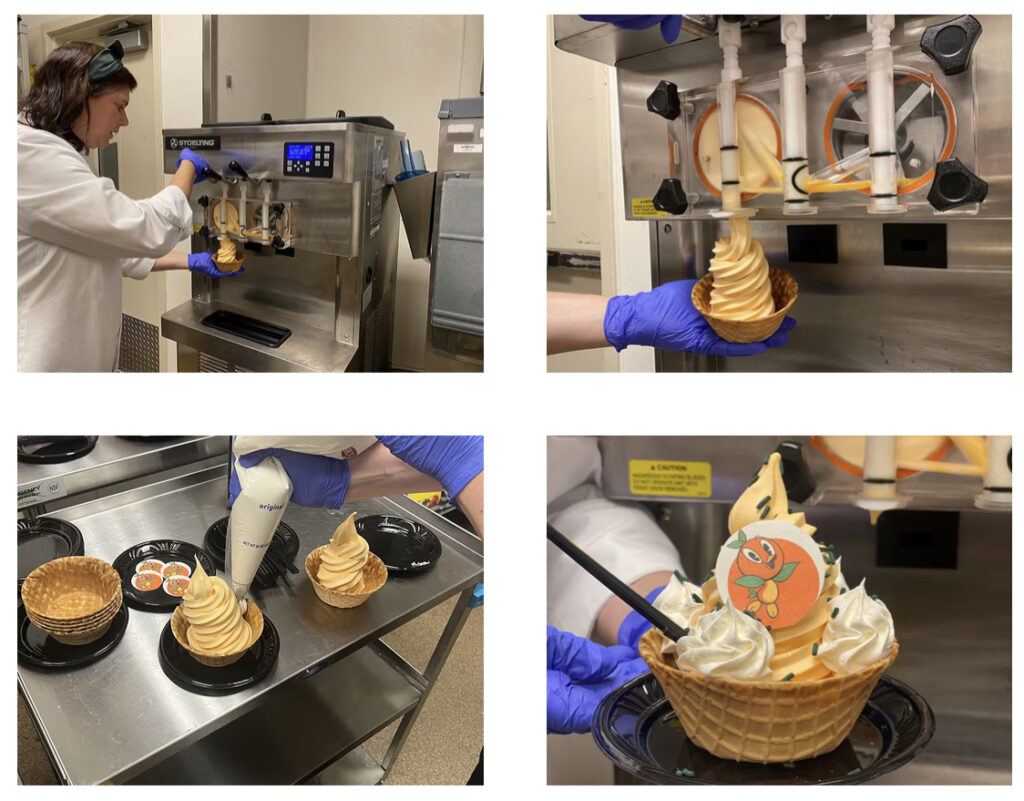 From there, Chef Amanda heads to what she fondly refers to as her "'play' ice cream machine." It's tucked upstairs at Amorette's Patisserie and allows her and her fellow chefs to mix and match flavors, tasting and testing them until they come up with that perfect combo. She laughs that this is one of her favorite parts of the process. "Sometimes it's a mess in my mind, messy on the table, where everything's laid out," she explains. "It's pretty fun, I'm not going to lie. Just picking and choosing and getting to see that final product is very rewarding."

The end result? Orange Bird sits in a waffle cone bowl which mimics his nest. Of course, that DOLE Whip orange matches the character in flavor and color. Add some white whipped cream for an extra-creamy flavor and green sprinkles to represent the leaves on his head, and you've got a delightful Orange Bird-esque design!
Chef Amanda notes that designing these treats is an "ongoing" process that involves some serious planning. It can take 12-16 weeks to get something approved, and the team works far ahead to get an eclectic arrangement of eats on the menu. "We try to plan the whole year," she says. "And then as we go through the months, we go back to what our original plan was, and we see if it still fits or if we want to make changes." That means DOLE Whip delicacies are lined up for the rest of the year…including a new favorite that Chef Amanda can't reveal just yet!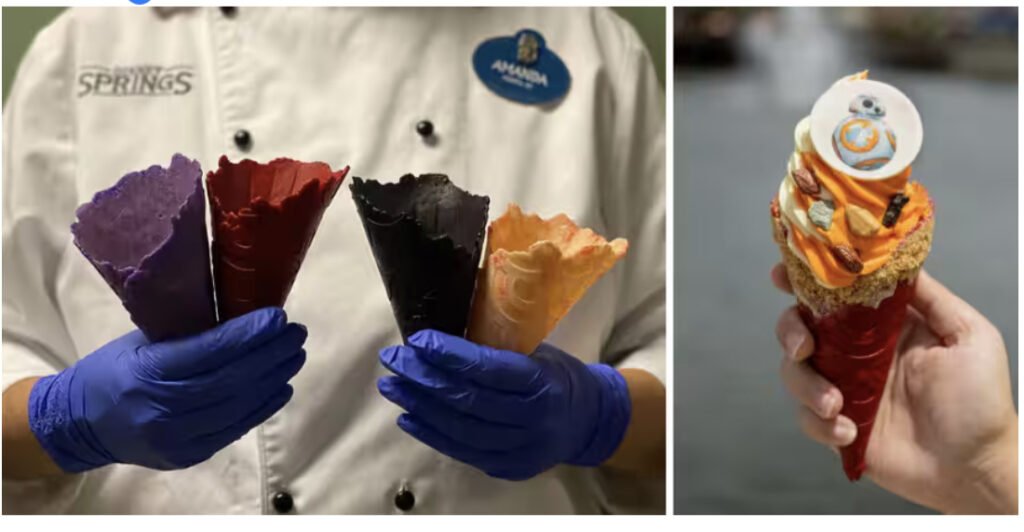 Of course, innovation is always at the forefront of Chef Amanda's mind, as she and her team strive to stay on the cusp of creativity. For the opening of Swirls on the Water, they were able to source a woman-owned business that crafts artisan flavored and colored cones. "I like to say they're heavy-duty waffle cones," explains Chef Amanda. "They hold up to the soft serve. When you're eating and you get down to the cone, it actually has a crisp and a snap still left in it." Additionally, the unique array of flavors in the cones — from peppermint to lavender to red velvet to matcha — means you get a completely different but perfectly paired taste from your DOLE Whip or soft-serve and the cone beneath. Keep an eye out for these delicious artisan cones year-round, with a rotating lineup of flavor combos!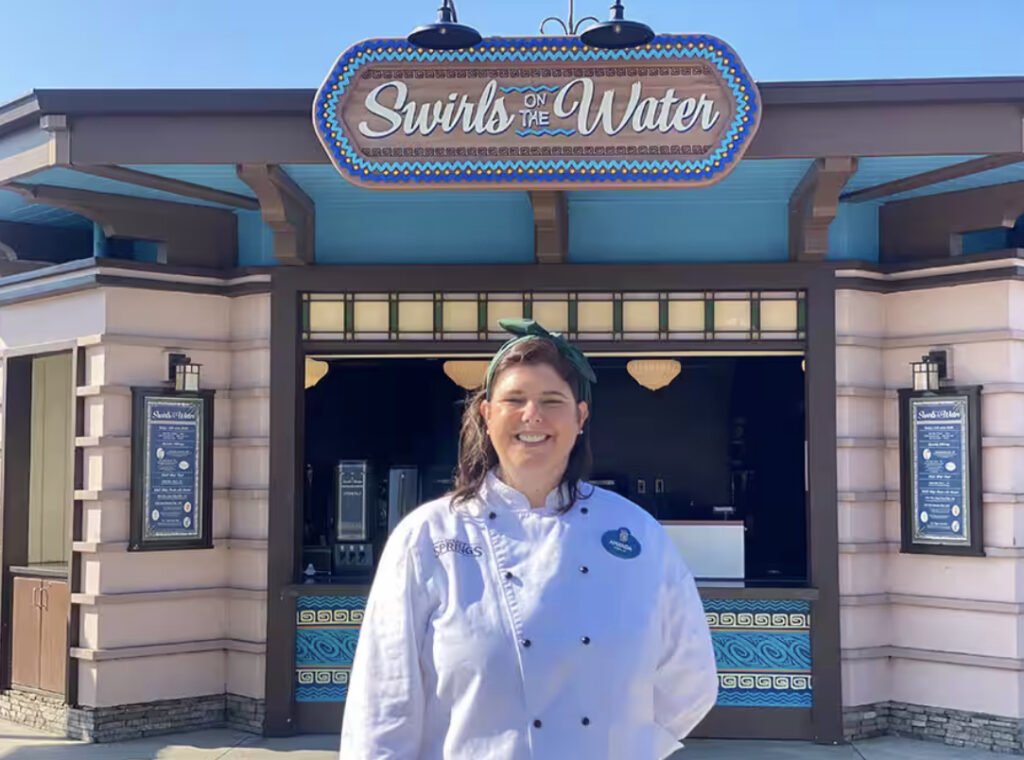 Just like every creative process around the Disney parks and resorts, designing DOLE Whip requires lots of collaboration. Chef Amanda is actually the pastry chef at Amorette's Patisserie, but serves as a "sweet consultant" for the new project that is Swirls on the Water. She works with Chef Gary Miles, her "savory partner," to design the menu for this reimagined kiosk. "We know how popular DOLE Whip is, and we love to offer it at Disney Springs because guests can get it without going into the park," she says. "They can still have that wonderful taste of Disney." A huge part of the kiosk's success is also due to the cast members who operate it on a daily basis. Chef Amanda acknowledges that they're "the true champions of creating the perfect swirl." After all, it's an art!
Teamwork, ingenuity and a lot of tasting forms the perfect trifecta for Swirls on the Water's tasty menu. We can't wait to see what Chef Amanda and her crew come up with next!
What is your favorite flavor of Dole Whip?
Ready to plan your next Disney vacation to enjoy some Dole Whips? Contact me for a free vacation quote! I am a travel agent with Destinations to Travel and my services are complimentary.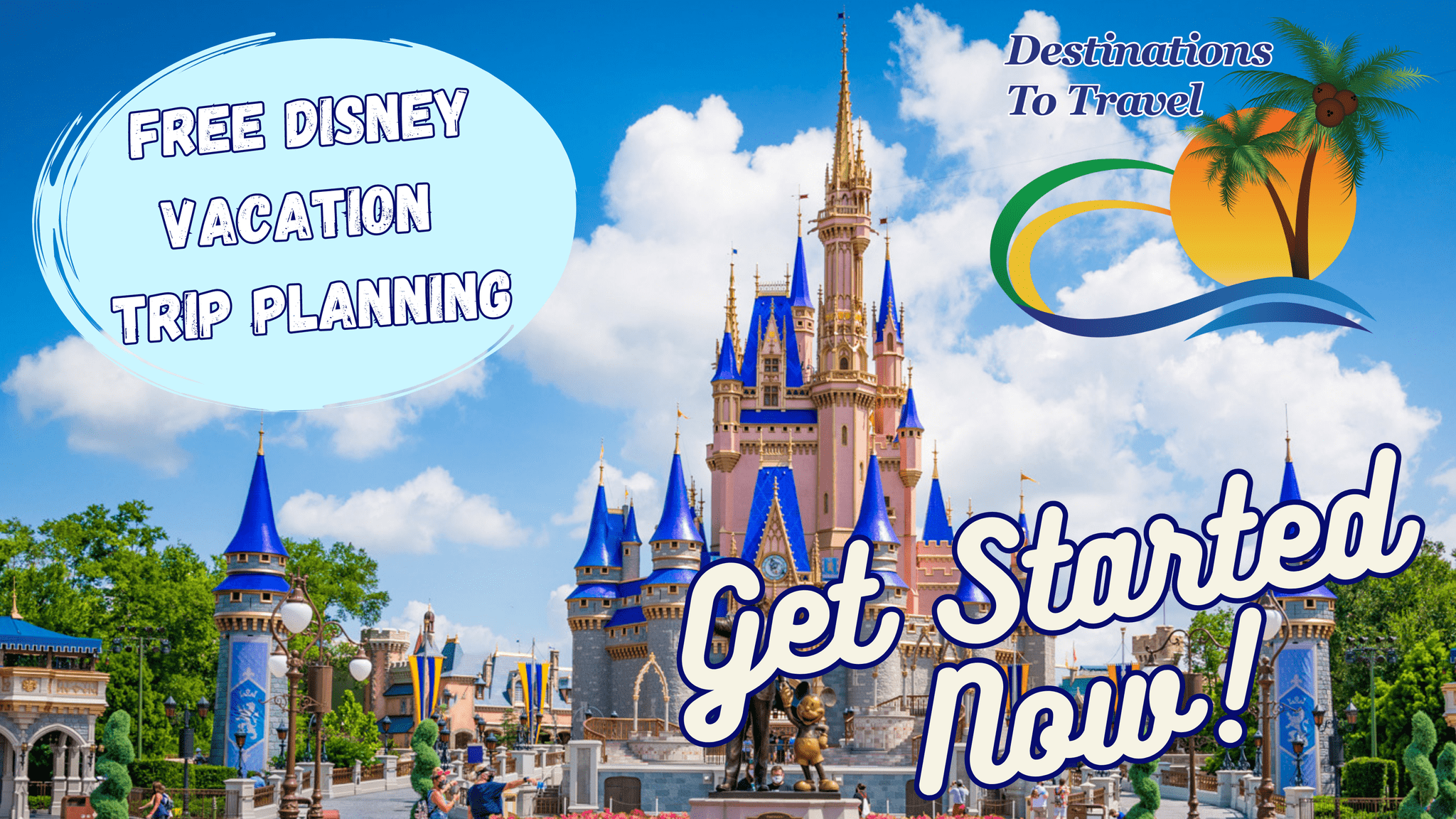 Let our friends at Destinations to Travel help you book your next Disney Vacation. They are the preferred Travel Agency of Chip and Company and Disney Addicts, and who we use ourselves.
Get started Now for your FREE No Obligation Quote.
Book With our friends at Destinations to Travel