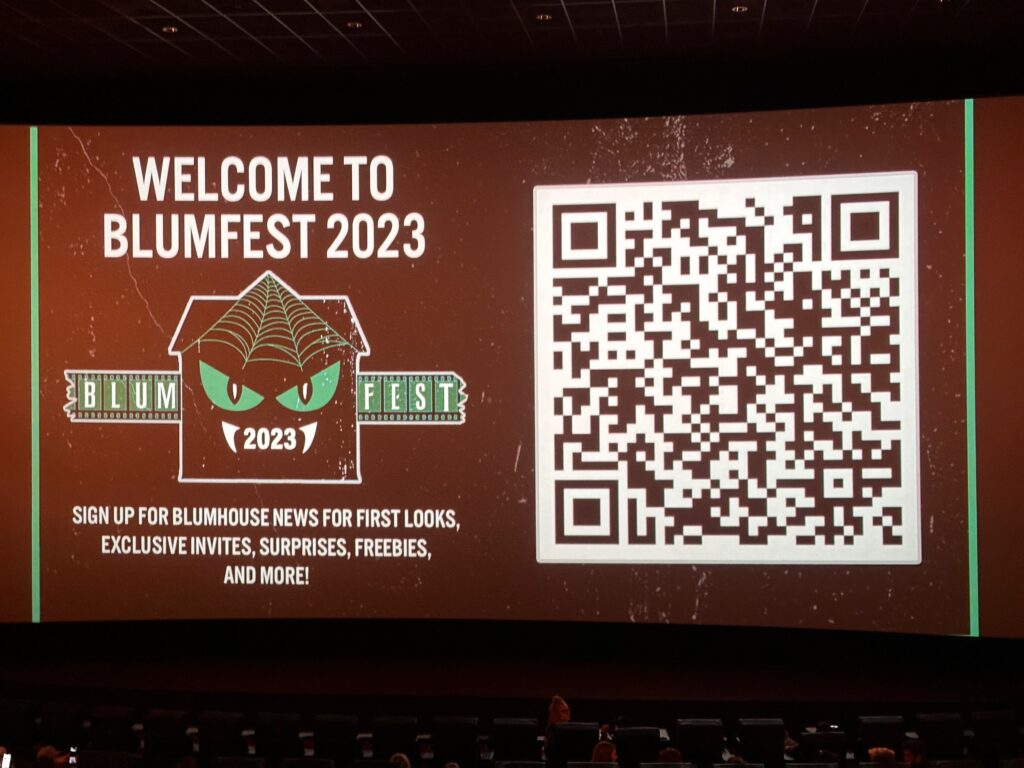 We attended BlumFest 2023 at Universal Orlando CityWalk, and have our review ready for you
Universal Citywalk hosted Blumfest, a day-long celebration of the works of the horror production studio BlumHouse, on Friday, October 6th 2023. Blumfest is an annual event that was first held in 2020 as a virtual event and later converted to an in-person event in 2022. The day-long itinerary was packed with exclusive showings of two different films (M3GAN Unrated and The Exorcist: Believer), a Q&A Panel with the creative forces behind Halloween Horror Nights, and a first look at the all-new Blumhouse Photo Experience at Universal CityWalk. We were invited by Universal to attend this amazing event this year, and have all of the details ready for you!
Related: New Blumhouse Photo Experience at Universal's CityWalk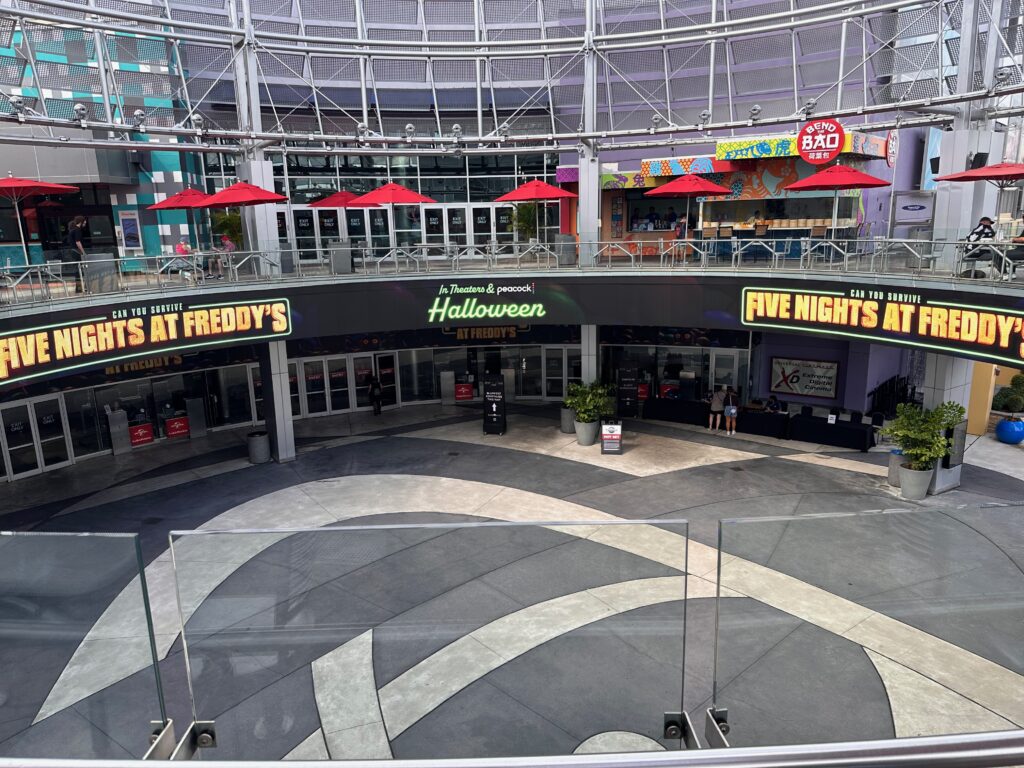 After an initial registration period, the entire BlumFest audience was treated to a showing of M3GAN Unrated. Unlike the later showing Excorcist: Believer (premiering that day), everyone at BlumFest had already seen M3GAN (likely multiple times). The entire audience enjoyed the unrated version of the film and were all laughing and cheering together at their favorite scenes. It was very fun to pick out the elements in the Unrated version that were not present in the film's initial release (if you are wondering, the gore factor is way up, and there are several more expletives in this version). M3GAN is one of those films that I could watch on repeat, and the Unrated version proved to be the perfect way to kick off Blumfest.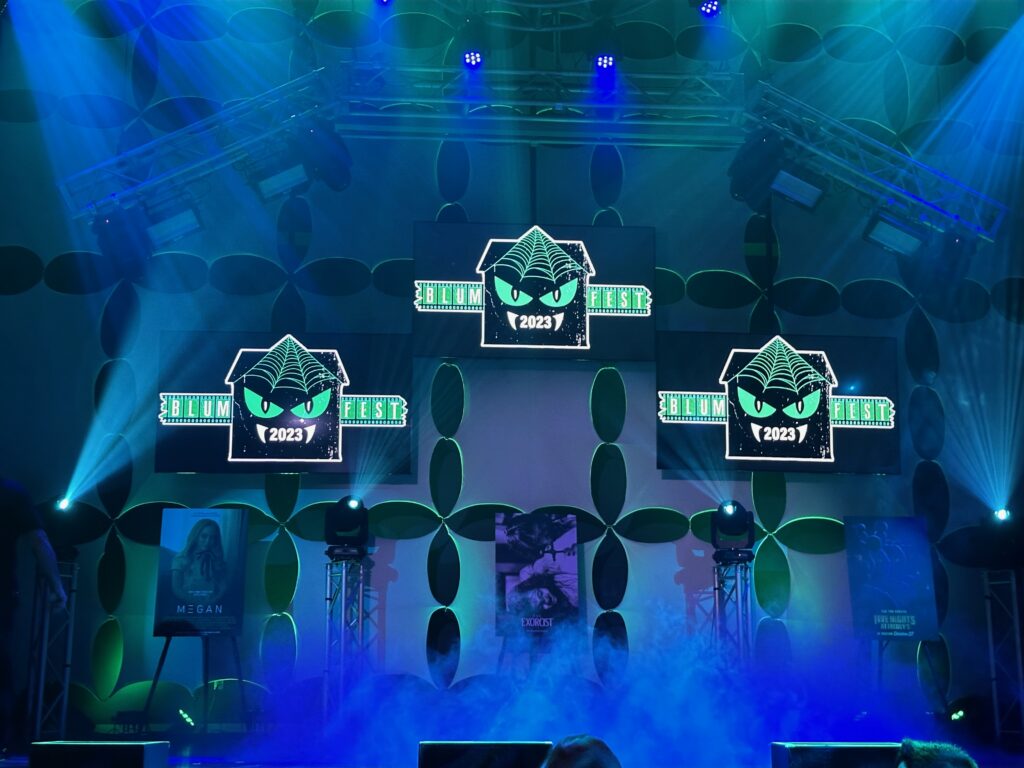 After enjoying M3GAN unrated, we were in the first group to head over to the Q&A Session. The session was billed as an hour-long experience with the creative minds of Universal Orlando Halloween Horror Nights including Mike Aiello, Senior Director of Entertainment Creative Development; Lora Sauls, Assistant Director of Creative Development and Show, Direction for Art and Design, Entertainment; and Charles Gray, Show Director of Creative Development Art and Design, Entertainment. We were all surprised when the event started not with these creative giants, but rather the now-famous M3GAN Flash Mob!
After the M3GANs finished wowing the audience, the Q&A session kicked off. Two insightful points I picked up were how the Exorcist: Believer house came together and how the group chooses which houses will be in Orlando and which will be in Hollywood. For the first point, Mike Aiello was able to read the script before production on the film started, and knew from that moment it would make an epic house. The team created the sets and planned out the house initially solely from the script, and would later get clips from the film sent for their review while they were completing the house to see how close to the film the house was and/or which areas they needed to tweak.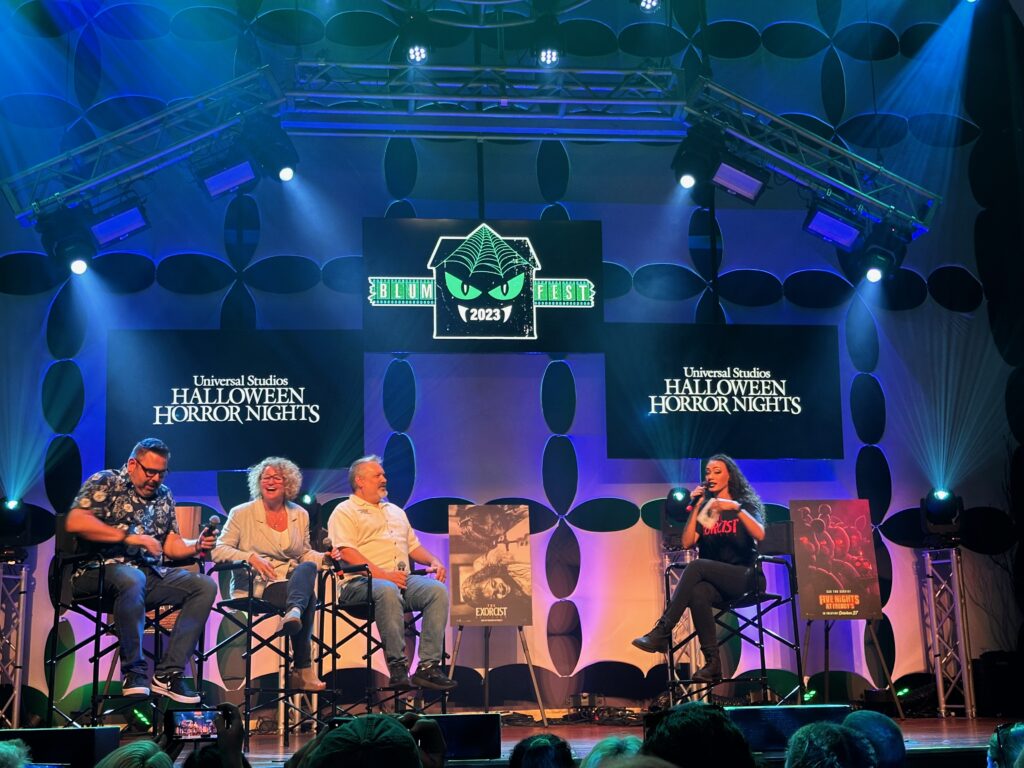 For the which houses are in which park piece, Mike said it is fairly simple-Universal Orlando likes to stick to the 5 and 5 concept (5 houses based on IP and 5 original concepts). This is why Universal Studios Hollywood had an Evil Dead Rise house this year, for example, and Orlando did not.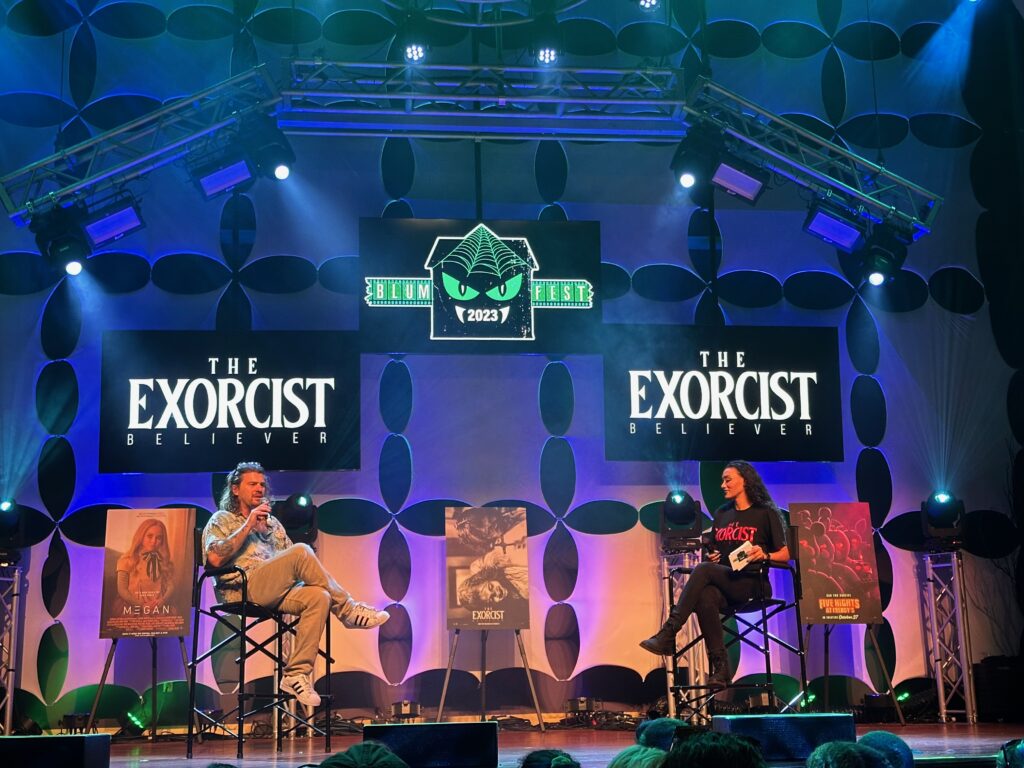 After this session wrapped, we were treated to an additional surprise guest-Michael Simmonds, the director of photography for Exorcist: Believer. Michael shared some very interesting tidbits from the film, such as child labor laws prevented them from using any type of smoke while kids were on set, which created some difficulty in creating a horror ambiance for many scenes since they were unable to use smoke/fog effects in any of the scenes in which the child actors were present. He also shared how difficult horror, as a genre, can be to film simply because you are not scared while filming it. Comedy makes you laugh, and you are touched and moved by drama at the moment, but for horror, you have to guess if the audience will find what you are creating scary.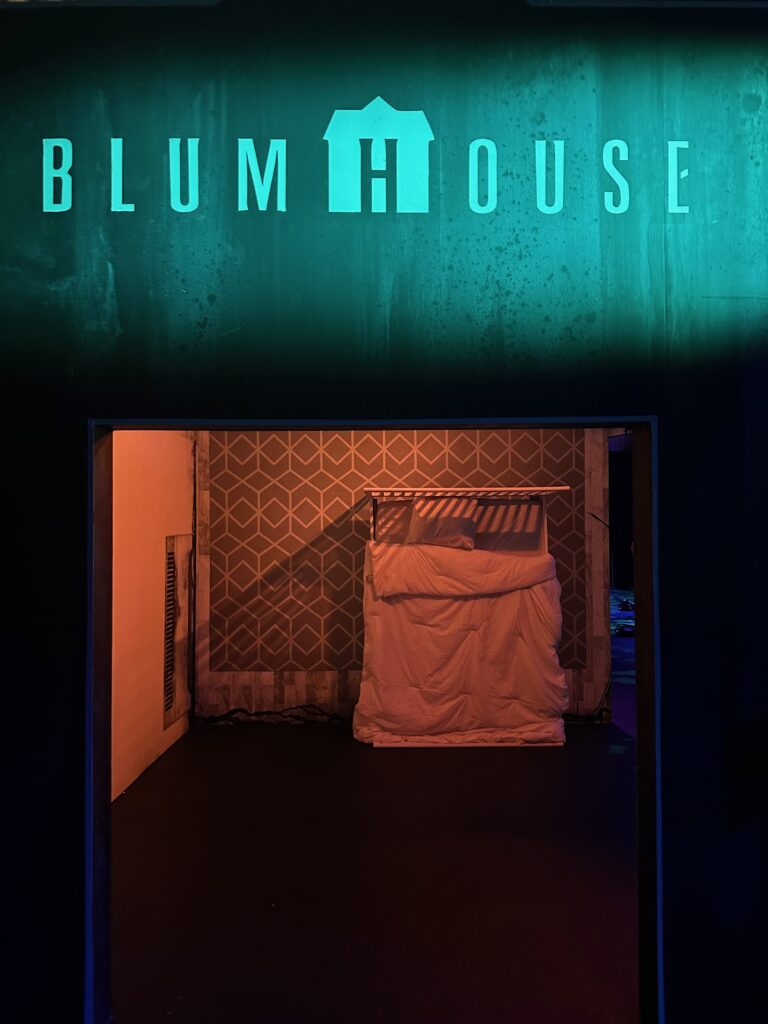 Our next stop was the all-new Blumhouse Photo Experience at Universal CityWalk featuring some of Blumhouse's newest films including, M3GAN, Five Nights at Freddy's, Exorcist: Believer, and Black Phone. We were the first to check out the experience, which will remain open throughout the Halloween Horror Nights run this year. The photo experience was super fun to check out and pose in, and I highly recommend you make a stop on your next trip to Universal Orlando!
Related: The Ultimate Universal Studios Florida Halloween Horror Nights Survival Guide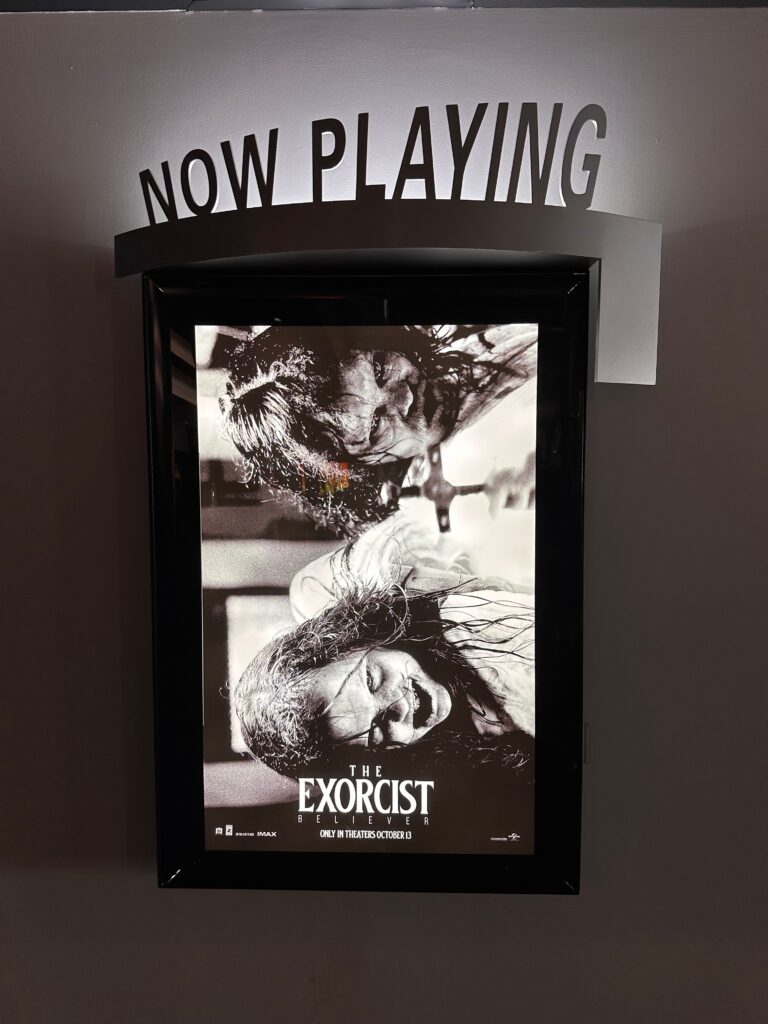 Our final event of the day was an exclusive showing of Exorcist: Believer. As a fan of the original film growing up, as well as a huge fan of the house this year, I really enjoyed the film. They did a nice job of tying back to the source material without making this film feel like a strict sequel to the original. While fans of the Exorcist film(s) will likely enjoy Exorcist: Believer, all horror fans will likely enjoy watching this film. Shout out to the director of photography Michael Simmonds whom we met earlier at the Q&A, there are some really beautifully shot scenes in this film! I will limit my thoughts/comments to these few tidbits since the film is new in order to avoid spoilers.
Overall, I give Blumfest a 10/10. If you are a fan of horror (like I am), this is definitely an event you will want to check out when it returns next year! We want to thank Universal Orlando for inviting us out for this year's event, your hospitality is greatly appreciated!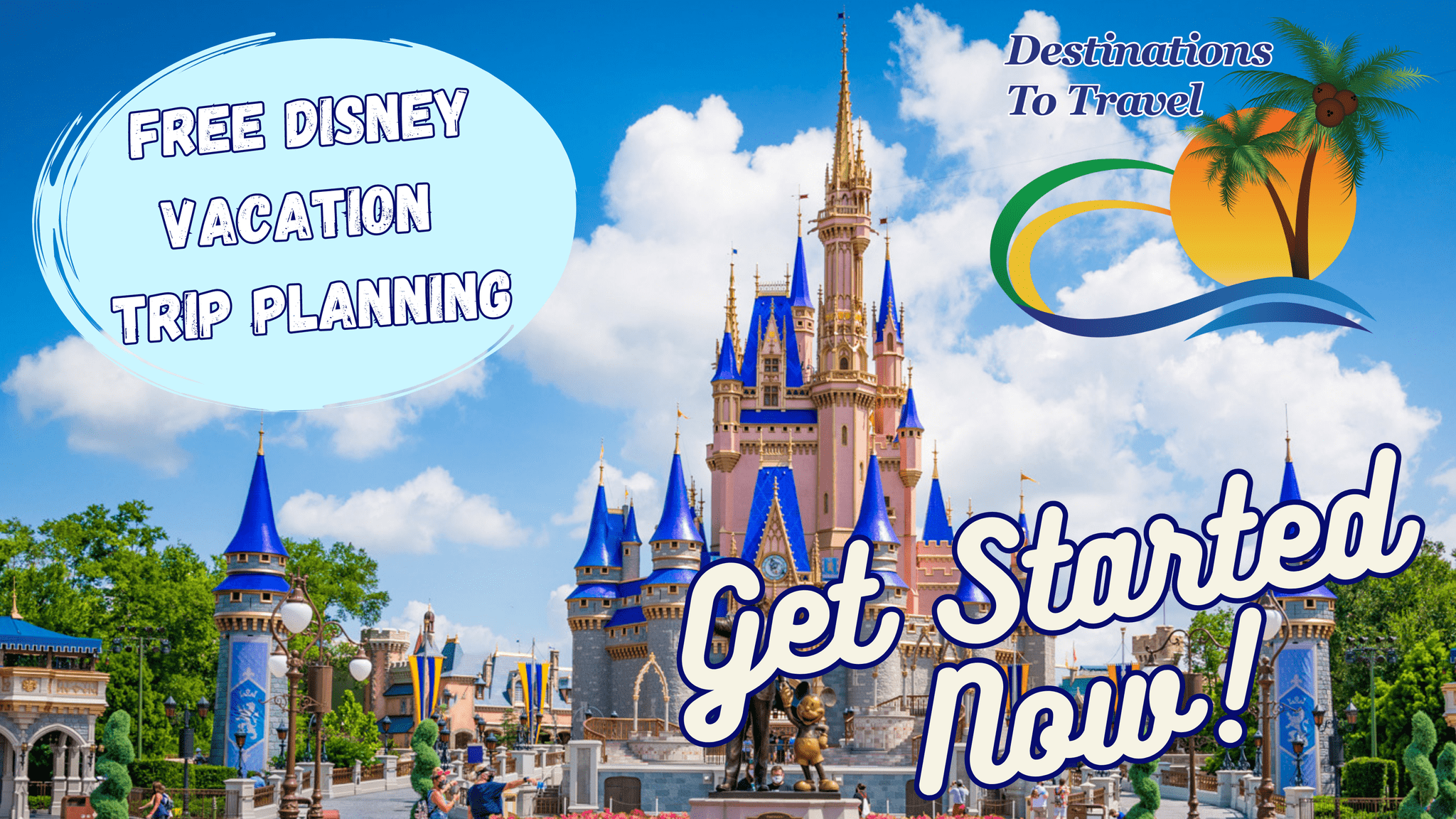 Let our friends at Destinations to Travel help you book your next Disney Vacation. They are the preferred Travel Agency of Chip and Company and Disney Addicts, and who we use ourselves.
Get started Now for your FREE No Obligation Quote.
Book With our friends at Destinations to Travel