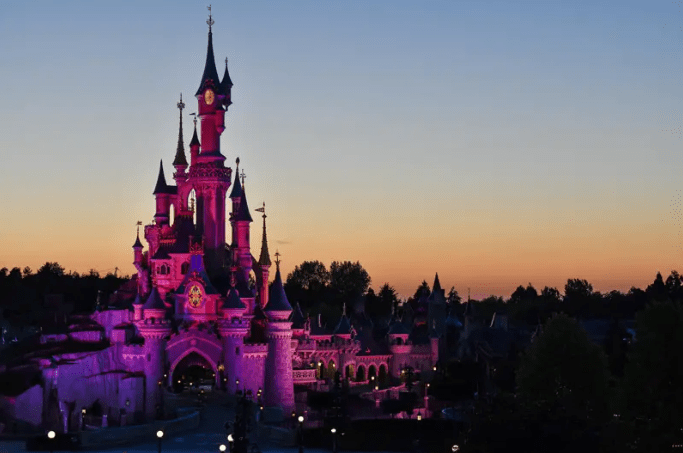 Top 12 Reasons to Experience Disneyland Paris Now
There are multiple Disney theme parks around the world. If you want to travel overseas, we recommend you experience Disneyland Paris! From unforgettable, once-in-a-lifetime experiences, including beautiful drone shows in the sky, special Disney treats, to exclusive character appearances and more, there's something everyone will enjoy.
Related – Guide to Disney Newport Bay Club at Disneyland Paris
While we recommend visiting the park before the 30th anniversary ends next month, here are 12 reasons why you should experience Disneyland Paris.
1. Easy Train Ride to the Parks 
If you'll already be in or around Paris and want to experience Disneyland Paris, it's just a short train ride away! The Marne-la-Vallee-Chessy train station is the perfect gateway from the city into the parks, as it sits in the middle of the esplanade area connecting Disneyland Park and Walt Disney Studios Park. 
This makes it a breeze to go into the city for the day and come back for the fireworks at night — or spend the day in the parks and head over to the Eiffel Tower at sunset to watch the twinkling lights. It's a game changer for exploring all that Paris has to offer.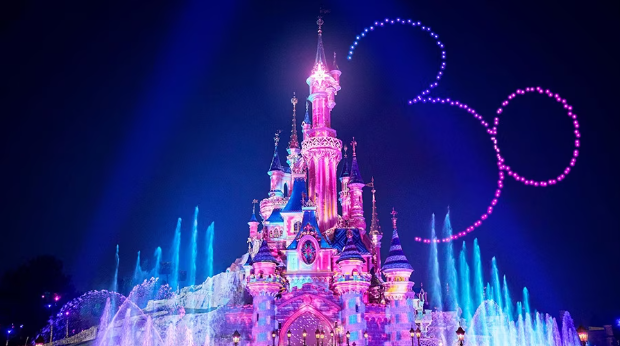 2. A Can't-Miss Drone Spectacular 
And when the sun goes down, the drones go up! Disney D-Light, a nighttime spectacular exclusive to the 30th Anniversary celebration, is a can't-miss show above Sleeping Beauty Castle that features magnificent drone light choreography.  
3. Mickey-Shaped Pizza 
One of the most unique eats at Disneyland Paris comes in the form of Mickey-shaped Pizza! You'll find this must-try over at Pizzeria Bella Notte in Fantasyland or Colonel Hathi's Outpost Restaurant in Adventureland.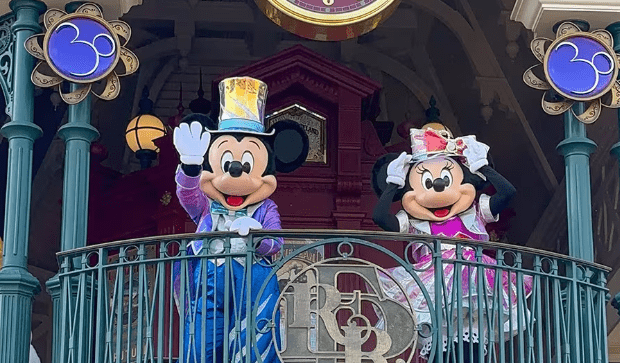 4. 30th Anniversary Character Experiences 
When you first step inside Disneyland Park, Mickey Mouse and Minnie Mouse are there to greet you at the Main Street, U.S.A. train station, dressed in their 30th Anniversary best. Sometimes they'll even perform a choreographed dance to "Un Monde Qui S'illumine." You'll also find Pluto, Goofy, Donald, Daisy, and Chip and Dale decked out in special 30th Anniversary costumes. Talk about a fun photo op! 
Of course, character greetings are also part of the year-round fun at Disneyland Paris, so you won't want to miss encounters with Super Heroes at Avengers Campus, Winnie the Pooh, or friends from "Alice in Wonderland." We recommend checking the Disneyland Paris app for specific appearance times on the day of your visit.
5. A Disney Champagne Cart 
Your trip to experience Disneyland Paris isn't complete without a visit to the Boardwalk Candy Palace! Sip champagne as you stroll down Main Street, U.S.A. or snack on some macarons — it's the perfect treat whether you're celebrating something special or waiting for the fireworks to begin. Plus, the flute is yours to keep!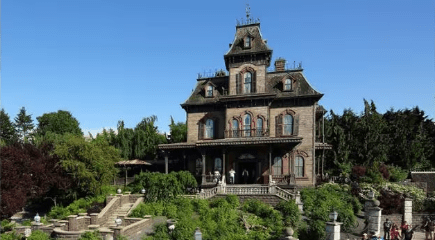 6. Exclusive Attractions 
Amongst the five lands of Disneyland Park — Main Street U.S.A., Frontierland, Adventureland, Fantasyland and Discoveryland — there are a few beloved attractions you can only find at this park. We particularly love Phantom Manor and Alice's Curious Labyrinth. 
At Walt Disney Studios Park, you'll want to make sure to stop by Worlds of Pixar. This land is packed with attractions exclusive to Disneyland Paris such as Cars Road Trip, RC Racer and Slinky Dog Zigzag Spin. Crush's Coaster is a standout thrill: you really do feel like you're cruising through the EAC!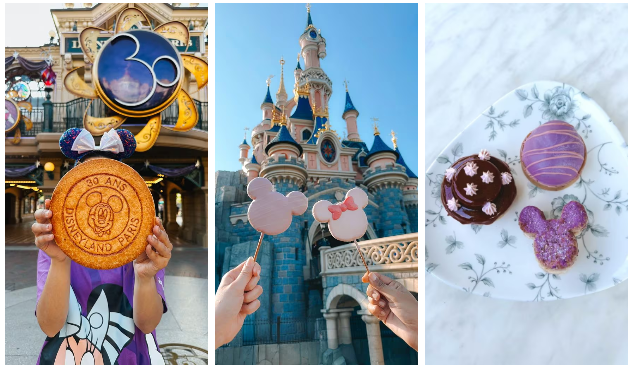 7. Limited-Time Snacks 
If you're on the hunt for something more grab-and-go, you'll find plenty of unique snacks exclusive to the 30th anniversary celebration! Sample the Mickey 30th Shortbread Coin, the 30th Anniversary Muffin, 30th Anniversary cake pops and more.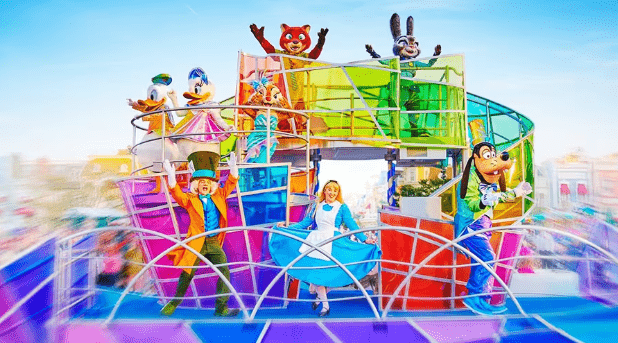 8. Exclusive Daytime Shows 
The heartbeat of Disneyland Paris are the magnificent performances that ignite Main Street, U.S.A. Dream…and Shine Brighter! is a wonderful show that will have you smiling and dancing during the 30-minute set. If you're planning to catch this daytime show, we recommend watching from the Hub to get the full 360 experience. 
You also won't want to miss Disney Stars on Parade: your chance to catch characters like Crush, Buzz Lightyear, Elsa and Maleficent as they wind through the park. Talk about more toe-tapping tunes that will get stuck in your head! While Dream…and Shine Brighter! is exclusive to the 30th Anniversary Celebration, Disney Stars on Parade is here to stay.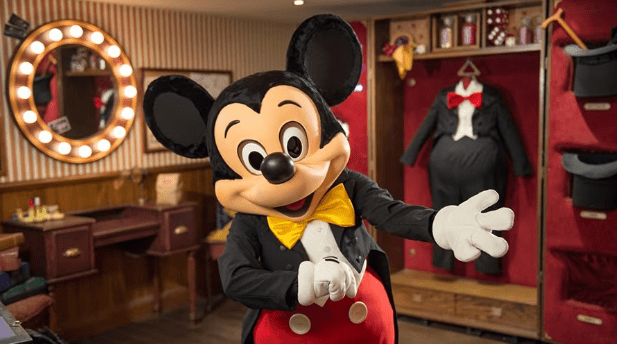 9. Meet Magician Mickey 
You may know that you can catch Magician Mickey Mouse in action at the Disneyland Paris-exclusive show Mickey and the Magician — but did you know you can also chat with him one-on-one? In Fantasyland, you'll have the chance to step into his dressing room, snap a photo with him and peek at some of his magical props. This is one of our favorite greetings in the park and a can't-miss — plus, it's a year-round activity!  
10. Miniature Dining Experience 
Worlds of Pixar is also home to Bistrot Chez Rémy. In this unique culinary dining experience, you'll shrink down to the size of our favorite chef and indulge in a 3-course meal complete with the famed dish, Ratatouille. If you have time for a sit-down meal, the food is magnifique.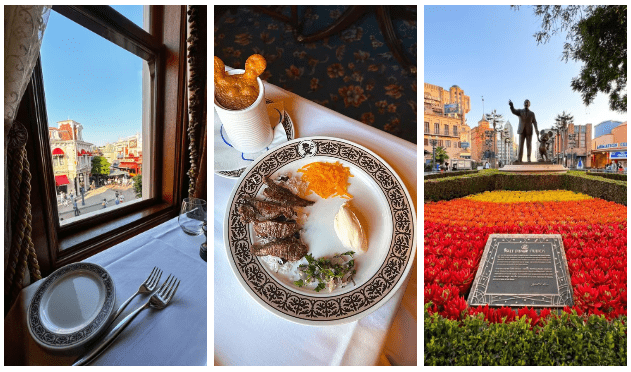 11. A Special Nod to Walt 
Another stand-out dining selection is Walt's — an American Restaurant on Main Street, U.S.A. This location pays homage to Walt Disney, with tons of family photos and nods to his apartment at Disneyland Park in Anaheim. The food is tailored to Walt's favorite dishes as well, so it's no surprise that there's a take on Walt's famous chili on the menu! 
You'll also find a nod to Walt at Walt Disney Studios Park. The main entrance takes you through a Hollywood "soundstage," and at the end of it you'll find the iconic Partners statue with Walt Disney and Mickey Mouse. It's a great photo spot and a grand welcome into the park. 
12. Uniquely Photo-Worthy Spots 
To commemorate your trip to experience Disneyland Paris, don't forget to stop by some of the parks' most photo-worthy spots. Of course you have to snap a shot in front of Sleeping Beauty Castle, but you'll also want to pose in front of the Water Tower at Walt Disney Studios Park, Cinderella's carriage at the Auberge de Cendrillon restaurant and the Stark Wall at Avengers Campus. And no park photoshoot is complete without a picture with a Minnie balloon on Main Street, U.S.A.! 
Have you had a chance to experience Disneyland Paris?
Ready to plan your next trip and experience Disneyland Paris? Contact me for a free vacation quote! I'm a travel agent with Destinations to Travel and my services are complimentary.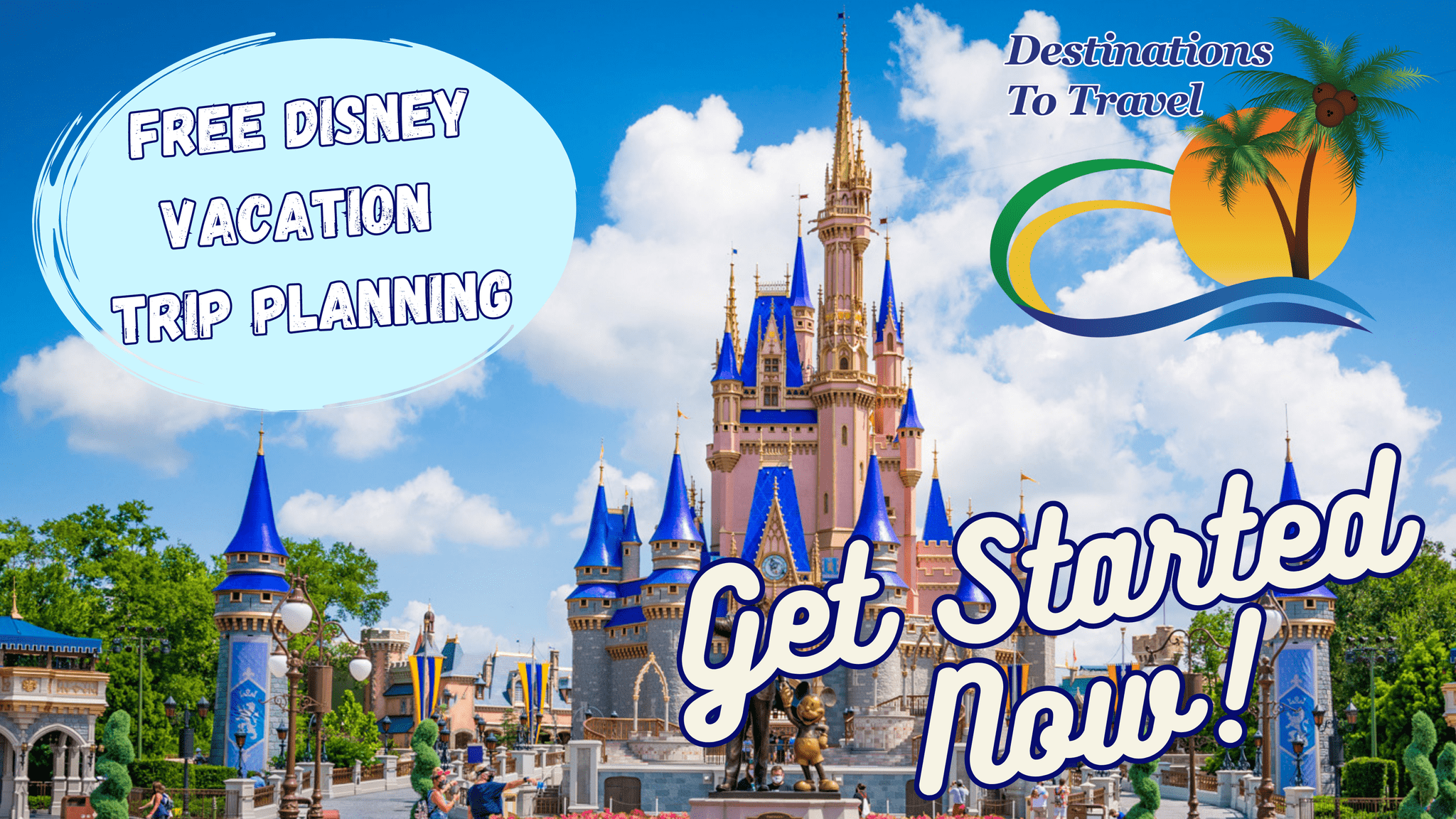 Let our friends at Destinations to Travel help you book your next Disney Vacation. They are the preferred Travel Agency of Chip and Company and Disney Addicts, and who we use ourselves.
Get started Now for your FREE No Obligation Quote.
Book With our friends at Destinations to Travel