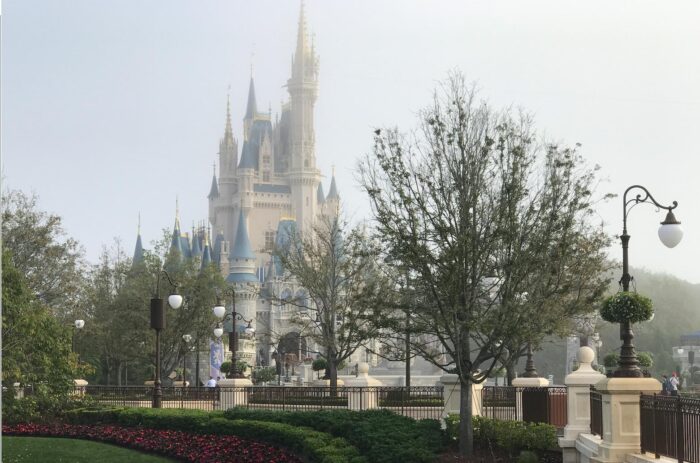 Help! I Lost Something at Walt Disney World – What Do I Do?
Even the most organized and conscientious Disney traveler can have the occasional lapse and find that they have lost an item at Walt Disney World. Disney World launched a new and improved lost item process a few months ago. My family unfortunately got to test this new process out on our most recent Walt Disney World vacation. Fortunately, this new lost and found process is straightforward and surprisingly high tech!
We kicked off our trip with an EARLY morning at Magic Kingdom – we rolled into the park just after 7 AM and headed straight to Tomorrowland. After riding Buzz Lightyear's Space Ranger Spin, our party split up so that the daredevils could take a ride on Space Mountain while I accompanied my much less adventurous daughter on our favorite ride, the Tomorrowland Transit Authority PeopleMover. As we were about to board the moving walkway up to the attraction, I got a text from my 19 year old son – "Mom, what did you do with my sunglasses?" Mom did nothing with said son's sunglasses, but they were clearly missing. My daughter and I headed back to Buzz Lightyear to check with a cast member, since that was the last place he recalled having them.
It seemed highly likely that the sunglasses were left on the ride, so the cast member checked their on site lost item drawer and sadly, the sunglasses weren't there. Here's where the new process for lost and found kicks in. We were given a piece of paper with the new Disney World lost and found website, disneyworld.com/lostandfound. From this site you are able to fill out a lost item report with a separate company called Chargerback. Chargerback is a lost and found system solution that uses powerful data analytics to compare lost item reports submitted by those who have misplaced something at the park with found item reports submitted by Walt Disney World cast members.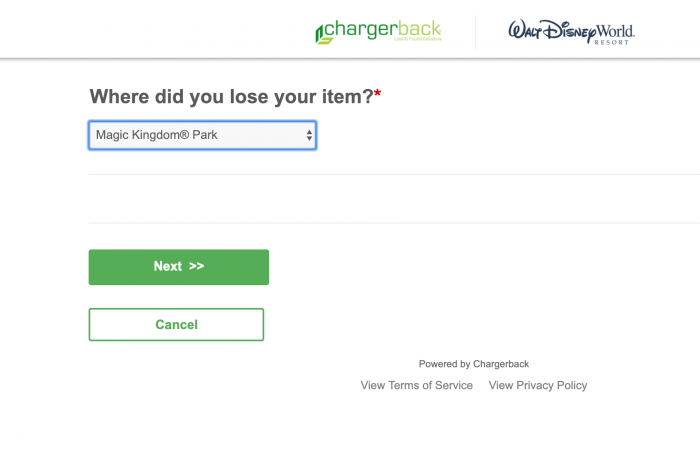 The Chargerback lost item form will guide you through a series of questions:
Where did you lose your item? This brings up an extensive drop down list of options including all theme parks, resort hotels as well as transportation in case you lost your item on a bus ride.

Type of Item: Another long list of options here – choosing Eyewear brought up another list of eyewear choices including Binoculars, Sunglasses and Swim Goggles. After selecting Sunglasses, we were prompted to list Color, Case Color and Brand Name. There is then a text box to include additional details. The cast member encouraged us to include as many details as possible to ensure the most successful search.

Date of Loss

Contact Information and Address: The cast member stated that the goal was to reunite us with our missing item while we were still on property but if not and it was located after our departure, they would ship our item to us at the address provided here.
Once the online form has been submitted, an email generates confirming receipt of the lost item report.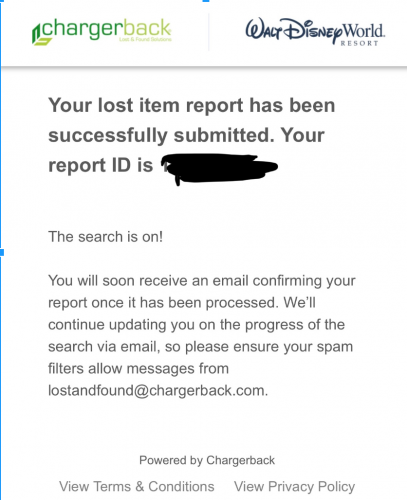 The Chargerback system now works its magic, comparing the database of lost items with the database of found items. Every couple of days, if the item is not found, the system generates an email letting you know that the search is still in progress. One week after submitting your lost item report, Chargerback sends an email notifying you that they have terminated the search and your item is officially lost and NOT found.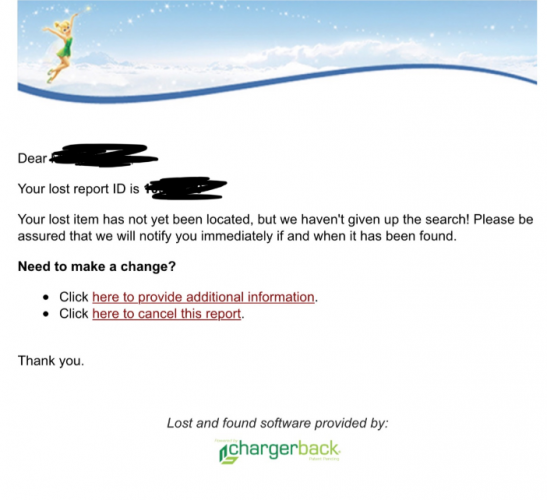 The lost and found system at Walt Disney World is very straightforward and easy to use. We didn't lose any precious vacation time trying to track down the item at an in person location. I was able to submit my report from the comfort of my resort hotel room in just a few minutes after returning from the park. Our item was not found, but the whole process was really slick from a system standpoint. When we got home from our trip, another one of our sons realized that he forgot his sweatshirt in our hotel room. We were able to easily submit a request dated in the past and the search is on again!
Ready to learn more about a Disney Destination vacation for your family? As an agent with Chip & Co's official travel partner, Key to the World Travel, I would love to help with your first, or next, Walt Disney World, Disney Cruise Line or Disneyland vacation! Email me at missy.graner@keytotheworldtravel.com or simply fill out the quote request below. And be sure to follow me on Facebook and Instagram.
---
Latest posts by Missy Graner
(see all)