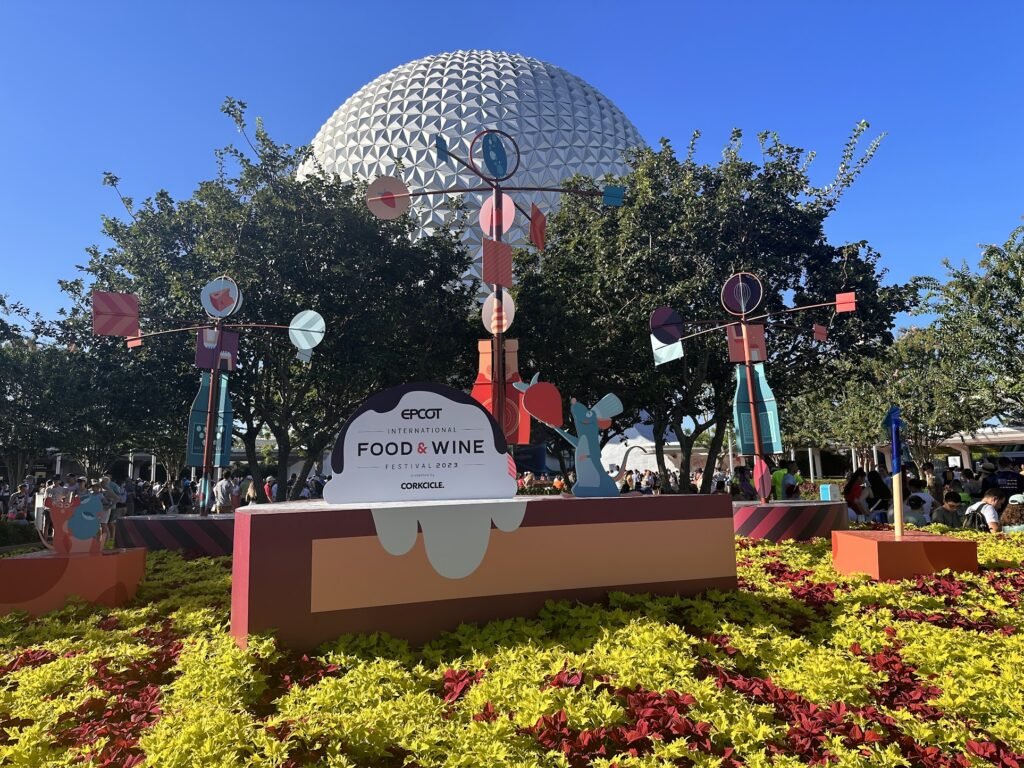 We snacked around the world while visiting the EPCOT International Food and Wine festival yesterday
The EPCOT International Food and Wine Festival is my favorite of all of the EPCOT festivals. Eat To the Beat brings some great concerts to the park, and the festival food booths provide great options for just about anyone to enjoy. We spent a few hours strolling through the festival yesterday, enjoying some new snacks as well as some traditional favorites. Read on to see what we ate, as well as our thoughts about each item!
Related: Guide to Disney100 Celebration in Epcot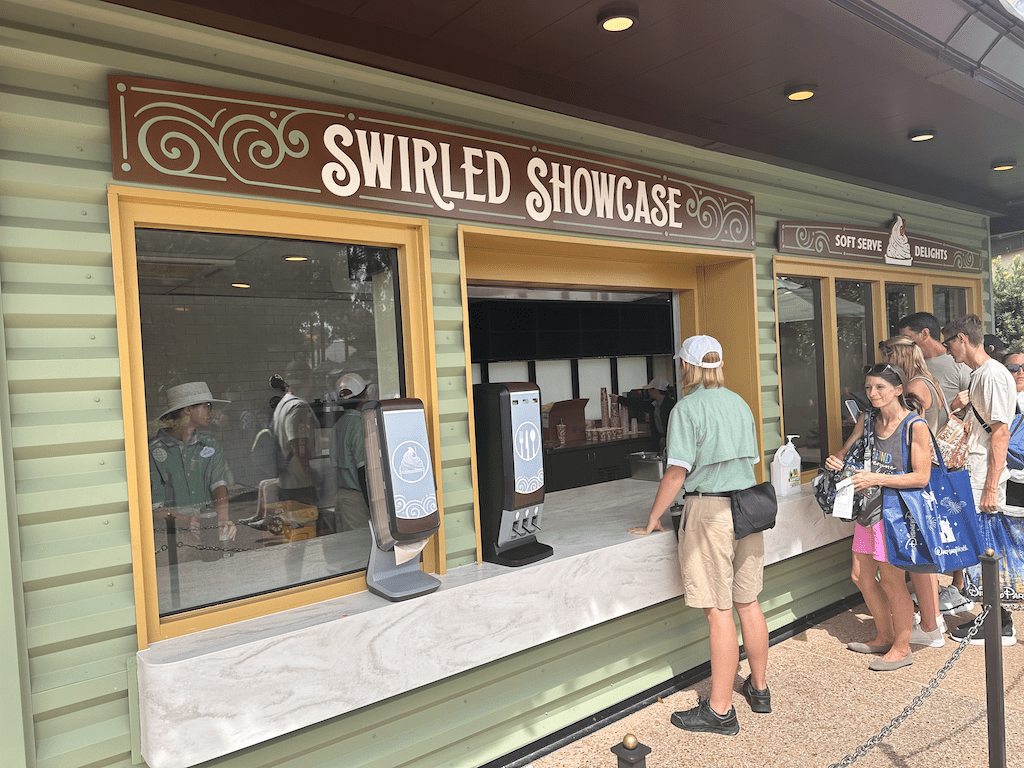 Swirled Showcase
Our first stop was at the all-new Swirled Showcase, which is located right next to The Refreshment Port near the Canada pavilion. Here we tried several items: The 3 Sisters Toasted Coconut Porter, the Cream Soda Float, and the Mickey-Shaped Nitro Cake Pop.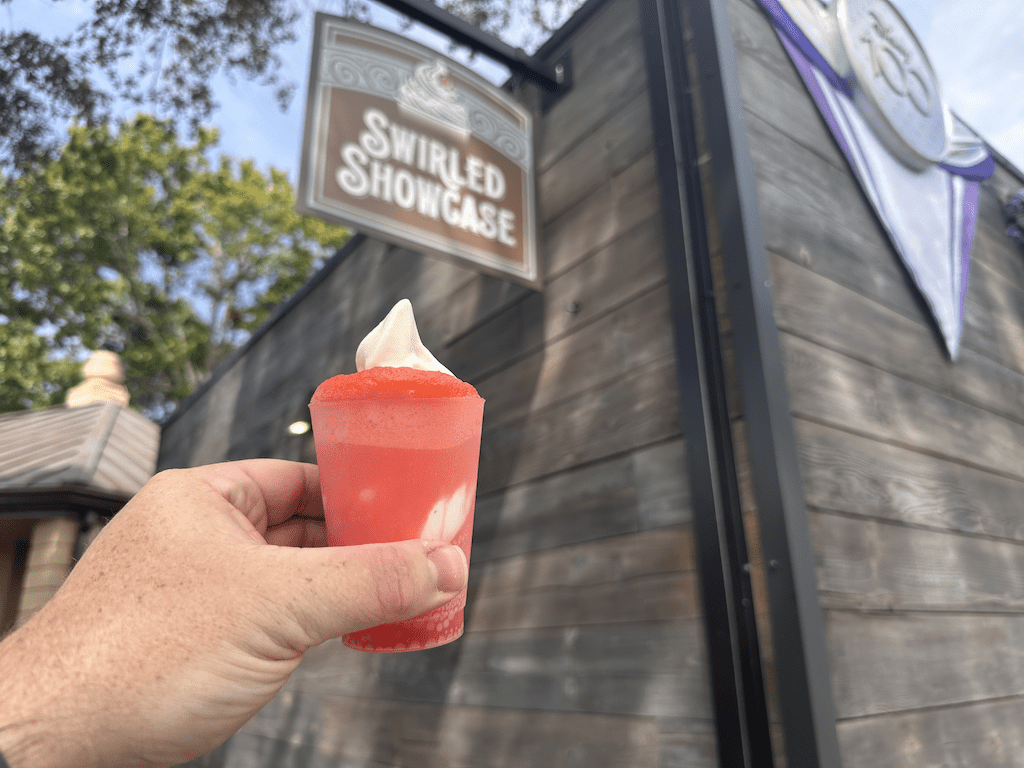 The Cream Soda Float was our favorite item here. It was refreshing and delicious, making it the perfect snack for a hot day at EPCOT. The Mickey-Shaped Nitro Cake Pop was very good and well worth a stop. The cake pop is decadent and rich, making it surprisingly filling. They make the cake pops right by the window where you pick up your food, adding a bit of a show to the experience! If you are a beer lover, you will really enjoy the 3 Sisters Toasted Coconut Porter-it has a light taste for a porter, and the toasted coconut flavor is present but not overpowering.
Cheddar Bacon Soup in the Canada Pavilion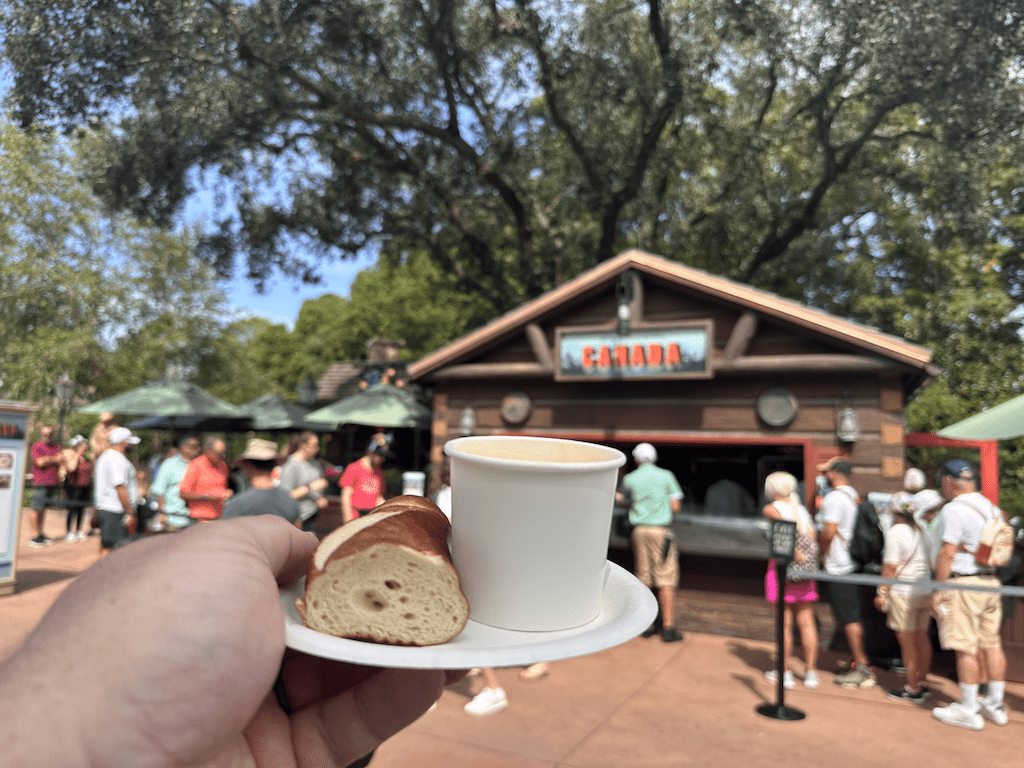 Our next stop was the Canada Pavilion to grab some Cheddar and Bacon Soup. This is always one of my favorite festival items, and I snag some every chance I get. The soup is served up with a pretzel roll that is great to dip in the soup.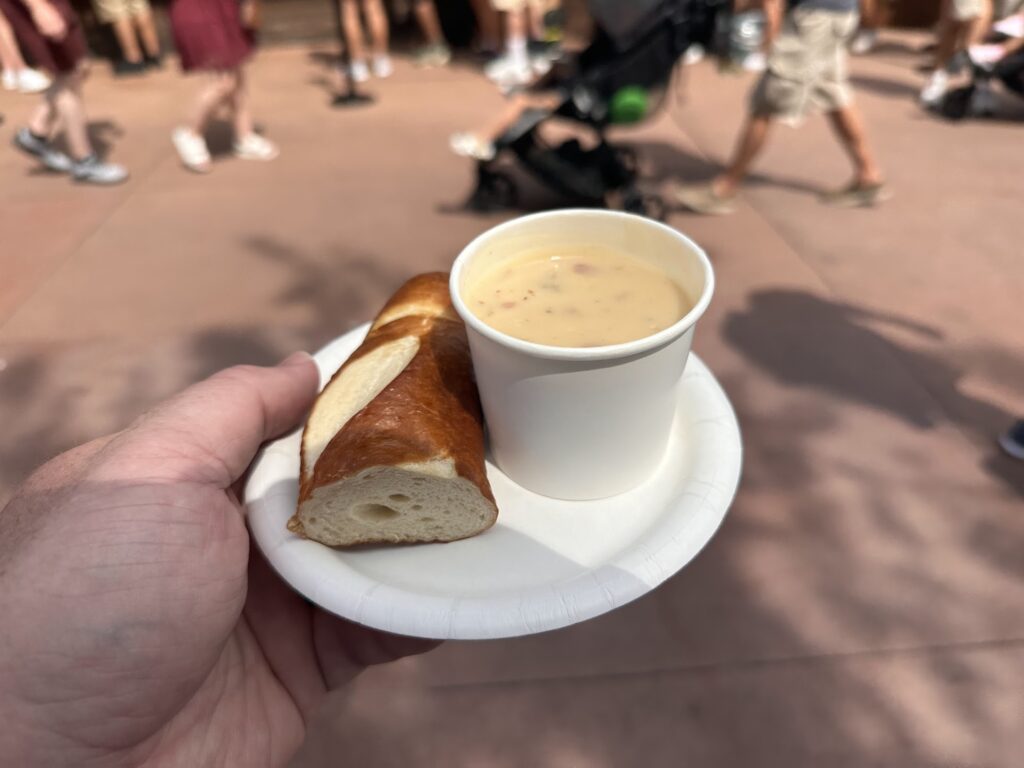 The Canadian Cheddar and Bacon Soup is an amazing dish, and I cannot recommend it highly enough! It does have a pretty strong bacon flavor, so if you are not a fan of bacon (if that is even possible), you will likely not enjoy the soup.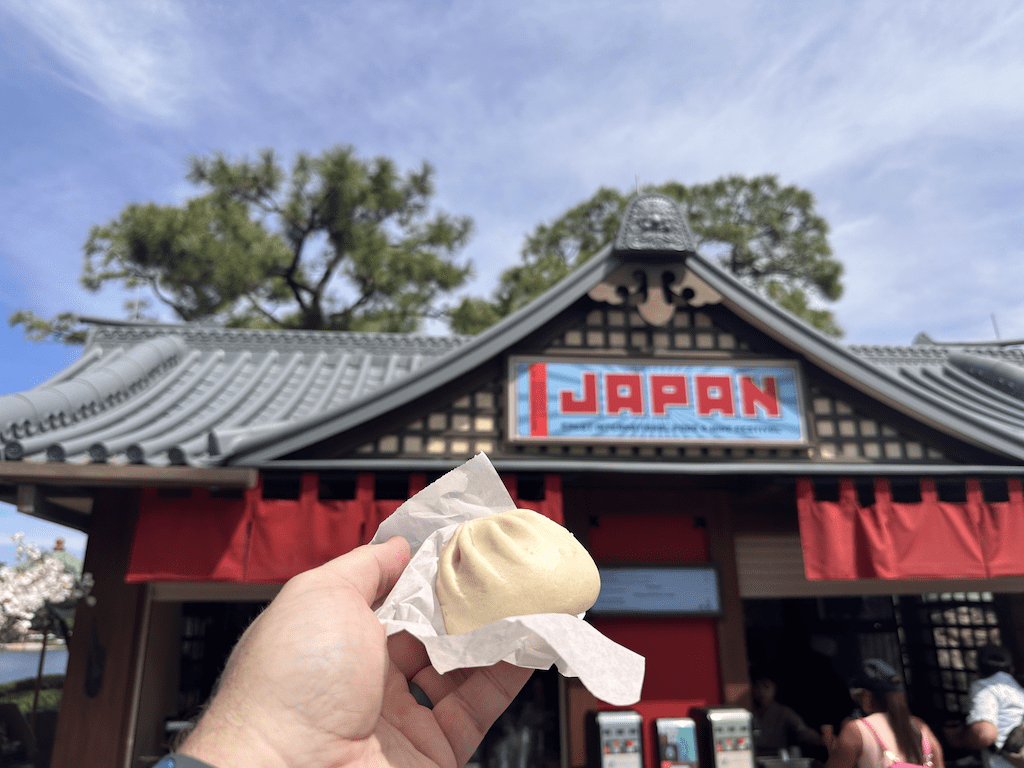 Our next stop was the Japan Pavilion to shop around the Mitsukoshi Department Store and grab this amazing Teriyaki Chicken Bun. This delectable treat is a Steamed Bun filled with Chicken, Vegetables and Teriyaki Sauce. The bun was light and tasty, and the filling was packed with flavor. I really enjoyed this bun, and recommend you check one out during your next trip to the Food and Wine festival.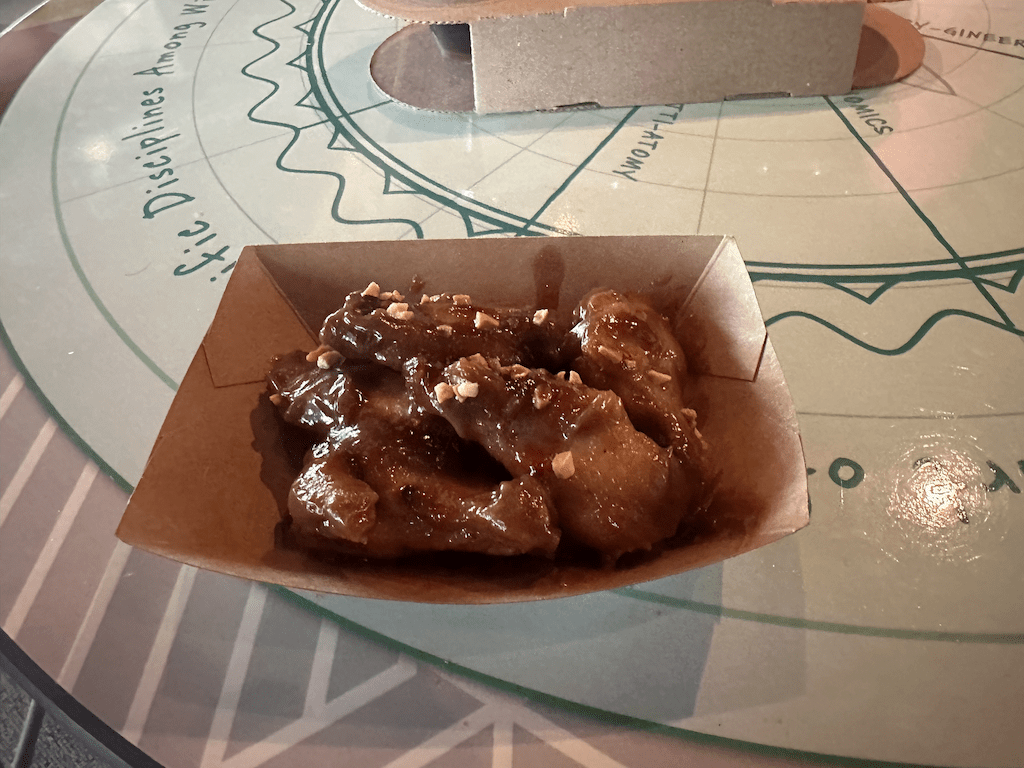 Brew-Wing Lab at the Odyssey
We then made our way up to the Brew-Wing Lab at the Odyssey, where we tried the Peanut Butter and Jelly Sticky Wings and the Beer Flight. I really enjoyed the flavor of the wings, however my wife did not care for the heavy peanut flavor. The peanut flavor in these wings is very prominent, so proceed with caution if you are not a fan of strong flavors.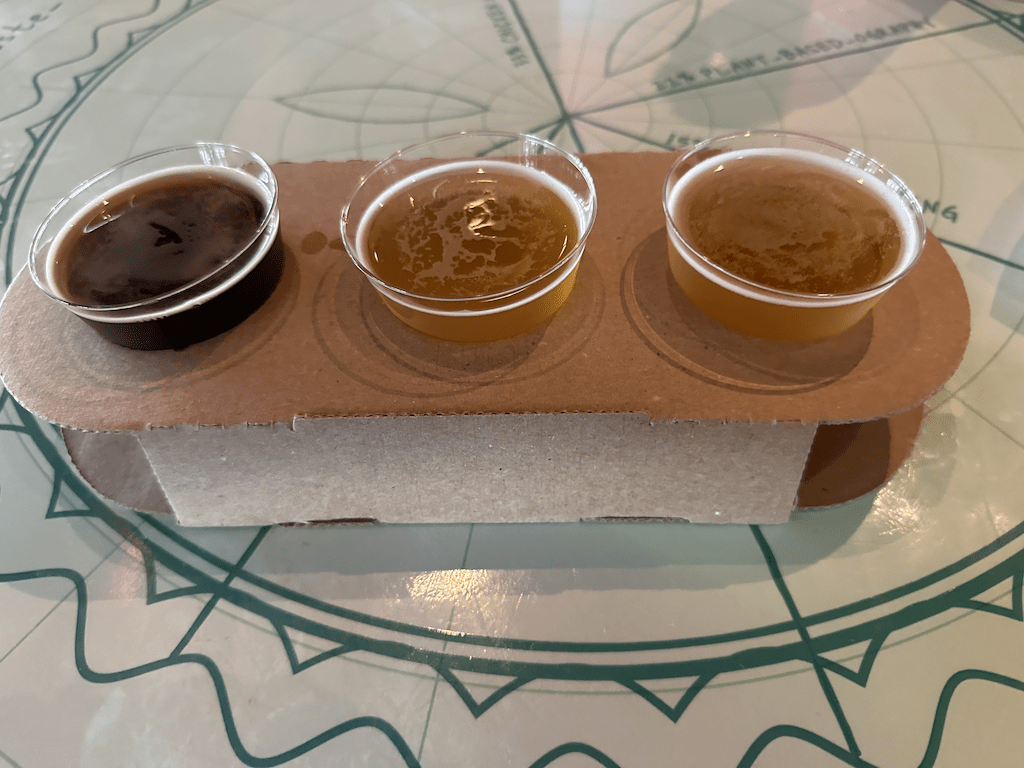 The beer flight included three local beers: a Sun King Brewing Caipirinha Lager (Sarasota, Florida), a Brew Hub French Connection IPA (Lakeland, Florida), and a 3 Daughters Brewing Old Fashioned Porter (St Petersburg, Florida). As a beer lover, I enjoyed all three of these beers! The IPA was quite hoppy, so if you are not a fan of beers with a strong Hop flavor you may want to skip this one.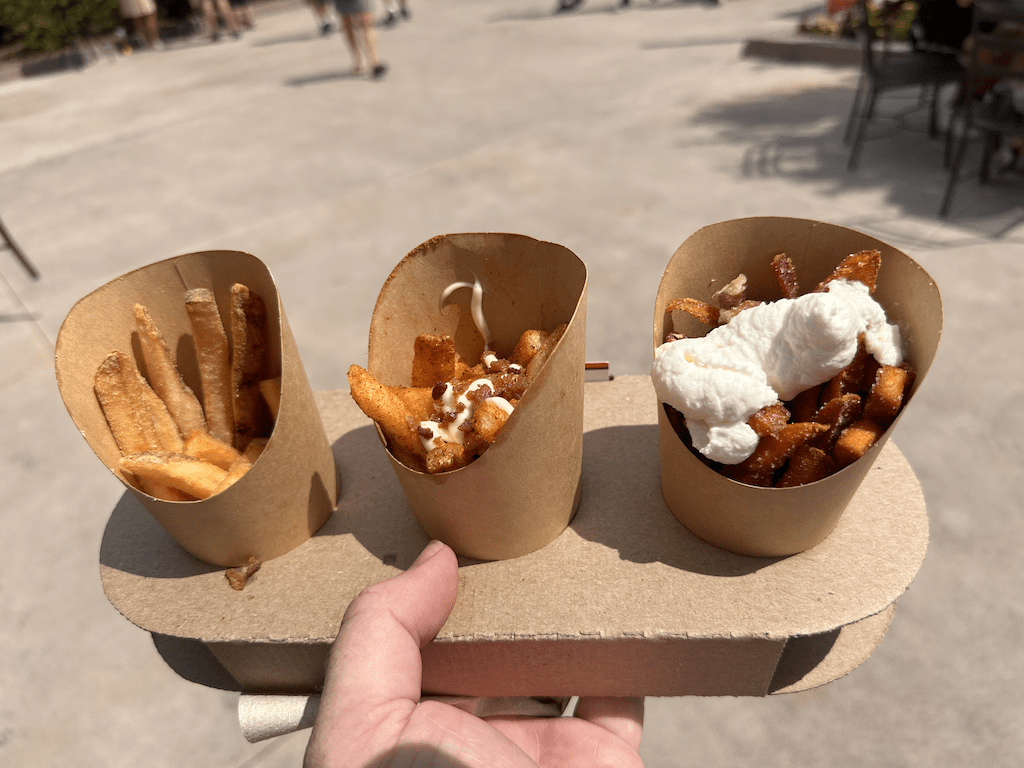 The Fry Basket
Our last stop was at The Fry Basket to try the Fry Flight. The flight contains three different types of fry's-Sea Salt and Malt Vinegar Fries, Barbecued Bacon Fries with Smoked Aïoli, and Sweet Potato Casserole Fries with Candied Pecans, Toasted Marshmallow Cream and Maple Bourbon. We really enjoyed all three of these, however the Sweet Potato Casserole Fries were our favorite, with he Barbecued Bacon Fries coming in at a close second.
I hope you enjoyed snacking around the world with us! Have you attended the Food and Wine festival yet this year, and if so do you have any favorite snacks or drinks? Leave us a comment to let us know!
---
Ready to book your next magical vacation, but don't know where to start? Want to enjoy a Walt Disney World vacation without the stress of planning, booking, and tracking trip changes and promotions? Contact me today! As an agent with Destinations To Travel specializing in Disney destinations, I can help you stress less and enjoy your vacation more! The best part? My services are provided at NO ADDITIONAL COST when you book your Disney vacation package through me!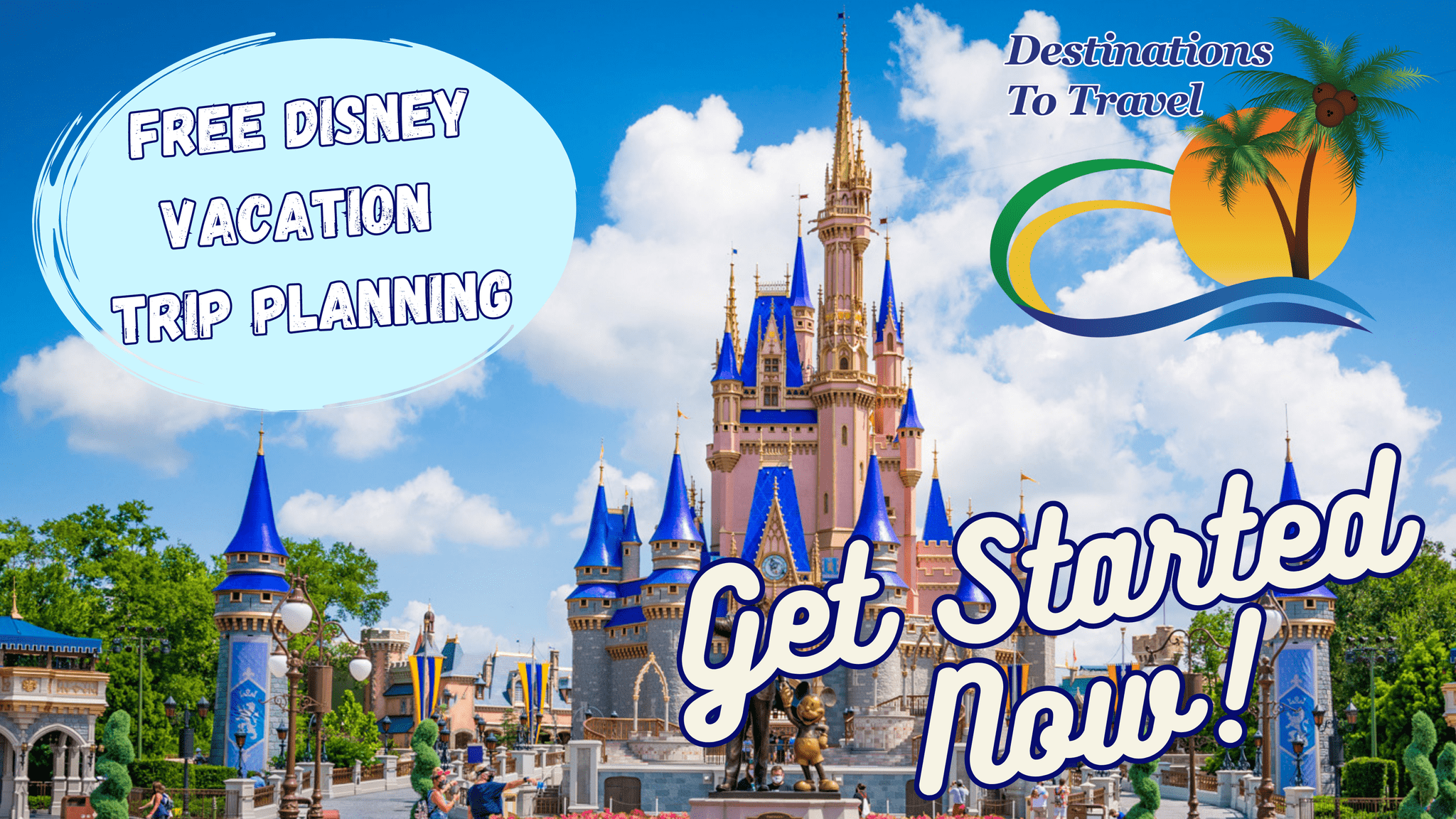 Let our friends at Destinations to Travel help you book your next Disney Vacation. They are the preferred Travel Agency of Chip and Company and Disney Addicts, and who we use ourselves.
Get started Now for your FREE No Obligation Quote.
Book With our friends at Destinations to Travel