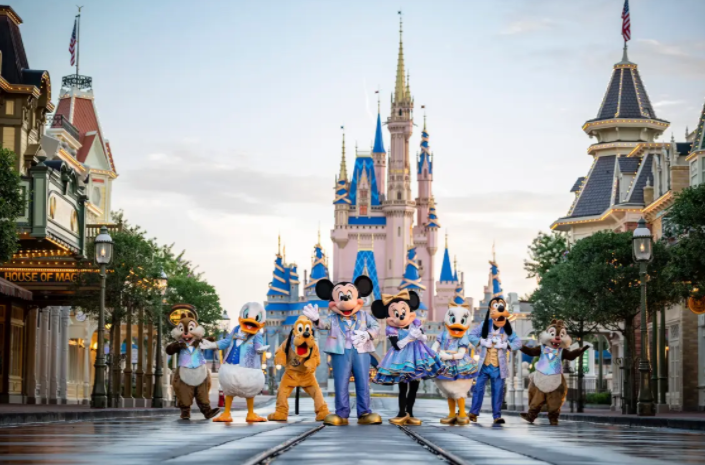 On Oct. 1, 1971, Walt Disney World Resort officially opened to guests for the first time, the culmination of years spent imagining, planning and developing Walt Disney's magical dream. In the five decades since, The Most Magical Place on Earth continued to expand with new stories and characters and memories to cherish for a lifetime. And now for its 50th anniversary, the resort welcomes guests to "The World's Most Magical Celebration." With Disney cast members at the heart of this milestone celebration, the 18-month event beginning Oct. 1, 2021, ushers in a spectacular array of new attractions, nighttime spectaculars and so much more.
Related – 5 Ways that you can Celebrate Walt Disney Worlds' 50th Anniversary from Home
Shining at the center of it all is Cinderella Castle at Magic Kingdom Park, welcoming guests to the celebration with gleaming gold bunting, sparkling golden embellishments, a 50th anniversary crest and other enhancements inspired by the art of Disney Legend Mary Blair. Guests will discover new experiences across the resort, where shimmering EARidescence appears as if by magic everywhere from theme parks to Disney Resort hotels to transportation to merchandise and more.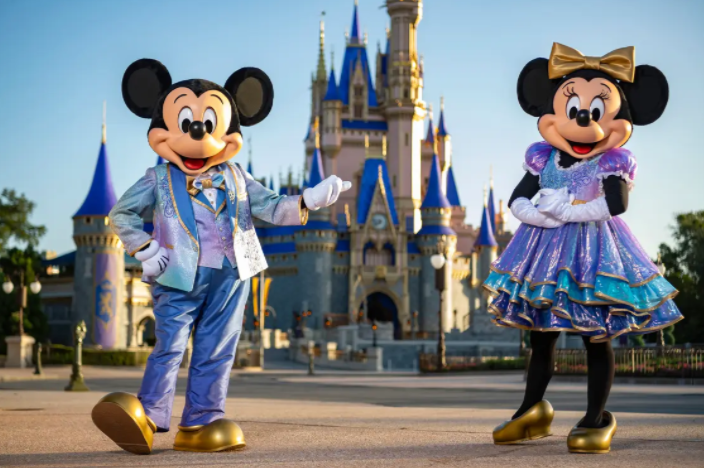 Expanded EPCOT France Pavilion Serves Up New Attraction, Restaurant
The Oct. 1 grand opening of Remy's Ratatouille Adventure invites guests into the flavorful world of Disney and Pixar's Academy Award®-winning film "Ratatouille." In this family-friendly attraction, guests feel as if they shrink to the size of Chef Remy and scurry through Gusteau's famous restaurant. They discover Remy's Ratatouille Adventure in World Showcase as part of a newly expanded France pavilion, where the real is made fantastic in a reimagining of Paris inspired by the film.
Also debuting Oct. 1 in this expanded section of the pavilion is a delicious new restaurant, La Crêperie de Paris, offering both table- and quick-service options. The menu features sweet crepes, savory buckwheat galettes (naturally gluten friendly) and authentic French hard cider. The attraction, restaurant and pavilion expansion are all part of the historic transformation of EPCOT currently underway, bringing a breadth of new experiences to the park as a celebration of curiosity, discovery and the magic of possibility.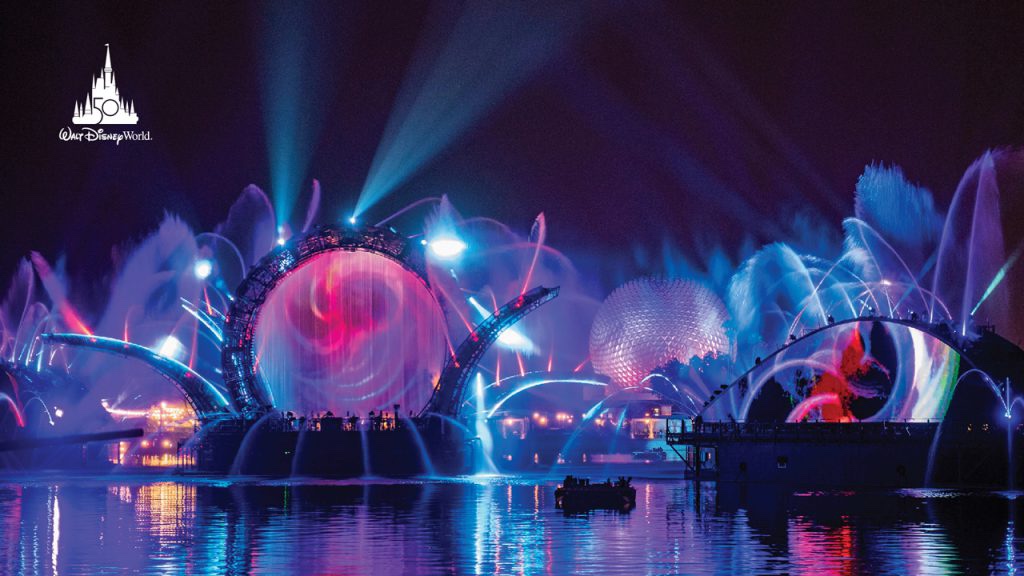 Nighttime Spectacular 'Harmonious' Reimagines Disney Music at EPCOT
"Harmonious," one of the largest nighttime spectaculars ever created for a Disney park, debuts Oct. 1 at EPCOT. This new show brings the globe together at World Showcase Lagoon in a celebration of Disney music that inspires people worldwide. It is a grand, powerful tribute to the unifying power of story and song, embracing new technical magic that incorporates pyrotechnics, choreographed moving fountains, lighting, massive LED panels and media in new ways. "Harmonious" features new interpretations of classic Disney songs in more than a dozen languages, performed by a diverse group of 240 artists from around the world, including Luis Fonsi, Joy, Danny Gokey, and the Ndlovu Youth Choir.
Related – Disney World Transportation Receives Beautiful 50th Anniversary Makeovers!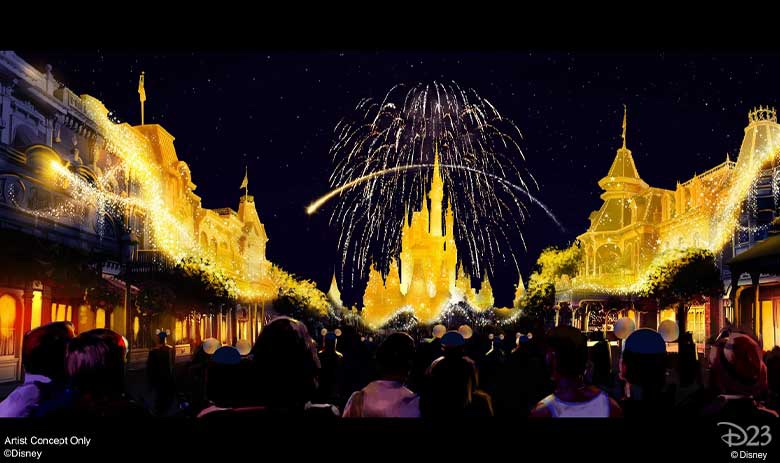 'Disney Enchantment' Lights Up Nights at Magic Kingdom Park
Joining "Harmonious" with an Oct. 1 debut is another new nighttime spectacular, "Disney Enchantment," at Magic Kingdom Park. Created to launch with "The World's Most Magical Celebration," this evening extravaganza takes guests on a journey filled with adventure, wonder and empowerment. Inspiring everyone to believe in magic, "Disney Enchantment" features stunning fireworks, powerful music, enhanced lighting and, for the first time, immersive projection effects that extend from Cinderella Castle down Main Street, U.S.A. The show's stirring soundtrack is anchored by an emotional original song, "You Are the Magic," written and performed by multiple GRAMMY® winner Philip Lawrence, whose musical career began as a Disney cast member performing in Walt Disney World shows.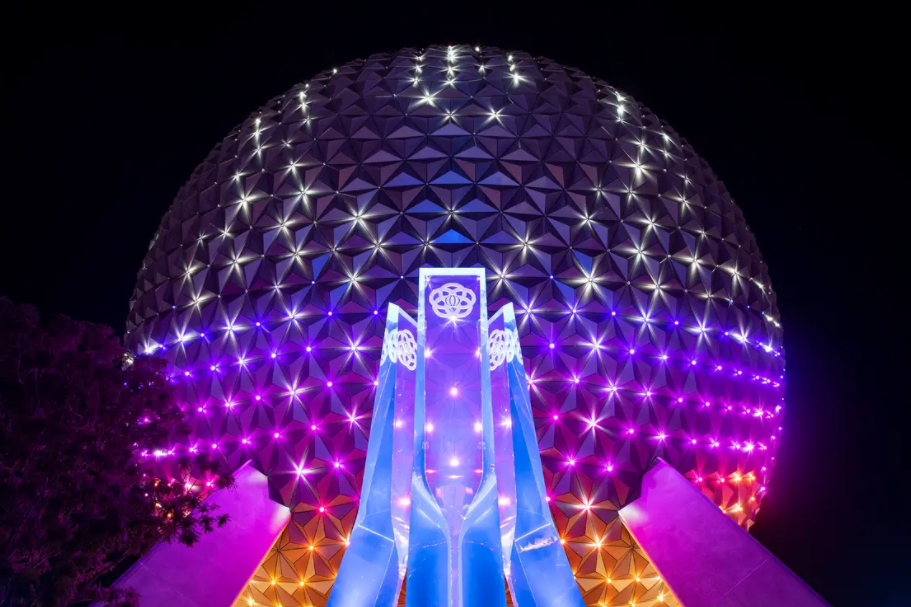 Beacons of Magic Shine at Walt Disney World Theme Parks
During the 50th anniversary celebration, icons at Walt Disney World theme parks transform at night into magnificent Beacons of Magic, coming to life with their own EARidescent glow.*
Cinderella Castle illuminates Magic Kingdom Park with a dazzling radiance and pixie-dust sparkle.
At Disney's Animal Kingdom Theme Park, a warm light emanates from the Tree of Life as fireflies gather to usher in the magic of nature.
The Hollywood Tower Hotel at Disney's Hollywood Studios is awash in a brilliance evoking the golden age of imagination and adventure.
And at EPCOT, new lights shine across the reflective panels of Spaceship Earth, connecting to one another like stars in a nighttime sky and creating a mesmerizing symbol of optimism. The iconic structure's permanent new lighting will continue beyond "The World's Most Magical Celebration" as a defining feature of the park.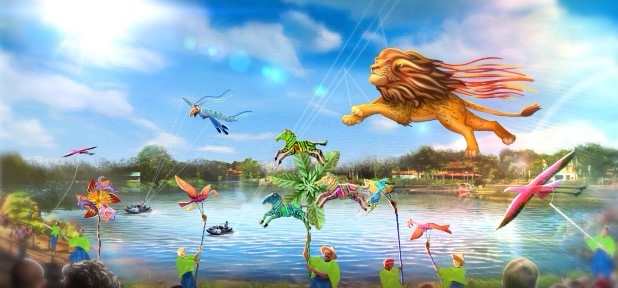 'Disney KiteTails' Takes Flight at Disney's Animal Kingdom Theme Park
New daytime entertainment is stirring at Disney's Animal Kingdom Theme Park, as "Disney KiteTails" comes alive several times daily beginning Oct. 1 at the Discovery River Theater. Performers fly windcatchers and kites of all shapes and sizes, while out on the water elaborate three-dimensional kites – some stretching to 30 feet long – depict Disney animal friends, including Simba, Zazu, Baloo and King Louie. These colorful creations dance through the sky to the beat of favorite Disney songs in an uplifting, vibrant experience for the whole family.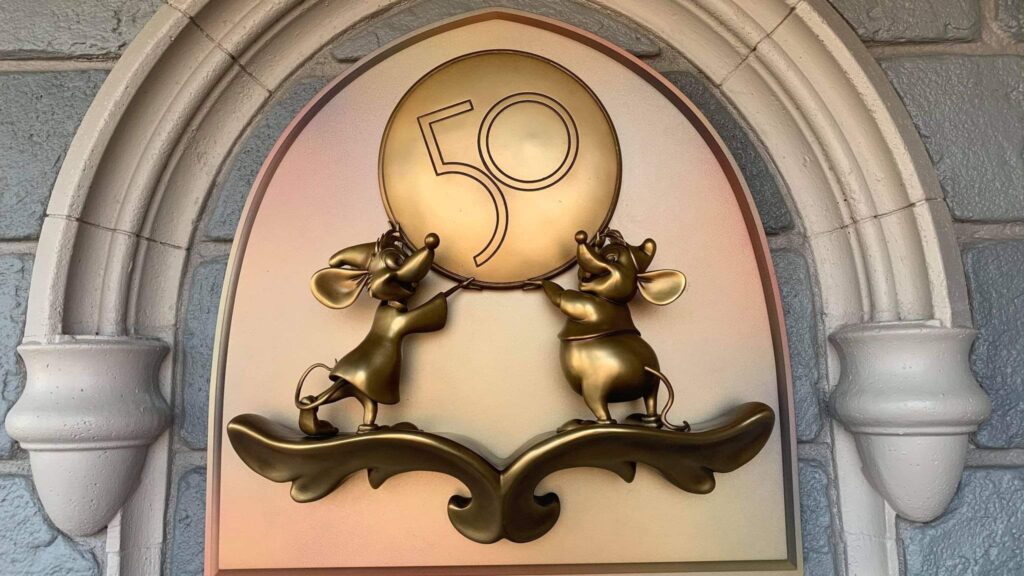 Golden 'Disney Fab 50 Character Collection' Sculptures Appear Across Theme Parks
New "Disney Fab 50 Character Collection" golden sculptures are spread across the four Walt Disney World theme parks in honor of the 50th anniversary. Fifty characters are featured in total, including Miguel and Dante from Disney and Pixar's "Coco" at EPCOT; BB-8 and R2-D2 from Star Wars at Disney's Hollywood Studios; Simba, Timon and Pumba from "The Lion King" at Disney's Animal Kingdom Theme Park; and Mickey Mouse and Minnie Mouse – dedicated to Walt Disney World cast members – at Magic Kingdom Park.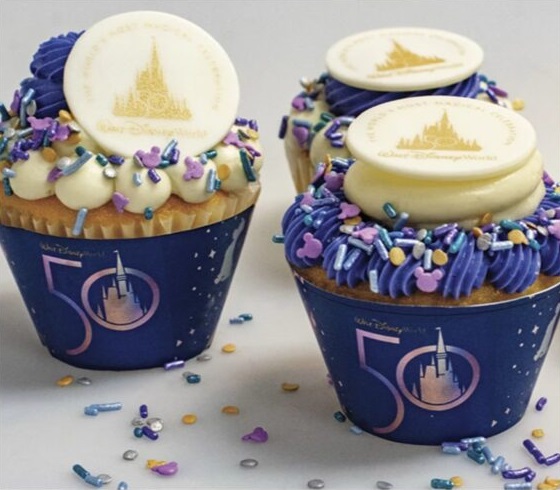 Celebratory Food and Drinks Look to the Past for New Inspiration
During its 50th anniversary celebration, Walt Disney World once again demonstrates how food and drinks can be key ingredients for a fun day at The Most Magical Place on Earth. New menu items for the celebration offer nods to the resort's past while pushing culinary adventures to exciting new places. These include theme park classics and some of Walt Disney's favorite items, along with novel dishes and sips full of color, whimsy and a touch of EARidescent shimmer. Of the 150-plus new items available, examples include:
Cheese Fries with Walt's Chili at Disney's Animal Kingdom Theme Park
Glimmer and Shimmer Pineapple Mousse at Disney's Hollywood Studios
Mission to Mars burger at Cosmic Ray's Starlight Café in Magic Kingdom Park
EARidescent Croissant Doughnut at EPCOT
EARidescent Ice Dream Cone at Disney's Blizzard Beach Water Park
Chicken Dinner Cupcake Trio at Disney's Fort Wilderness Resort & Campground
Magical Beacon Cocktail, found at many table-service restaurants, lounges and pool bars at Walt Disney World
Novelty items developed for the celebration, including popcorn buckets, mugs and sippers, are available beginning Oct. 1, 2021, and continue to roll out across Walt Disney World throughout "The World's Most Magical Celebration."
There is so much to see and experience during the Walt Disney World 50th Anniversary Celebration! Luckily, you don't have to be at the resort on October 1 to get to enjoy all the celebration has to offer. The celebration will last for 18 months! That means you have until the end of March 2023 to take your Disney World trip. Right now, you can book your stay through the end of 2022.
For help with planning your next Disney vacation, contact me today! I am a travel agent with a Disney Earmarked agency and my services are complimentary.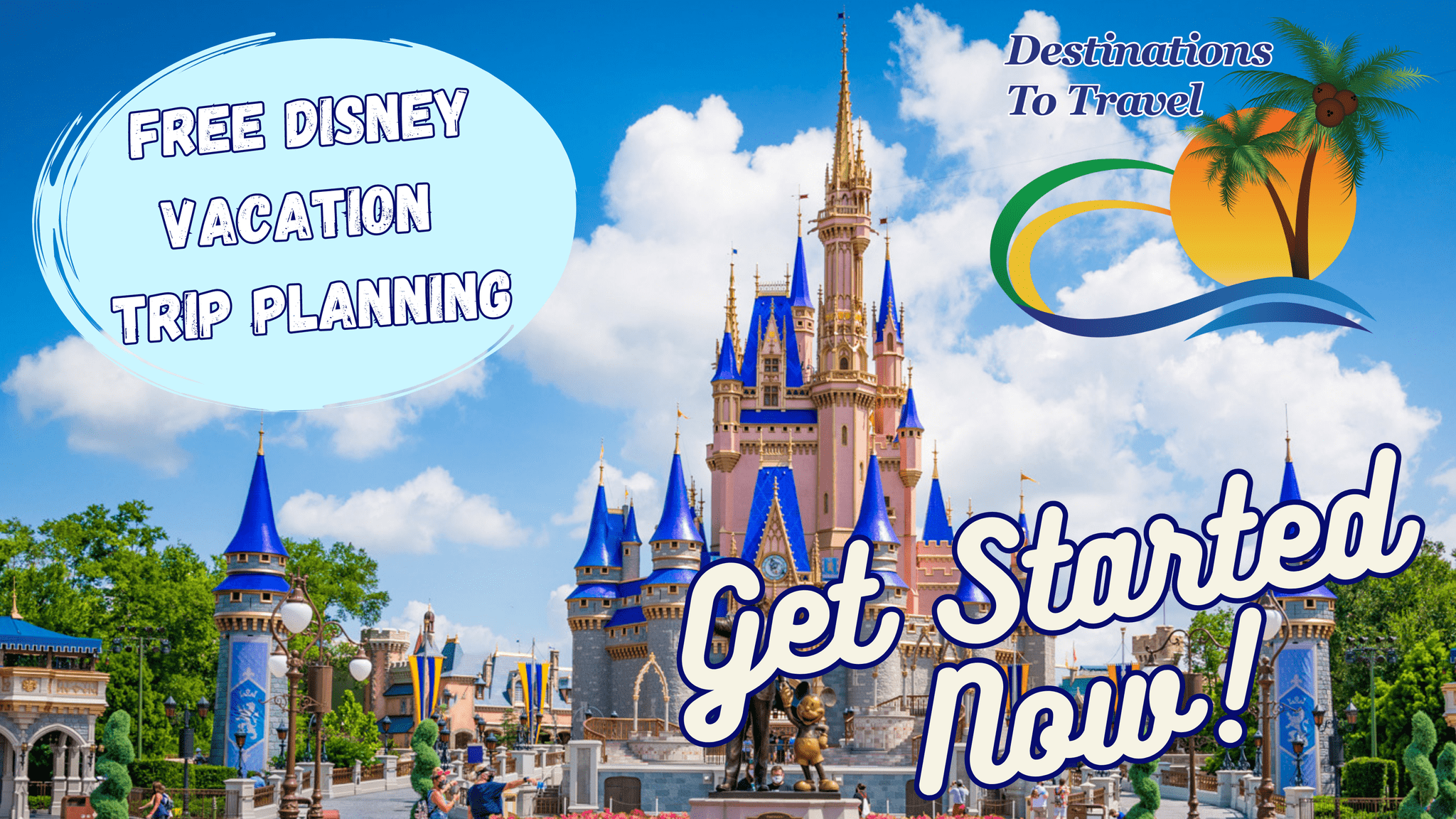 Let our friends at Destinations to Travel help you book your next Disney Vacation. They are the preferred Travel Agency of Chip and Company and Disney Addicts, and who we use ourselves.
Get started Now for your FREE No Obligation Quote.
Book With our friends at Destinations to Travel