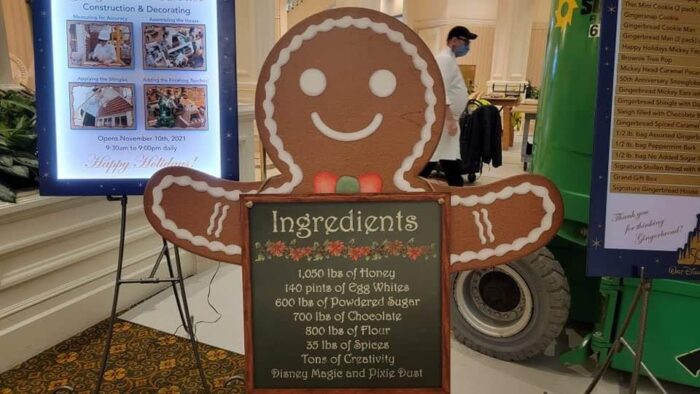 Complete Guide To The Gingerbread Displays Coming To Disney World And Disneyland!
It's almost time for the iconic Gingerbread Displays to come back to Walt Disney World and Disneyland! One of the best things about the holiday season at Disney Parks is without a doubt the stunning gingerbread displays, from the classic gingerbread house at the Grand Floridian to the one at the Haunted Mansion in Disneyland, there's always a new fun display to check out.
That's why we are sharing with you a complete guide to the different gingerbread displays around the parks, take a look:
Related – Foodie Guide To Disney Festival of Holidays 2023 At Disneyland Resort!
GRAND CALIFORNIAN HOTEL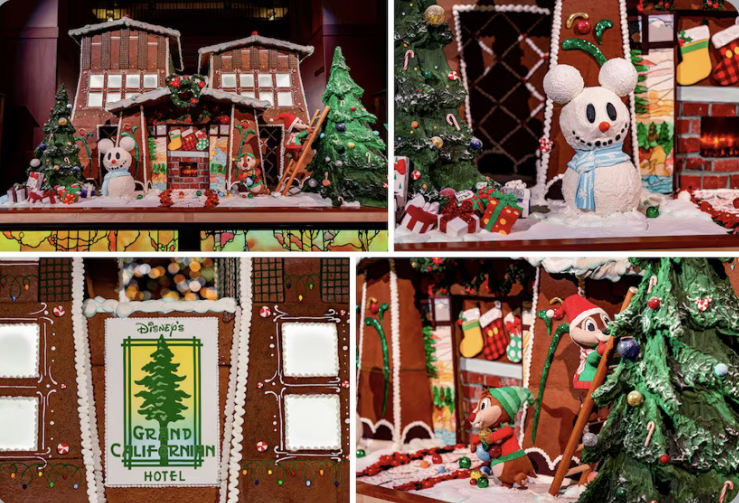 Beginning November 10, the Disneyland Resort will have a display to get you in the holiday spirit, the Gingerbread House at Disney's Grand Californian Hotel & Spa! The lobby will be home once again to one of its best holiday classics, the "Grand" Gingerbread House. This giant gingerbread replica of the hotel is a holiday highlight and a can't-miss stop in the lobby. Standing 7 feet tall and 12 feet wide, the structure is created from more than 600 pounds of gingerbread, 600 pounds of powdered sugar, 250 pounds of fondant, one pound of pixie dust, and features 25 hidden Mickeys!
If you want a sweet treat to commemorate your experience, you can enjoy one (or multiple) of the following:
Mickey Mouse-shaped Poinsettia Cookie
Mickey-shaped Gingerbread Cookie
Christmas Cookie
Holiday Cookie Box: will include two milk chocolate-dipped Mickey-shaped cookies, two raspberry-filled cookies and two sugar cookies with festive sprinkles
Assorted Macarons: Assorted macaron box will include two gingerbread, two peppermint and two Mexican hot chocolate
Kwanzaa Sweet Potato Loaf
Crisped Rice Treat
Holiday Cinnamon Buns (New)
Hot Cocoa Cookies (New)
Coffee with Liqueur (Available with Amaretto, Butterscotch, Captain Morgan, Crown Royal Apple, Godiva Chocolate, Grand Marnier, Jameson Whiskey, Peppermint Schnapps, Rumchata, Rumple Minz, Skrewball Whiskey) (New)
Eggnog with Baileys
Chocolate Chip Cookie Shot with Milk
Gingerbread Cookie Shot with Milk (New)
Red Velvet Cookie Shot with Milk (New)
Chocolate Chip Cookie Shot with Liqueur (Available with Amaretto, Butterscotch, Captain Morgan, Crown Royal Apple, Godiva Chocolate, Grand Marnier, Jameson Whiskey, Peppermint Schnapps, Rumchata, Rumple Minz, Skrewball Whiskey)
Cookie shot with Louis XIII Cognac
Cookie shot with Clase Azul Ultra Anejo
HAUNTED MANSION AT DISNEYLAND RESORT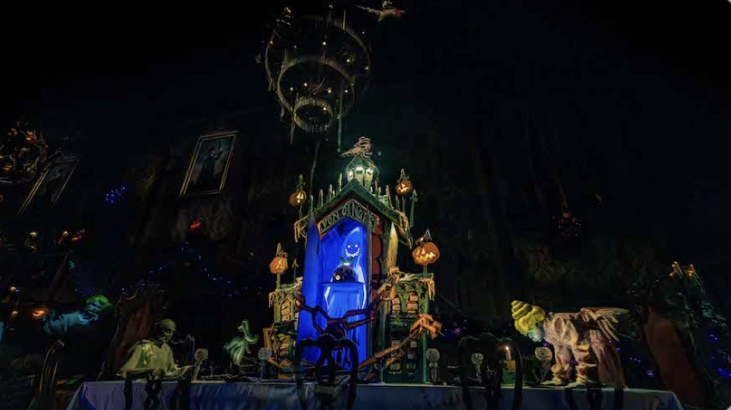 Welcome foolish mortals to a gingerbread display unlike any seen before. Hop in one of the doom buggies and start a journey to the Gingerbread House that has been materializing for guests for them than 20 years from Halloween to the holidays! Jack Skellington, or should we say "Sandy Claws," and his friends have transformed this beloved attraction into Haunted Mansion Holiday, inspired by "Tim Burton's The Nightmare Before Christmas," and this display is a welcomed addition. With three moving elements and nearly 300 pounds, this display took over 20 days to build and decorate with 13 cast members. Don't forget to take a ride to see it for yourself before Jan. 8, 2024.
GRAND FLORIDIAN RESORT & SPA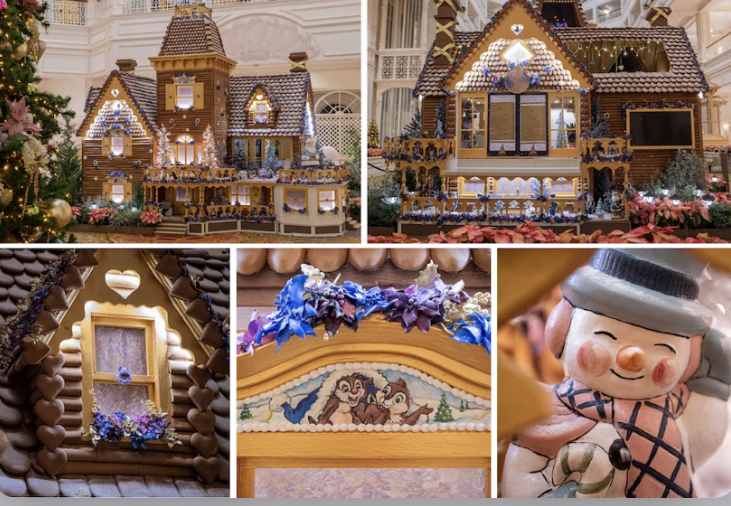 This beloved tradition is back again for its 24th year from November 8 through January 1, 2024, and is filled with plenty of sweet delights and decorations. All across this house, you'll find white chocolate candy canes, edible snowflakes, sugar poinsettias, and over 10,000 pieces of gingerbread. Not to mention the 85 lb. chocolate Santa, nutcrackers, toy soldiers, and snowmen that are all hand-painted by the Grand Floridian Bakery team led by Pastry Chef de Cuisine Kristine Farmer. The 500 hours spent baking gingerbread and 480 hours spent decorating are well worth it. Be on the lookout for the 24 hidden Mickeys found throughout the entire display to see if you can find them all.
If you're looking to take a taste of gingerbread and the holidays home with you, you're in luck because this display has quite the lineup of treats available for purchase that will dazzle your taste buds, including:
Freshly baked, homemade items, such as Gingerbread Mickeys and Shingles, Stollen Bread, Brownie Christmas Tree, and Gingersnap Cookies
House-made Gingerbread Ornaments and Gingerbread Houses
Assorted Gingerbread Cookie Bags, Marshmallow Pops, and Milk Chocolate Pecan Fudge
Grand Floridian Combo Box featuring assorted fan favorite treats, including the cookies n' cream Christmas Tree, exclusive to this box
Plant-based, no sugar added, and gluten-friendly options
DISNEY'S BEACH CLUB RESORT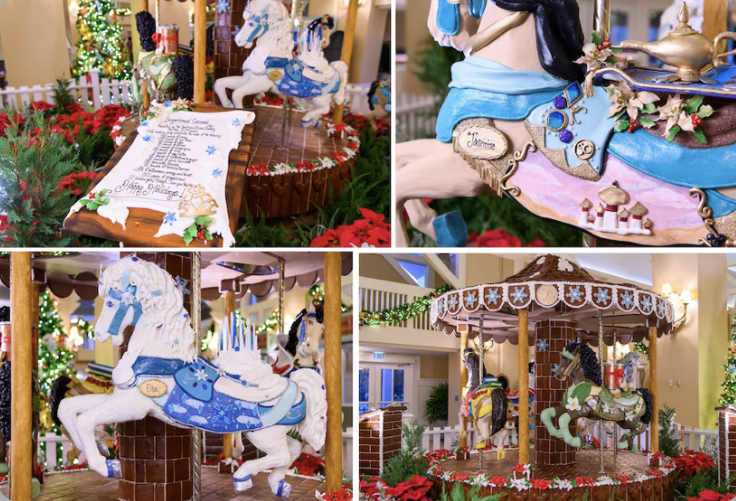 The classic Holiday Carousel gingerbread display will be back at Disney's Beach Club Resort!  The life-size creation has been at the resort for 22 years and it actually moves! This year, this gingerbread offering is inspired by Ducktales, with the horses themed after Donald Duck and his nephews, Huey, Duey, and Louie. To celebrate all the years of tradition, there are 22 hidden Mickeys to find throughout the display, as well as 434 pounds of honey, 25 pounds of spices, 200 pounds of icing, and a whole lot of creativity and talent from the culinary team!
Some of the holiday treats available at this location include:
Signature Stollen Bread
Lighthouse Fudge
Mickey Snowman Pop
Crispy Rice Treat
Peppermint Bark
Gingerbread Shingle
Hot Chocolate Flight
Hot Chocolate
DISNEY BOARDWALK RESORT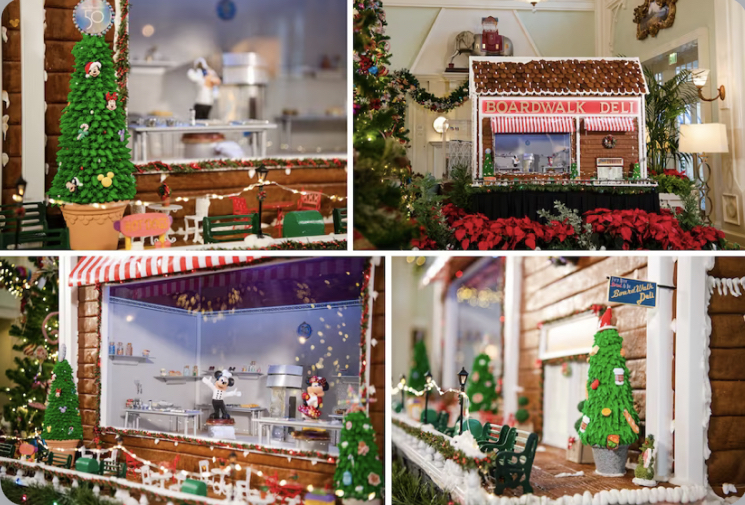 You will be able to visit this display from November 17 through December 27! This creation is a miniature version of some of your favorite spots found along the BoardWalk itself, including the BoardWalk Deli, which is home to none other than the BoardWalk Inn Bakery team led by Pastry Chef Alex Vacher.
Before leaving, be sure to check out some of the treats made by the team, like:
Mickey and Minnie Sugar Cookies
Mickey Caramel Corn Cookie
Christmas Tree Pop
Peppermint Bark
Gingerbread Shingles
Gluten/ Wheat-Friendly and Plant-based Gingerbread Shingles
DISNEY ANIMAL KINGDOM LODGE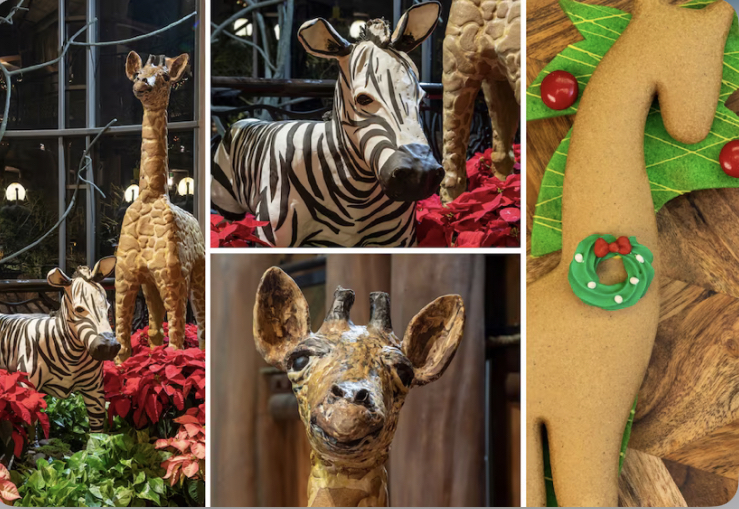 Next up, let's go on a tasty adventure to Disney's Animal Kingdom Lodge where you'll find one of the most adorable giraffes and zebras around. In the Jambo House lobby from November 22 through December 31, the Animal Kingdom Lodge bakery led by Pastry Chef Lexy Ross has continued the tradition with the Life-Size Baby Gingerbread Giraffe and Baby Zebra. This can't-miss giraffe, or should we say ginger-affe, named Ginger and baby zebra, Debra, are made with a combination of gingerbread, sugar dough, and modeling chocolate. In fact, the giraffe stands near 7 feet tall. You'll also be able to pick up some tasty treats to take with you, like the Gingeraffe Cookie, Hot Cocoa Flight, and beer, wine, and cocktails!
DISNEY'S CONTEMPORARY RESORT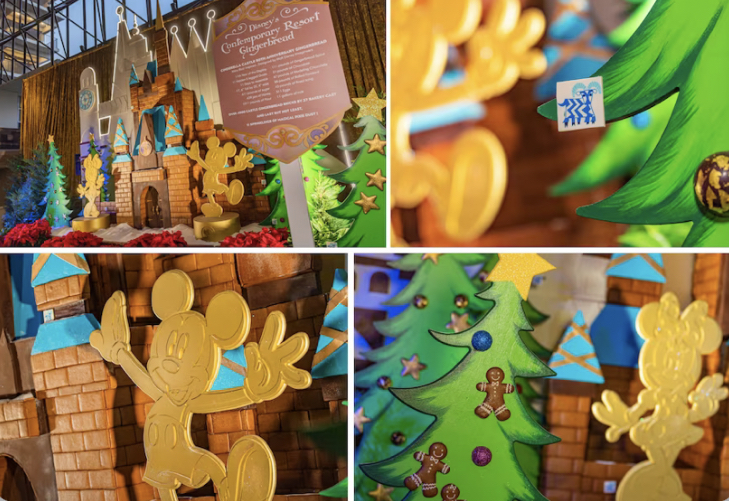 You can find this display on the fourth floor of the resort from November 10 through January 6, 2024! This year's Mary Blair-inspired 100th Celebration-themed Castle Display was designed by Walt Disney Imagineers for this momentous occasion for The Walt Disney Company. It stands over 17 feet tall with 612 pounds of sugar, 1012 pounds of flour, 112 pounds of gingerbread spice, over 4000 castle gingerbread bricks, and 12 sprinklings of magical pixie dust! And, be sure to keep your eyes peeled with the 12 hidden five-legged goats.
For those wanting a sweet treat, the following will also be available for purchase:
Gingerbread Castle Brick
Paint Your Own Cookie Box
Hot Chocolate Caramel Fudge
Chocolate Peppermint Cookie
Pistachio Linzer Cookie
5-Legged Goat Cookie
Gluten/Wheat Friendly Gingerbread Cookie
Gingerbread Latte Cupcake
Christmas Tree Butter Cookie
Frozen Hot Chocolate (Also available with Peppermint Schnapps)
Frozen Apple Cider (Also available with Fireball Cinnamon Whisky floater)
EPCOT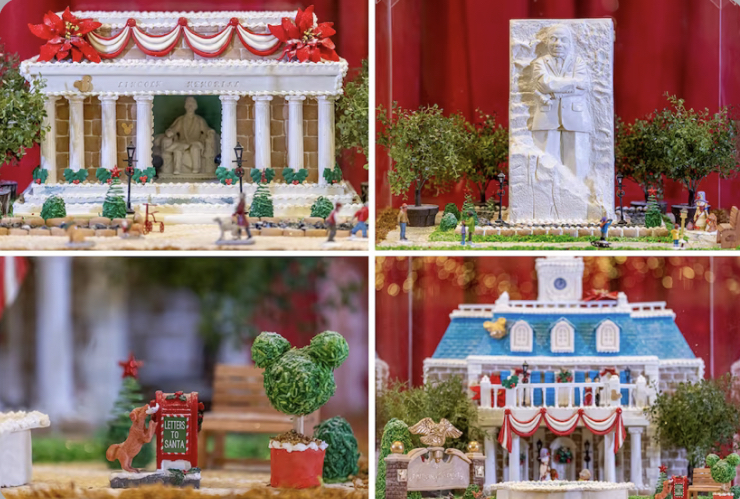 Last but certainly not least for Walt Disney World Resort, we've got quite the impressive display at The American Adventure in EPCOT. From November 24 through December 30, this unique display recreates some classic monuments in America and EPCOT alike with gingerbread versions of the Lincoln Memorial, Martin Luther King, Jr. Memorial, The American Adventure building with Regal Eagle Smokehouse: Craft Drafts & Barbecue, and even a Festival Marketplace. There are also 6 hidden Mickeys found within. See how many you can find on your next visit to EPCOT.
So if you are visiting Disney World or Disneyland this holiday season, make sure to take some time to check out these gingerbread displays! They are worth a visit for sure!
Credit: Disney Parks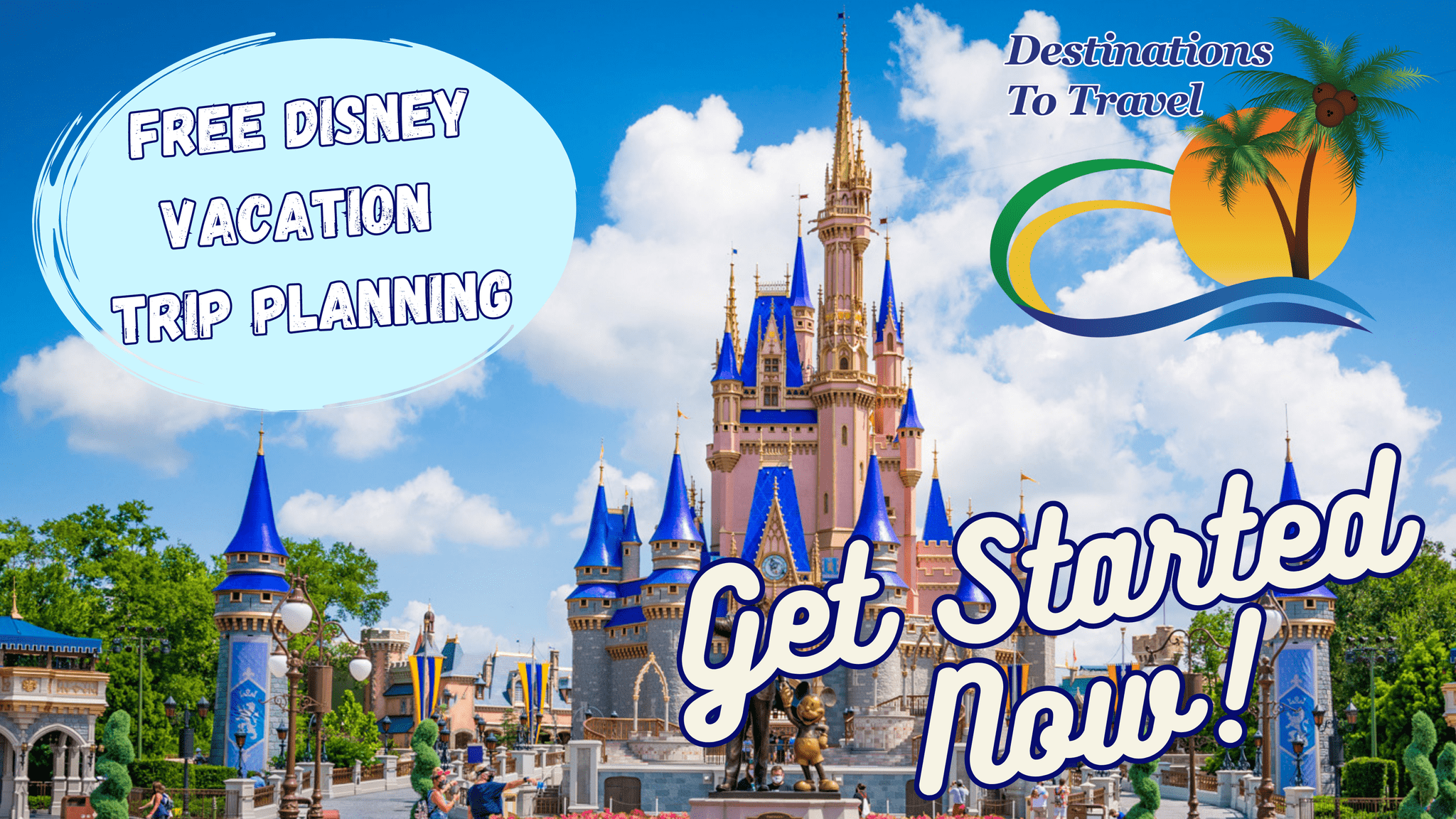 Let our friends at Destinations to Travel help you book your next Disney Vacation. They are the preferred Travel Agency of Chip and Company and Disney Addicts, and who we use ourselves.
Get started Now for your FREE No Obligation Quote.
Book With our friends at Destinations to Travel