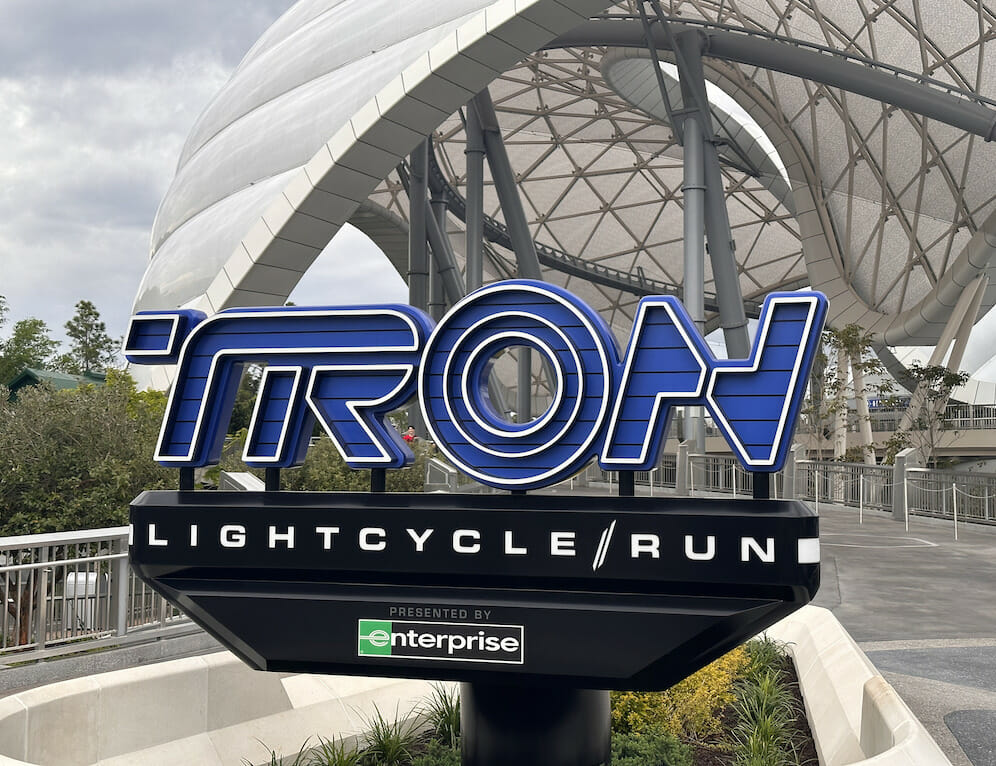 Complete Guide to TRON Lightcycle Run at Magic Kingdom
TRON Lightcycle Run is now open at Magic Kingdom! This is our complete guide to TRON. Here are all the tips you need to know to navigate the newest thrill ride at Walt Disney World Resort.
Related – TRON Lightcycle/Run: Ride and D23 Event Recap
TRON
The legacy of TRON began in 1982 when the original Disney film was released in July of that year. The film follows Kevin Flynn, a game maker who is convinced his former employer stole a video game program he wrote while employed at ENCOM.
Fast forward almost 30 years later, and Disney's "TRON: Legacy" is released on Dec. 17, 2010. The story picks up with Kevin's son, Sam Flynn, trying to solve the mystery of his father's strange disappearance. While investigating, Sam receives a signal from Flynn's Arcade, and he is suddenly drawn into the same cyberworld his father has been trapped in for years! With the help of some fearless friends, Sam must escape from a universe that is more than he could have ever dreamed up!
TRON Lightcycle / Run
Now in 2023, it is time for guests to enter the Grid on TRON Lightcycle / Run at Magic Kingdom Park. Located in Tomorrowland, this attraction is the home of Sam Flynn's second gateway into the Grid. Second? Yes! The first gateway can actually be found at Shanghai Disneyland in TRON Lightcycle Power Run!
Once in the attraction, guests are digitized and taken to the Grid to join Team Blue to race one of the Grid's other programs. Traveling on your own Lightcycle, you will race against your opponents in an attempt to successfully navigate through eight energy gates and claim your rightful victory!
The Virtual Queue and Individual Lightning Lane Entry
At this time there is no standby queue for TRON Lightcycle / Run, and guests may experience the attraction through a virtual queue or by purchasing an individual Lightning Lane entry. 
In order to enter the virtual queue, guests will need both valid theme park admission and a park reservation for Magic Kingdom Park. And guests will have two chances to join the virtual queue. At 7:00 am., guests can try for a spot in the virtual queue using their My Disney Experience app and have a valid admission and theme park reservation. If they are unable to join the virtual queue at that time, they may try again at 1:00 p.m. In order to enter the virtual queue in the afternoon, guests must be within Magic Kingdom Park. 
If a guest is successful at joining the virtual queue, they will be assigned a boarding group. When their boarding group is called, they will receive a notification from the My Disney Experience app and will have a one-hour window to arrive at the attraction. Late guests may not be accommodated, so make sure to plan accordingly! If a guest is looking for another way to experience TRON Lightcycle / Run, they may purchase an individual Lightning Lane entry on the day of their visit using the My Disney Experience app. Purchasing an individual Lightning Lane entry allows the guest to choose a one-hour arrival window.
Entering the Grid
As we all know, Imagineers don't just make rides. They make experiences! Guests are completely immersed in the story of TRON.
Once you travel underneath the canopy, you have arrived. Look closely to identify the print of the Grid, the Digital Frontier you're about to enter. The get ready to be digitized.
Tip: Don't forget to look around as you journey through the Hall of Opponents. There may just be some surprises waiting for you in the names and faces of the competition. 
Tips for Riding TRON Lightcycle / Run
Before you enter the attraction there are test vehicles to determine if you are comfortable riding a lightcycle. 
Remember, in order to experience TRON Lightcycle / Run, guests must be at least 48 inches tall. 
There is an alternate seating option available for guests who prefer to ride a standard coaster vehicle with a lap bar.
The Locker System
The lockers at TRON Lightcycle / Run are seamless to use and pretty cool. Here are tips on using the lockers.
Anything bigger than a wallet or cell phone needs to go into a locker.
Tap your MagicBand or theme park card to open the locker. If you don't have either, a Cast Member will give you a card to use.
Place your items in the locker and close it. If you forget to put something in, just tap in again!
After the ride, you exit on the other side of the lockers. The ones lit up are the ones with items inside.
If you forget which locker is yours, tap your MagicBand or card on one of the screens and it'll tell you your locker number.
Tap to open your locker, take your items, and go!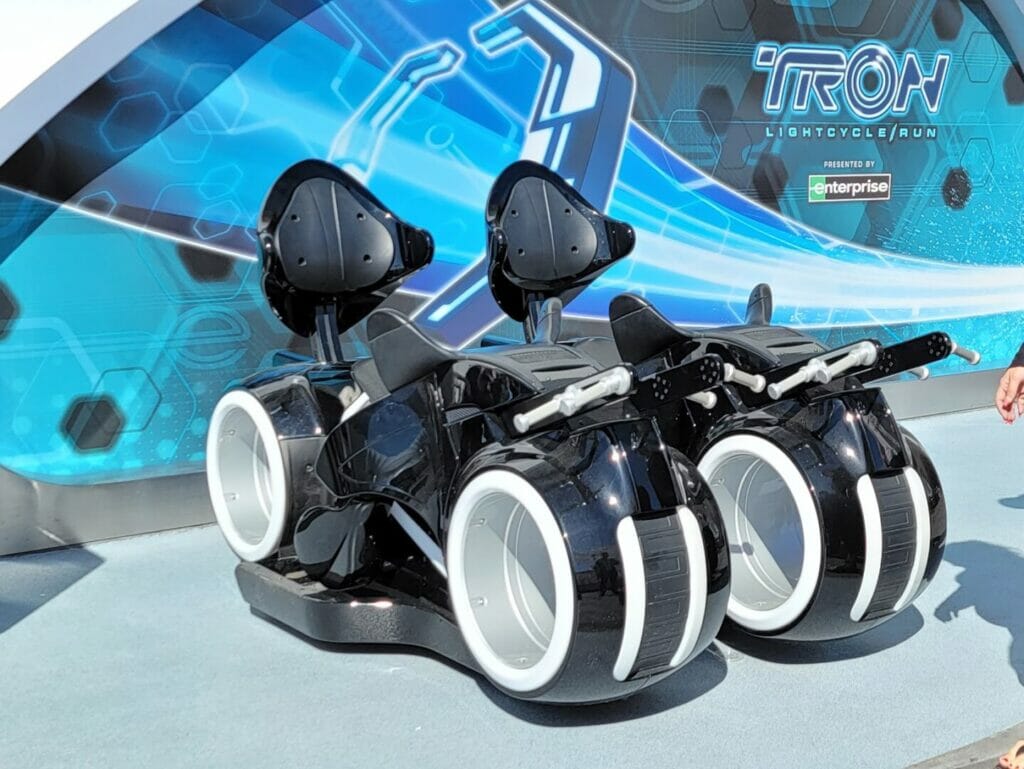 After you place your items in the locker, it is time to load. This is done by stepping onto the vehicle, placing your knees all the way forward, and then while leaning forward, pull the handlebar towards you as close as it can go. The back restraint will gently rest against you so that you are secure as you enter the Grid.
Off the Grid Merchandise
No experience in the Grid is complete without leaving with a souvenir!
Guests looking for TRON merchandise on April 4, should go to the pop-up location located across from the Monsters, Inc. Laugh Floor. Please note, a Virtual Waitlist may be in place.
Tip: Save time with Merchandise Mobile Checkout via the My Disney Experience app, and scan items as you shop and pay from your phone.
And wait there is food as well! All guests are able to visit Energy Bytes, Magic Kingdom's newest food kiosk located near TRON plaza. The menu features breakfast bites, savory snacks, sweet treats and refreshing beverages.
Simply stated, if you love rollercoasters, this experience is not to be missed!
Want to experience TRON Lightcycle Run at Magic Kingdom? Contact me today to start planning your trip! I am a travel agent with Destinations to Travel, my services are free, and I'd to help you plan a magical vacation.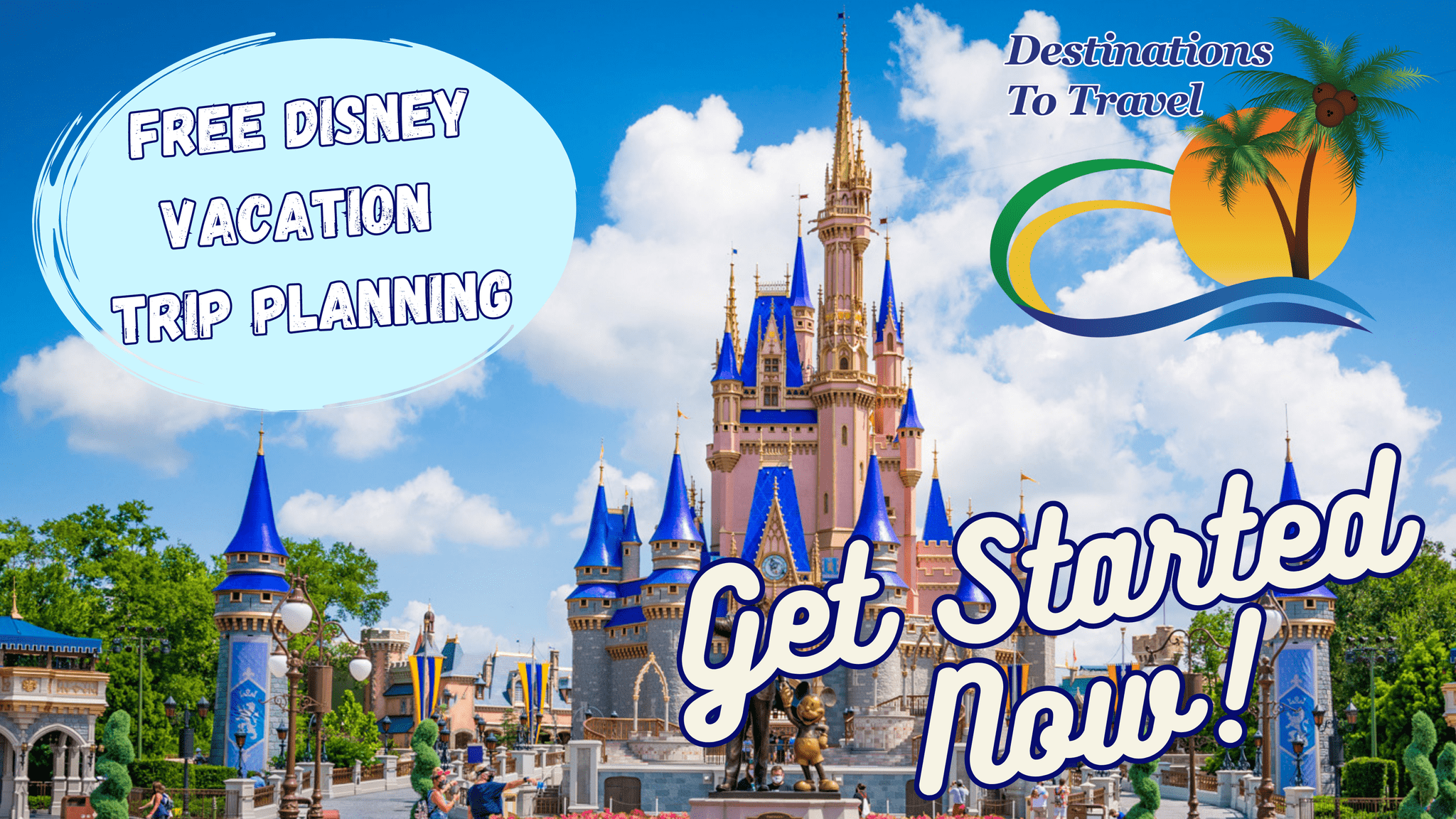 Let our friends at Destinations to Travel help you book your next Disney Vacation. They are the preferred Travel Agency of Chip and Company and Disney Addicts, and who we use ourselves.
Get started Now for your FREE No Obligation Quote.
Book With our friends at Destinations to Travel