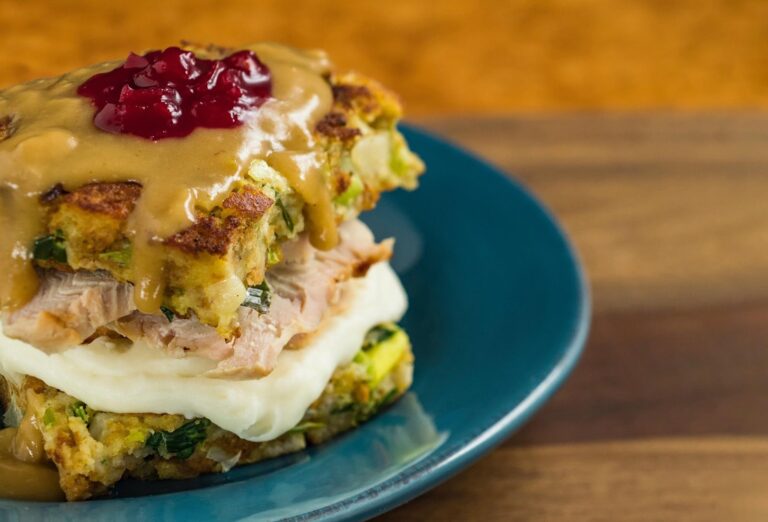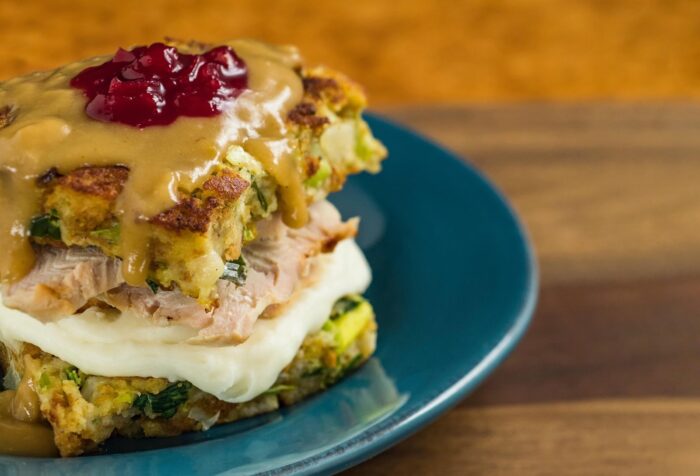 Thanksgiving might be over but we are sure you have plenty of food left right? So why not surprise your family with some delicious "Leftover Stuffing Waffles"!! 
This tasty recipe from a past Epcot holiday festival will leave everyone asking for more! A remix of the traditional Thanksgiving feast using the stuffing as waffles to create a delicious sandwich filled with turkey, mashed potatoes, gravy and cranberry sauce.
Our mouths are watering already! Take a look at the easy recipe for this ultimate plate of leftovers!
INGREDIENTS:
Cranberry sauce
12 oz of cranberries
1 cup of sugar
1 cup of water
Zest of 1 orange
Waffles
4 1/2 cups of leftover stuffing, crumbled
2 eggs, beaten
1/4 to 1/2 cup of heavy cream
Vegetable oil, for brushing waffle maker
To serve
1 pound of warmed leftover turkey, sliced
2 cups of warmed leftover mashed potatoes
2 cups of warmed leftover gravy
INSTRUCTIONS:
Cranberry sauce
Stir together the cranberries, sugar, water and orange zest in a saucepan over low heat. Cook and stir occasionally for about 10 minutes or until the sugar dissolves and the cranberries are soft.
Increase to medium heat and cook for about 12 minutes or until the cranberries burst. Let it cool to room temperature before serving.
Waffles
Preheat the waffle maker to medium-high.
Combine the stuffing, eggs and 1/4 of heavy cream. If the mixture is too dry, you can add more cream as needed.
Generously brush top, bottom and all pockets of the waffle maker with oil
Evenly and firmly pack each pocket of the waffle maker full with stuffing mixture. Close and cook for about 7-8 minutes or until golden and the waffles easily lift out of the waffle maker.
To serve
Place two mini waffles or one large waffle on each place.
Top each with turkey, mashed potatoes, gravy and cranberry sauce.
And now enjoy! We hope you had a happy thanksgiving and an even better christmas time!
Also, don't forget to check out the tasty offerings at Epcot International Festival of the Holidays this year.
Credit: Disney Parks
---