I recently wrote about the Top 5 Disney Restaurants you NEED an ADR for, and I mentioned some of the more popular character meals in that article – like Chef Mickey's and 'Ohana. It got me to thinking about other Disney Character Dining – and how popular it has become over the years. It has always been popular, but since Disney implemented their Advance Dining Reservation (or ADR) system, it has become even harder to snag a table alongside your favorite characters – and with good reason – they are SUPER fun, dining with characters is the best, and if you plan on doing it on your Disney World Vacation, I HIGHLY recommend you make ADR's for them, ESPECIALLY these:
Cinderella's Royal Table:


This is the holy grail of Character Meals – the one everyone wants, and it seems like hardly anyone can get. The restaurant itself is located upstairs in Cinderella's Castle, where you not only get to mingle with the Disney Princesses, but you're also treated to an amazing view of the Magic Kingdom. Oh, plus, they treat you like royalty, too! The meal is considered a Signature Dining Experience – meaning it's going to cost you a bit more than other character meals, and if you're on the Disney Dining Plan, it will use up two table service credits instead of 1. Breakfast, Lunch and Dinner are all served here daily – with awesome dishes like stuffed French toast and quiche at breakfast, and cured meats and cheeses, Rib Eye, and braised pork shank at lunch and dinner. The princesses are on hand for royal conversation, autographs, and photo ops – and all of this makes it an experience that is not to be missed. Anyone who has any Princess fans in the family will want to make sure they book this PRONTO!
Pro Tip: If you can't snag an ADR at the Castle, then check out Akershus Royal Banquet Hall in Epcot's Norway. This Princess character dining experience also serves up Breakfast, Lunch and Dinner daily – with traditional Norwegian foods at Lunch and Dinner, and more traditional American fare at breakfast
Crystal Palace:


Pooh, Tigger, Eeyore and Piglet are on hand at this top Magic Kingdom dining spot, where breakfast, lunch and dinner are all served buffet style while the characters celebrate fun and friendship with hourly friendship parades around the restaurant. I have been coming to this one since I was a kid, and have been loving it ever since. Breakfast includes some awesome options – like Pooh's Signature Breakfast Lasagna as well as plenty of those deliciously classic Mickey Waffles, while lunch and dinner offer up some delicious carved meats and plenty of fresh salads, too. I think for me the main draw here is the location – it's right on Main Street in the Magic Kingdom, and it has just always been a great place to eat – and is ALWAYS packed. This is also a great place even if you don't have any little diners with you – I love it even more as an adult!)
Tusker House:


Over in Disney's Animal Kingdom, you will find this character buffet – open daily for breakfast, lunch and dinner, and hosted by Donald Duck himself! Donald greets you as you enter the restaurant, and his pals Daisy, Goofy, Mickey, and Minnie are all on hand to make sure you have a great time. And you will – aside from the fact that the characters wear awesome safari themed clothes (my personal favorite part of dining here!), the FOOD here is amazing too. It's African themed, but don't let that scare you – it really is delicious and worth trying. Breakfast is a lot of standard fare like eggs, meats, and pastries – but the winner here is the beef bobotie – an almost quiche-like dish featuring amazing spiced meat (trust me – you HAVE to try it!). Lunch and dinner offer a selection of freshly made hummus and pita, roasted chicken, curries and other fresh salads, and much more. Even if you aren't sure about the African theme – I suggest you try it out – you likely will be pleasantly surprised – as they really have something for everyone there
Character Dining is a staple of any Walt Disney World vacation – and if you're thinking about dining at any of the above places, I HIGHLY recommend you plan ahead and make an Advance Dining Reservation for them so you can enjoy all the food, characters and fun!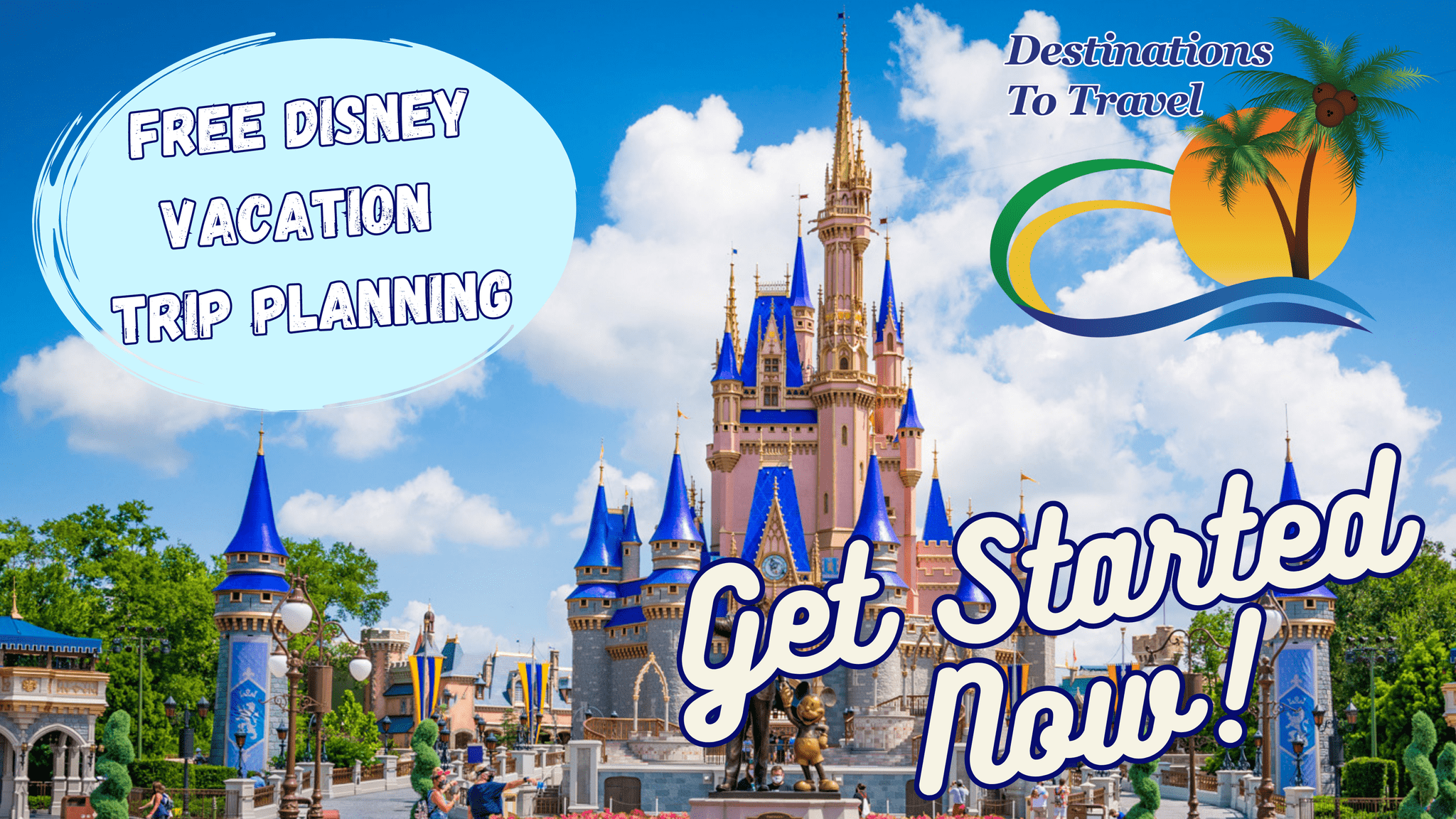 Let our friends at Destinations to Travel help you book your next Disney Vacation. They are the preferred Travel Agency of Chip and Company and Disney Addicts, and who we use ourselves.
Get started Now for your FREE No Obligation Quote.
Book With our friends at Destinations to Travel