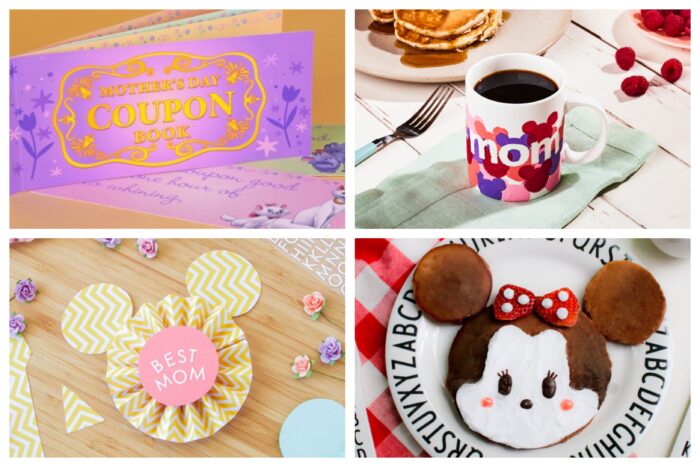 The day to pamper your mom is almost here! You should pamper her every day but the official day is coming up. This Mother's Day (May 10th), you can celebrate the mom in your life in Disney style. Whether it's Disney food, Disney crafts, or Disney gifts, we've got some great ideas for you to give your mom a wonderful Mother's Day!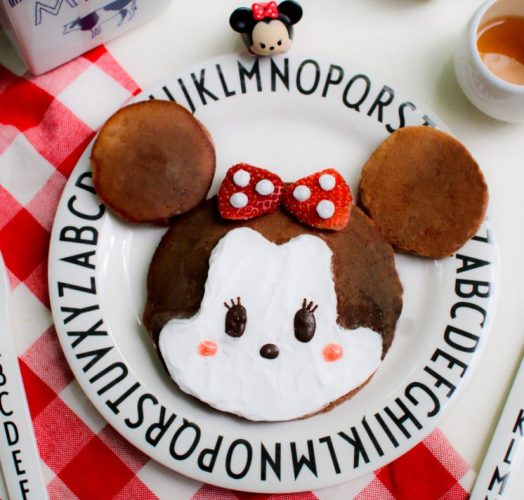 Minnie Tsum Tsum Pancakes – Every mom LOVES breakfast in bed and what better breakfast than Minnie Tsum Tsum pancakes?
What you'll need:
1 cup self-rising flour
1/3 cup cocoa
1 tbsp baker's sugar (super fine)
1 egg
3/4 cup milk
Butter
Melted chocolate
Strawberry
Whipping cream
Pink gel icing
How to make them:
In a bowl, sift in flour and cocoa, combine with sugar.
Gradually whisk in the eggs and milk. Mix until you get a batter.
Heat a pan over medium heat and brush with melted butter.
Use a ladle to scoop up mixture into the pan. This will be for Minnie's face.
Use a tablespoon to scoop up mixture into the pan. This will be for Minnie's ears. Repeat to make the other ear.
Use melted milk chocolate to draw Minnie's features. Place the chocolate in a zip-top bag, cut a small hole, pipe on parchment paper, leave in fridge to harden, and then peel off. Place on the pancake. You can also pipe directly onto the pancake, if preferred.
Cut strawberry in half for Minnie's bow. Place on the pancake.
Using a mixer, whip up whipping cream until soft peaks form. Use a spatula to spread it out on the pancake to form Minnie's face.
Scoop a little whipped cream in a zip-top bag, cut a small hole, and pipe round dots onto Minnie's bow.
Squeeze out a dot of pink gel icing for Minnie's cheeks.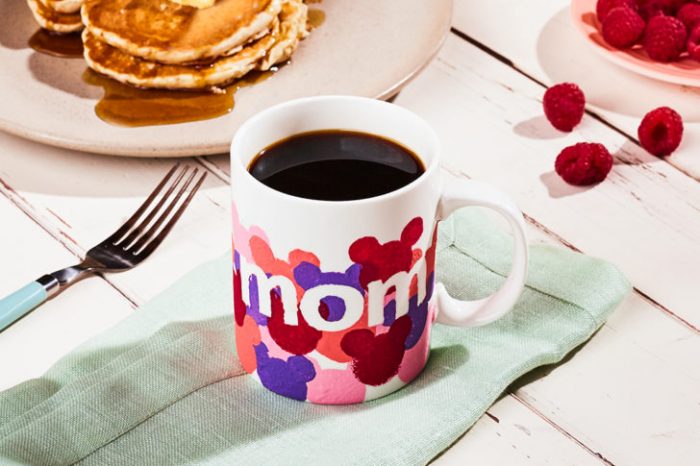 Mickey Mug for Mom – Make a magical gift for mom that she can use every day! Personalize it by using her favorite colors.
What You'll Need
White ceramic mug
Alphabet stickers
T-shirt or fabric
Acrylic paint for glass and ceramics
Medium circle sponge paintbrush
Small circle sponge paintbrush
How to make it
Wash mugs with soap and water.
Press alphabet stickers onto fabric to lessen stickiness.
Carefully remove stickers from fabric and press onto mug.
Prepare a palette of ceramic paints. Choose three favorite colors.
Paint layers of Mickey shapes over the alphabet stickers. Use a medium circle sponge paintbrush to create Mickey's head, and a smaller circle sponge paintbrush to create Mickey's ears.
Once dry, remove stickers.
Set the oven to 360 degrees and immediately place the mug in the oven. To prevent cracking, do not pre-heat oven prior to placing ceramic mug inside. Pre-heating may cause the ceramic mug to heat up too quickly.
Bake mugs for 30 minutes. When time is complete, turn oven off and allow mug to cool there. Removing mug from oven too quickly may cause the mug to crack.
Present mug to Mom on Mother's Day!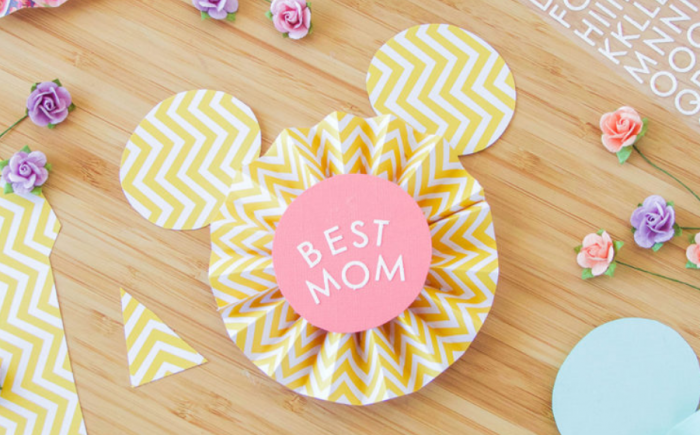 Mickey Rosette – This Mother's Day card/rosette will be cherished for years to come!
What you'll need
Patterned and solid-colored paper
Scissors
Stapler
Hot glue
Letter stickers
How to make it
Start by cutting out a long rectangle from the patterned paper.
Accordion fold all the way down the rectangular piece.
Staple the middle of the folded paper.
Unfold the rosette and glue the sides together to create a full circle.
Next, cut 2 ears out of the remaining paper. Then, glue them to the back of the rosette.
Cut out a small circle.
Spell out "best mom" with letter stickers on the circle. (Or whatever you want to say to your mom)
Glue the circle to the middle of the rosette.
Glue a closure to the back to create a pin, glue a magnet for the fridge, or just give it as a card!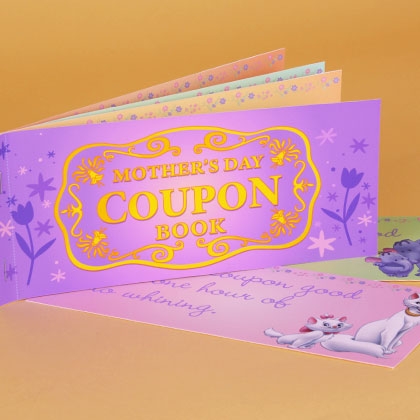 Mother's Day Coupon Book – As a mom, I would LOVE to get a coupon book for Mother's Day! Show your appreciation for all your mom does for you by doing some things for her.
What you'll need
Cardstock
Scissors
Stapler
How to make it
Print out the coupons on regular paper.
Cut each coupon and the title page out.
Stack the coupons in the numbered order and place the title page on top.
Staple the booklet at the top and bottom of the left side.
Hand it to Mom and make her day!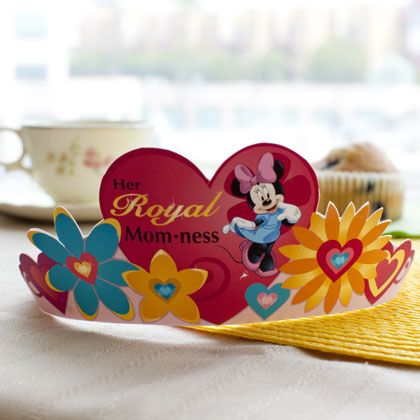 Queen-for-a-Day Kit – Every mom deserves to feel like a queen! This kit comes with a tiara, necklace, and decorative doilies. This will for sure make mom feel like royalty!
What you'll need
Regular paper or cardstock
Scissors
String
Glue or tape
How to make it
Download and print the templates.
Cut out all of the pieces and follow the printed instructions for each.
How will you celebrate the mom in your life this weekend? Share your Disney ideas with us!
---