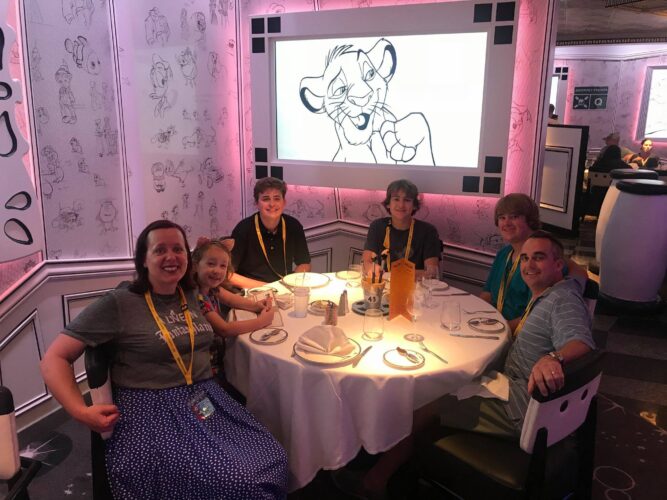 Do I Really Have to Dress Up and go to Dinner Every Night on my Disney Cruise?
One question that my Disney Cruise Line clients frequently ask me is do we really have to dress up and eat a fancy dinner every night of our cruise? The answer to that question is no, there are tons of options for dining on a Disney Cruise – I GUARANTEE no one in your family will go hungry! But, let me make a case for WHY your family should take the time to get "dressed up" and go to dinner EVERY NIGHT on your Disney Cruise vacation.
Let me start by saying that I am a MAJOR Disney foodie – I love the food at the parks, the resorts and especially on the ships. If you want someone to chat Disney eats with, I'm your gal. That said, I have eaten thousands of meals with Disney over the years and I will tell you that the evening dining rotation on any Disney Cruise is truly something special. It is an experience you can't replicate anywhere else. I've got three reasons why.
The Venues
Every Disney vessel has three main dining rooms. They offer a unique and special evening dining method that is called Rotational Dining. This means that you will be pre-booked into a set rotation of dining rooms for each night of your cruise. If you are on a three night cruise, you will hit each of the restaurants on board once. For cruises longer than three nights, you will repeat some or all of the restaurants but with a totally different menu. Your table number will be the same in every restaurant, and is also printed on your Key to the World card, which makes it easy to find your spot each night. Your dining rotation is also encoded on your card so you never need to lose track of where you are headed for dinner.
The restaurants on board the ships are STUNNING. Each has a unique theme and signature cuisine. For example, on the Dream, the three restaurants on the dining rotation are:
Royal Palace – classic Disney fairytale vibe, cuisine is French with American options available

Enchanted Garden – French garden decor, continental cuisine

Animator's Palate – features a dinner show celebrating the art of animation, Pacific Island/Asian/Californian cuisine fusion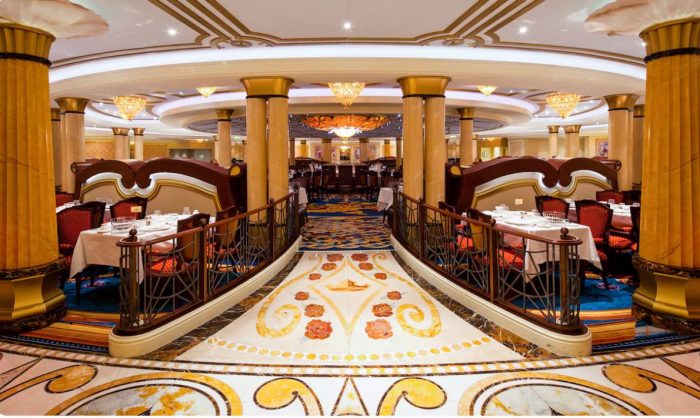 The Disney Magic and Wonder have each had a restaurant recently redone to truly immerse their guests in a classic Disney story. The Wonder features Tiana's Place restaurant where live jazz and a visit from the princess herself perfectly compliment the Creole and Cajun cuisine. Rapunzel's Royal Table on the Disney Wonder features American cuisine, live music and Rapunzel arrives in to join the fun. The princesses visit each table during the meal which makes for a fantastic, and no-wait photo op!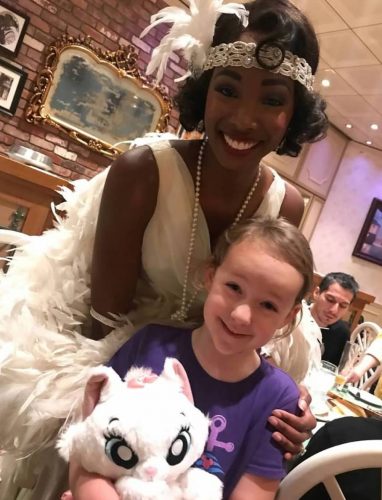 The Food
The food at dinner is abundant and also seriously delicious. Your menu will be divided into sections for starters, soups, salads and entrees. You may ask, as I have on many occasions, "What is included with my meal?" and your servers will respond "Anything you want". No joke. You could order an appetizer, a soup, a salad and three different entrees if you would like. Don't feel like anything other than an entree? That's fine too! Want to just grab and appetizer and a glass of wine and sit with your kids while awaiting your adult-only dinner reservation at Palo or Remy? You are more than welcome to do that, and I'm speaking from experience!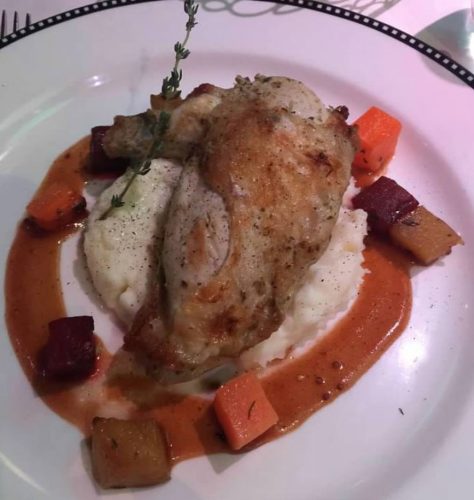 My kids have been able to try so many different foods on Disney Cruises because there is really no risk. There is no extra cost and if they don't like it, off it goes. Ceviche, escargot, French onion soup, different cuts of steak, types of fish – they have tried it all and found some new favorites. If you don't like it, your servers will bring you something else! Traveling with a less adventurous eater? There is a kids menu available and there will always be something delicious for them as well.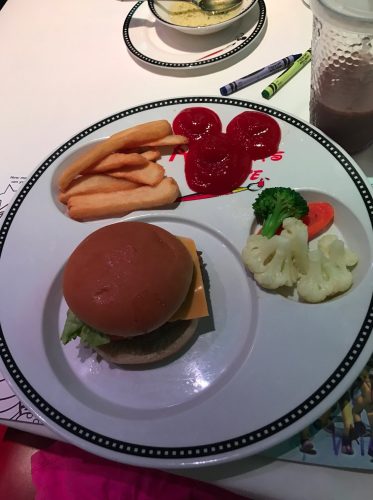 Looking for an adult beverage to accompany your meal? You can order a wide variety at an additional charge. Have a sweet tooth? A wide variety of delicious dessert options will be made available on a separate menu at the end of your meal.
If you are traveling with a person with special dietary requirements or a food allergy, Disney Cruise Line is experienced in accommodating all of these as well. There are vegetarian options on all menus and if there is a specific allergy, the available dishes will be discussed at every meal.
The Servers
I've been saving the best part about Disney Cruise dining for last – the servers. Your service team, server and assistant, will follow your family from restaurant to restaurant every night of your cruise. They get to know you and your family's preferences, and after the first night will have each person's preferred beverage waiting for them on the table upon arrival. Your servers are an amazing resource for the best choices on the menu from wine pairings to each individual menu item from appetizer through dessert. They have amazing rapport with kids and frequently will entertain them with jokes, riddles and puzzles at the end of the meal.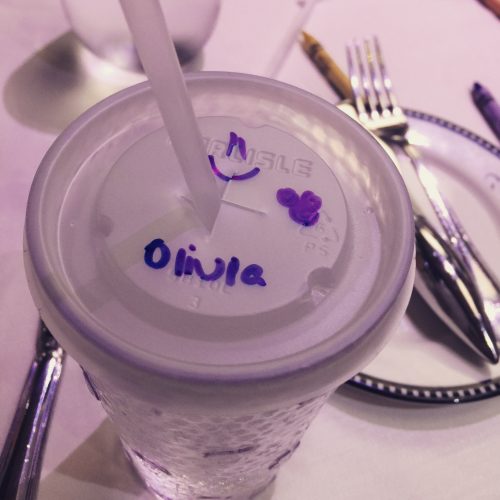 This is the real Disney differentiator – the level of service that you can expect to receive from your dining room servers is truly top notch. On multiple occasions my family has had tears in our eyes when we had to say goodbye to our serving team on disembarkation morning. I can't overstate this enough – to really feel the Disney Cruise Line difference, get yourself to dinner every night!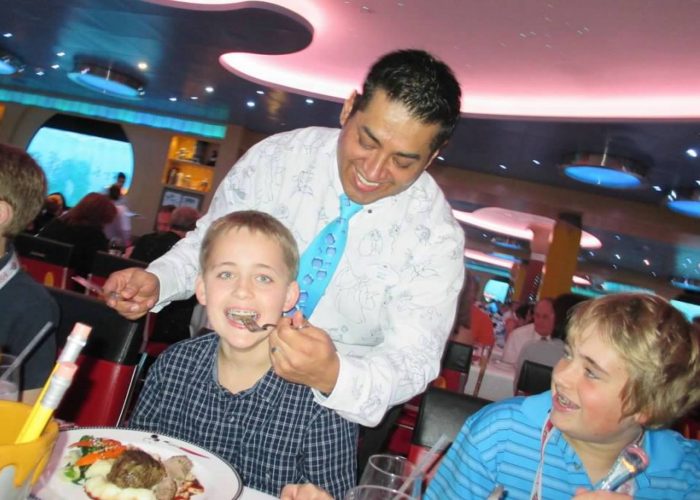 Now, if reading all of the above hasn't motivated you to get dressed and head to dinner every night, there are many other options if you've just had way too much fun on the AquaDuck all day and need a rest. You can:
Hit the buffet – at least one side is open in the evenings for dinner

Head to one of the quick service spots on the pool deck – there are quick bites to be had, from pizza and chicken strips to tasty sandwiches and beyond

Order room service – totally done for the day? Pick up the phone and have food delivered to your stateroom. There is a menu in each room and the food is included in the price of your voyage, although recommended gratuity is not
Does all this talk of the amazing food on a Disney Cruise have you ready to set sail? As an agent with Chip & Co's official travel partner, Key to the World Travel, I would love to help with your first, or next, Disney Cruise Line, Walt Disney World or Disneyland vacation! Email me at missy.graner@keytotheworldtravel.com or simply fill out the quote request below. And be sure to follow me on Facebook and Instagram.
---
Latest posts by Missy Graner
(see all)