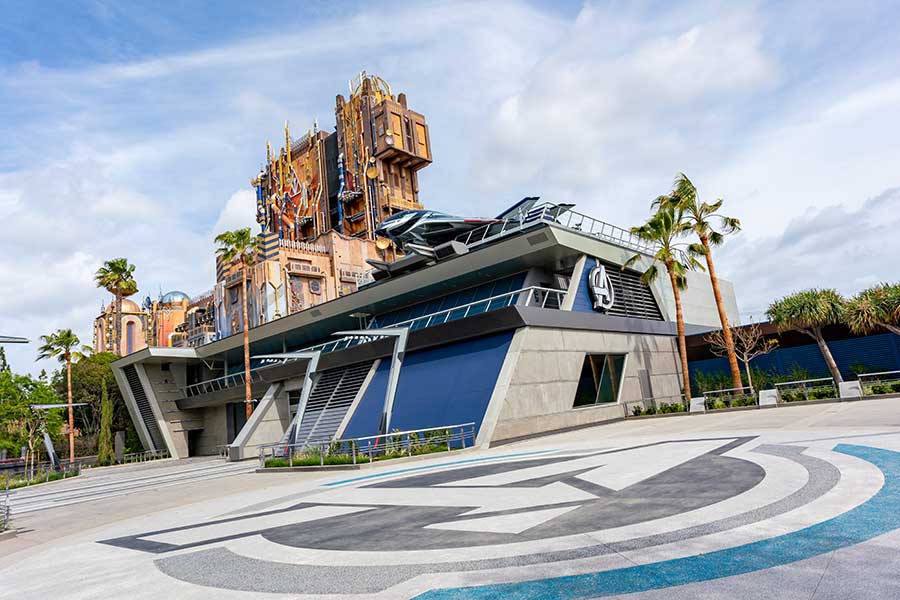 Marvel's Avengers Campus is a new land opening in Disney California Adventure on June 4, 2021. It will be an entirely new land dedicated to discovering, recruiting and training the next generation of Super Heroes. Guests who are lifelong fans of Super Heroes and those discovering them for the first time are invited to team up with the Avengers and their allies to live out their Super Hero dreams in this fully immersive land that mixes innovative technology and fun for all ages.
Avengers Campus brings together Earth's Mightiest Heroes for the common good, and they're calling all recruits to join the action: Team up with the Avengers and their allies; sling webs with Spider-Man, taste-test inventive food and drinks and become part of a bigger universe. Kids and guests of all ages will find their powers as they take an active role alongside some of their favorite Super Heroes, with a chance to live out their own heroic story.
Related – Epic Merchandise Coming to Avengers Campus at Disneyland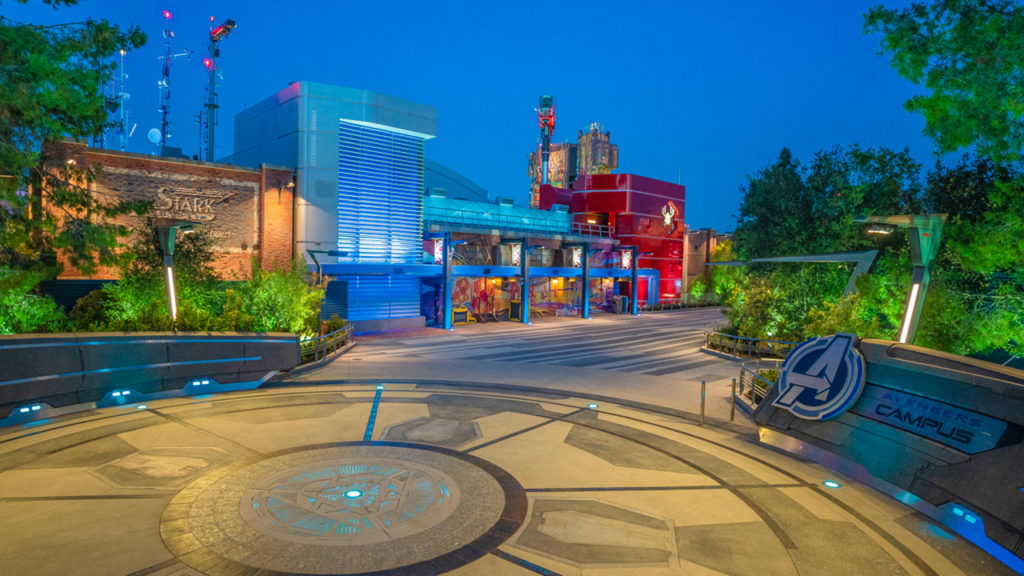 While exploring Avengers Campus, recruits may encounter Iron Man in his new armor, the Mark 80. Ant-Man and The Wasp appear for the first time at the Disneyland Resort and Doctor Strange will train recruits in the ways of the mystic arts at an Ancient Sanctum. Black Widow, Black Panther, Thor, the Guardians of the Galaxy, Captain America and Captain Marvel are among those joining the action.
The doors to Avengers Campus welcome all Avengers, their allies, and new recruits. Tony Stark offered up the site, formerly one of his father's Stark Industries complexes, as a place to train the next generation of Super Heroes.
The story of the land unfolds with authentic detail as Avengers Campus is comprised of several heroic locations, each hosted by a different Avenger or their ally to share their unique powers, technology and knowledge with recruits. Optimistic and forward-looking, these represent galactic spaces, mystic places, modern architecture and sleek technology.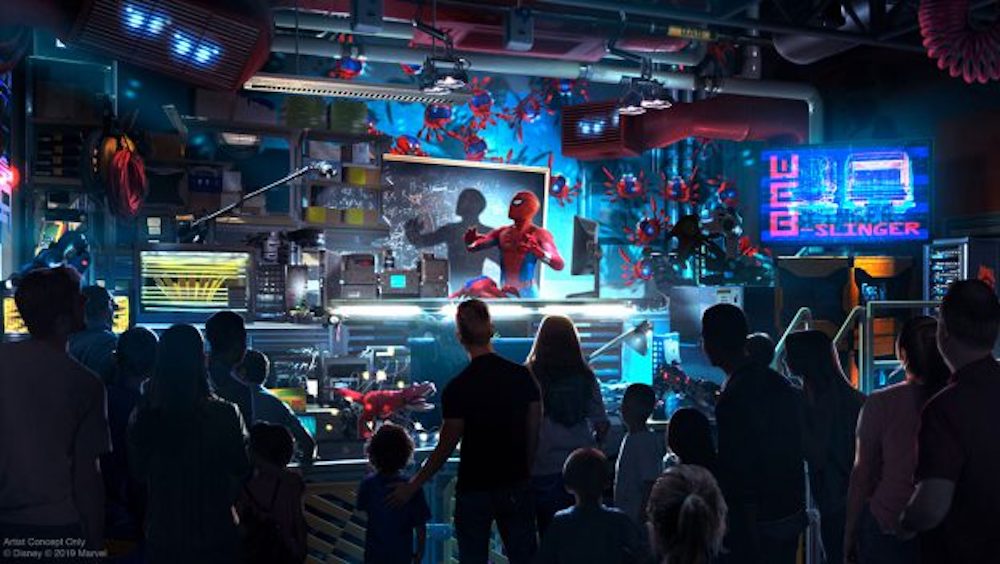 The first key address is the Worldwide Engineering Brigade – also known as WEB. It brings together bright innovators like Peter Parker who have been assembled by Tony Stark to invent new technologies and equip everyday people to become heroes. WEB is home to the new WEB SLINGERS: A Spider-Man Adventure, the first Disney ride-through attraction to feature this iconic Super Hero.
Tom Holland will reprise his role as Peter Parker in the land's new attraction, WEB SLINGERS: A Spider-Man Adventure. This new, action-packed adventure invites guests to put their web-slinging skills to the test, a feat accomplished with innovative technology adapted specifically for this attraction. The mission: team up with Spidey and help capture the out-of-control Spider-Bots before they wreak havoc on the Campus. During an open house at WEB, Peter Parker and the aspiring inventors ask guests to wear 3D glasses and test drive their latest invention, the WEB Slinger vehicle, which allows them to sling webs like Spider-Man and experience what it's like to have super powers.
This family-friendly attraction blends physical sets and virtual environments to take new recruits on an interactive escapade. There is no height requirement for this attraction, allowing aspiring young heroes to join the fun. Guests can even purchase their own WEB tech slingers that will give riders a new experience each time!
Related – Eats and Treats Coming to Avengers Campus at Disneyland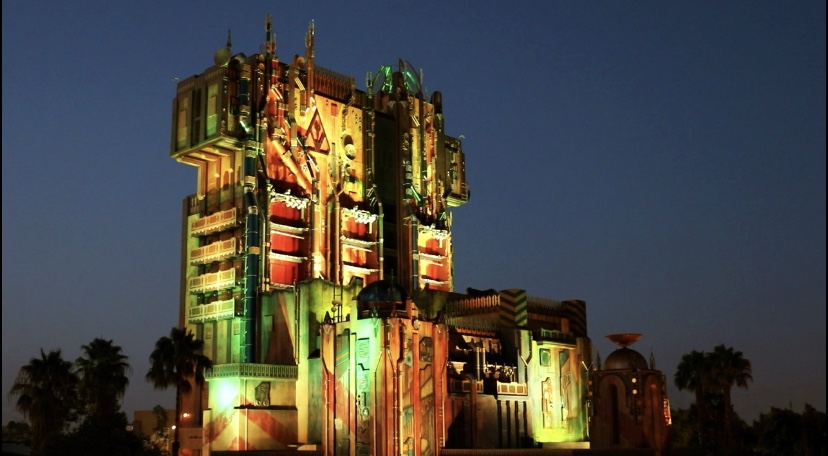 Looming high above the land is the towering citadel of Guardians of the Galaxy – Mission: BREAKOUT!, a fan-favorite that opened in Disney California Adventure in 2017. Guests are the protagonists of this rockin' adventure as they help rescue a cosmic gang of misfits. Taneleer Tivan, a.k.a. the Collector, has brought his unique collection of fantastical fauna, relics and species from across the cosmos to Earth. To their misfortune, Star-Lord, Gamora, Rocket, Drax and Groot were recently made a part of Tivan's "collection" and are being held captive within his Fortress. It takes some raucous mayhem, music inspired by the soundtracks from the movies and thrilling free-fall drop sequences for this adventure to break out the Guardians.
Throughout Avengers Campus, Super Heroes come to life in ways that are more exciting than ever. Recruits can train with Black Panther's loyal bodyguards, the Dora Milaje, to learn wisdom from Wakanda and what it's like to be a member of this elite royal guard. Okoye, the leader of the Dora Milaje, also debuts for the first time in a Disney park as she leads this training encounter.
Related – Inside Look Of Avengers Campus At Disney California Adventure!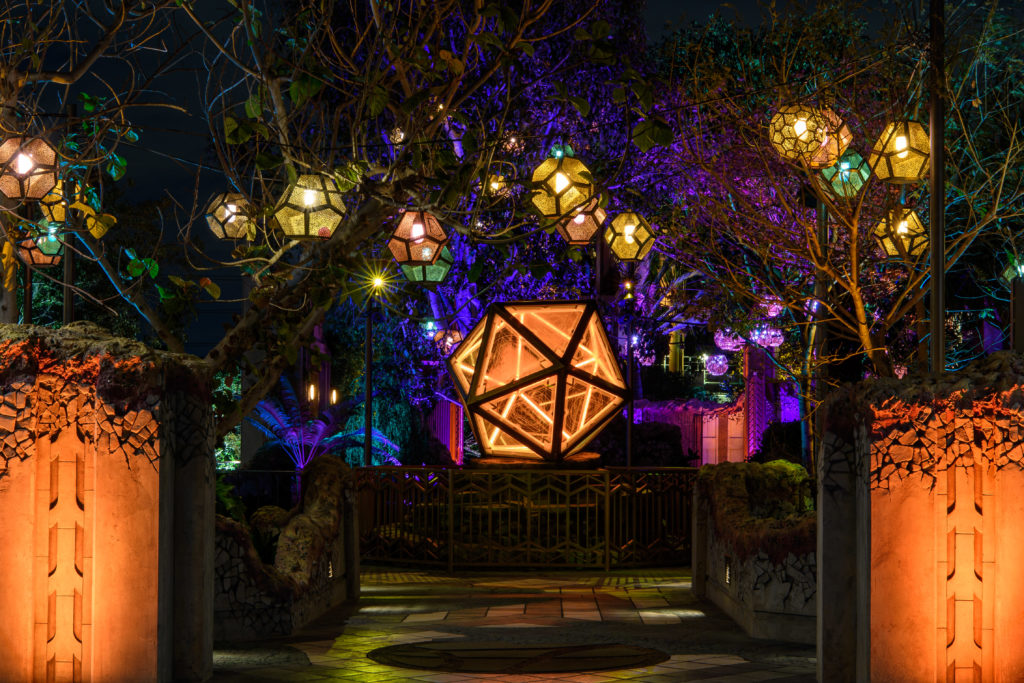 Exploring the overgrown ruins of an Ancient Sanctum, guests can learn mysterious secrets from Doctor Strange and discover ancient, magical artifacts. Doctor Strange will train recruits in the ways of the mystic arts by bringing this Ancient Sanctum to life with powerful spells. At night, the Ancient Sanctum glows even more vividly with majestic colors and lights, pulsating with mystic energy.
When it is time to take a break from the heroics, new dining spots will offer unique and innovative sustenance.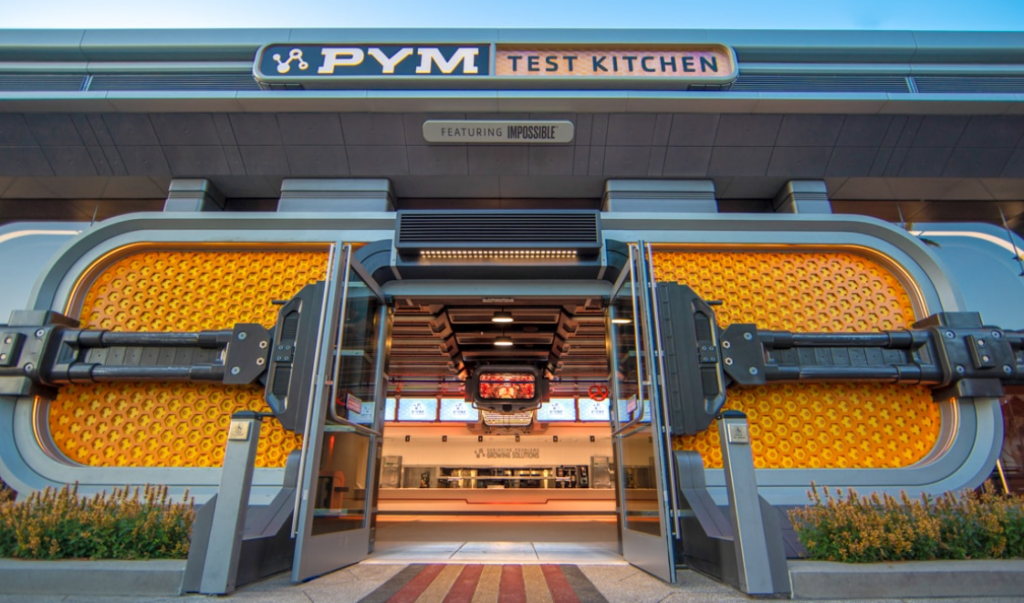 Pym Test Kitchen: Just as Ant-Man and The Wasp used "Pym Particles" to grow and shrink just about anything, the Pym Test Kitchen applies this innovative science to food creation. This unbound potential allows Pym Test Kitchen to showcase normal foods at unusual scales, including shareable bites, inventive-sized entrees and tiny treats. As guests watch the Pym food scientists at work in the kitchen lab, they will see the transformation of a regular-sized pretzel after going through a quantum tunnel – and it comes out big or small!
Guests will be able to savor foods like the Impossible™ plant-based meatballs, both large and micro and served with pasta in a super-sized spoon with a tiny fork. Another choice is the "Pym-ini," a panini on toasted focaccia with meats, cheese and marinara dipping sauce, which can be served by the slice or as a long, multi-portion sandwich. Those will go well with a glass of Pingo Doce, the distinctly green beverage from Avenger lore that will be available at Avengers Campus.
Gigantic soda cans and condiment bottles will be mounted in the vestibules as eye-catching art, and outdoor seating will be a great place to watch for Super Heroes.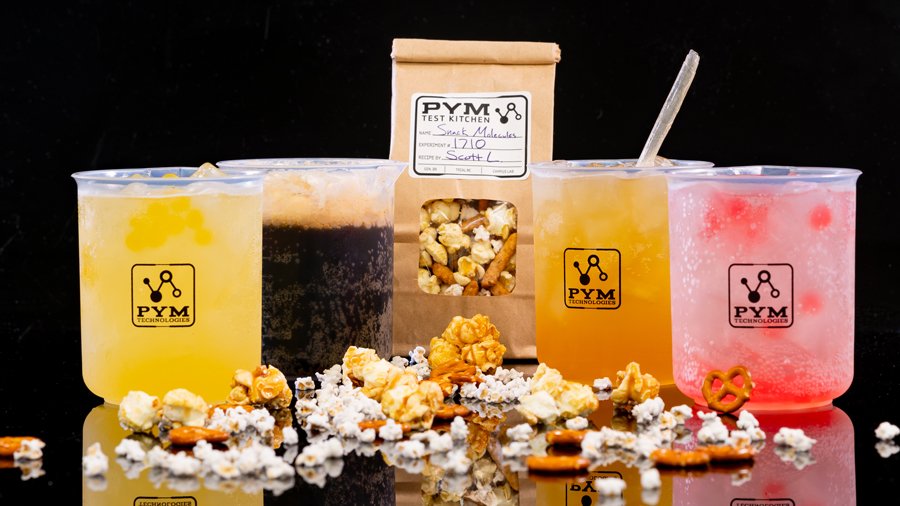 Pym Tasting Lab: Adjacent to the Pym Test Kitchen, an oversized beer can overhead signals that grown-up beverages are available at Pym Tasting Lab. Guests may order a craft beer, ranging from a blood orange hefeweizen to an amber lager. These are poured from a different kind of draft system where, thanks to the food scientists, the glass fills from the bottom up. Those thirsting for something unique can try one of the Pym Research Staff's Pym-Particle infused cocktail experiments, along with bite-sized snacks.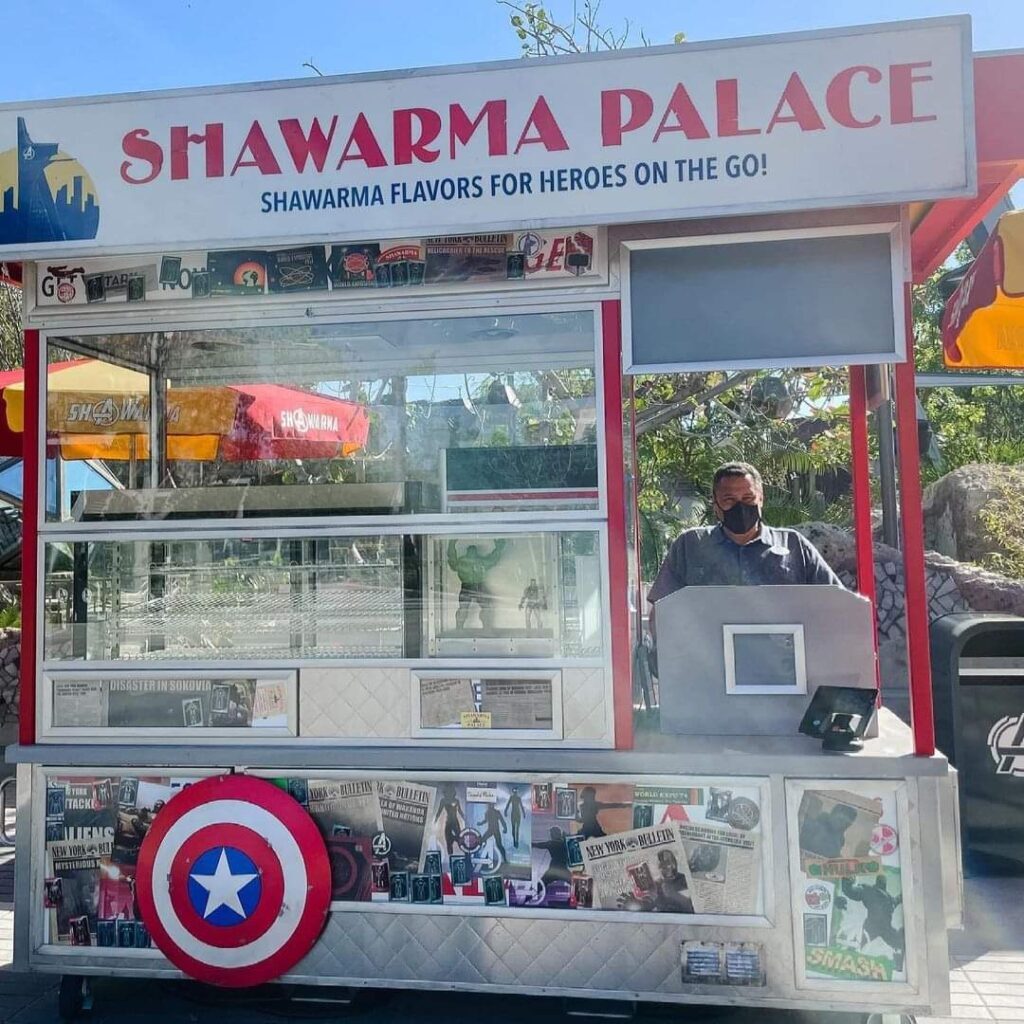 Shawarma Palace: Fans may recall that after the Battle of New York, the exhausted Avengers took Tony Stark up on his offer to try the food at the "shawarma joint" about two blocks from the battle zone. There at Shawarma Palace, the Avengers discovered their new favorite food. The Avengers loved the food so much that when it came time to build Avengers Campus, they invited the Shawarma Palace crew to open a second location at Avengers Campus. Now, guests and heroes on the go can enjoy some favorite shawarma-inspired wraps at this food cart, which is decked out with memorabilia for Avenger fans. This cart offers hand-held savory wraps with fragrant chicken shawarma and garlic sauce. Or, guests may choose the Impossible™ plant-based falafel wrap.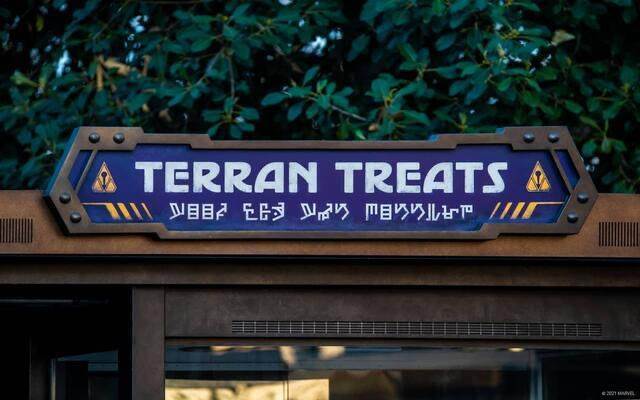 Terran Treats: Taneleer Tivan did not limit his collection to lovable misfits; he is also curating a weird and wonderful menu of intergalactic eats at this food cart near Guardians of the Galaxy – Mission: BREAKOUT! Churro spirals with unique flavors, and a cosmic orb with an outer shell revealing a decadent creamy filling, are just a few takes on what concoctions he has conceived to lure guests to his Fortress.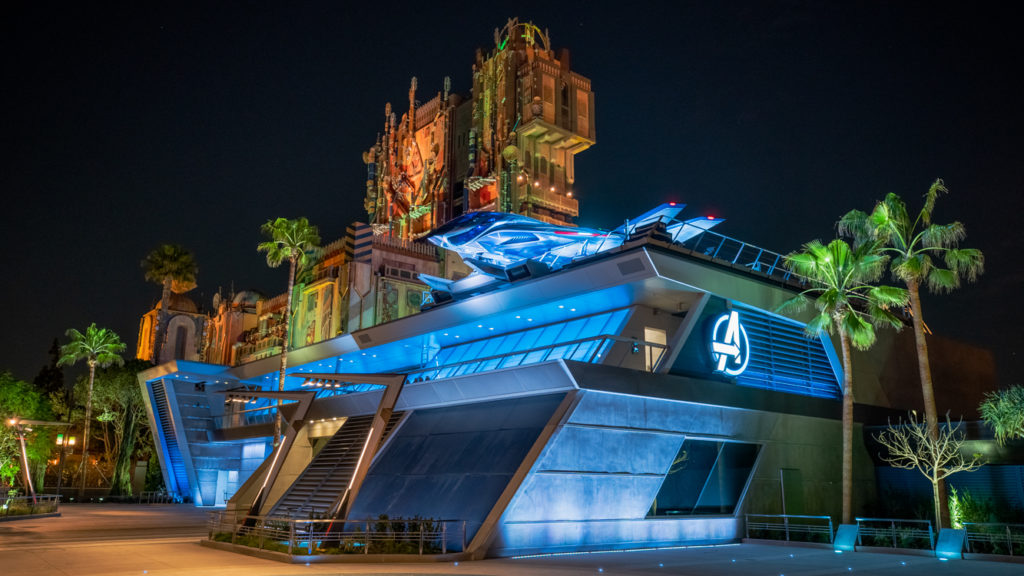 Avengers Headquarters is at the heart of the land, an iconic building where guests may catch a glimpse of the Avengers springing into action ready to save the day. A shining Quinjet sits atop its roof as a beacon for the campus. This building will also house an E-Ticket attraction where guests will board a Quinjet and head to Wakanda to fight alongside the Avengers. This ride will open at a later date.
We absolutely cannot wait to experience Avengers Campus next week! Will you be training with the Avengers soon? For help with planning your next Disney vacation, contact me today! I am a travel agent specializing in Disney destinations and can help you plan a magical vacation at no extra cost to you!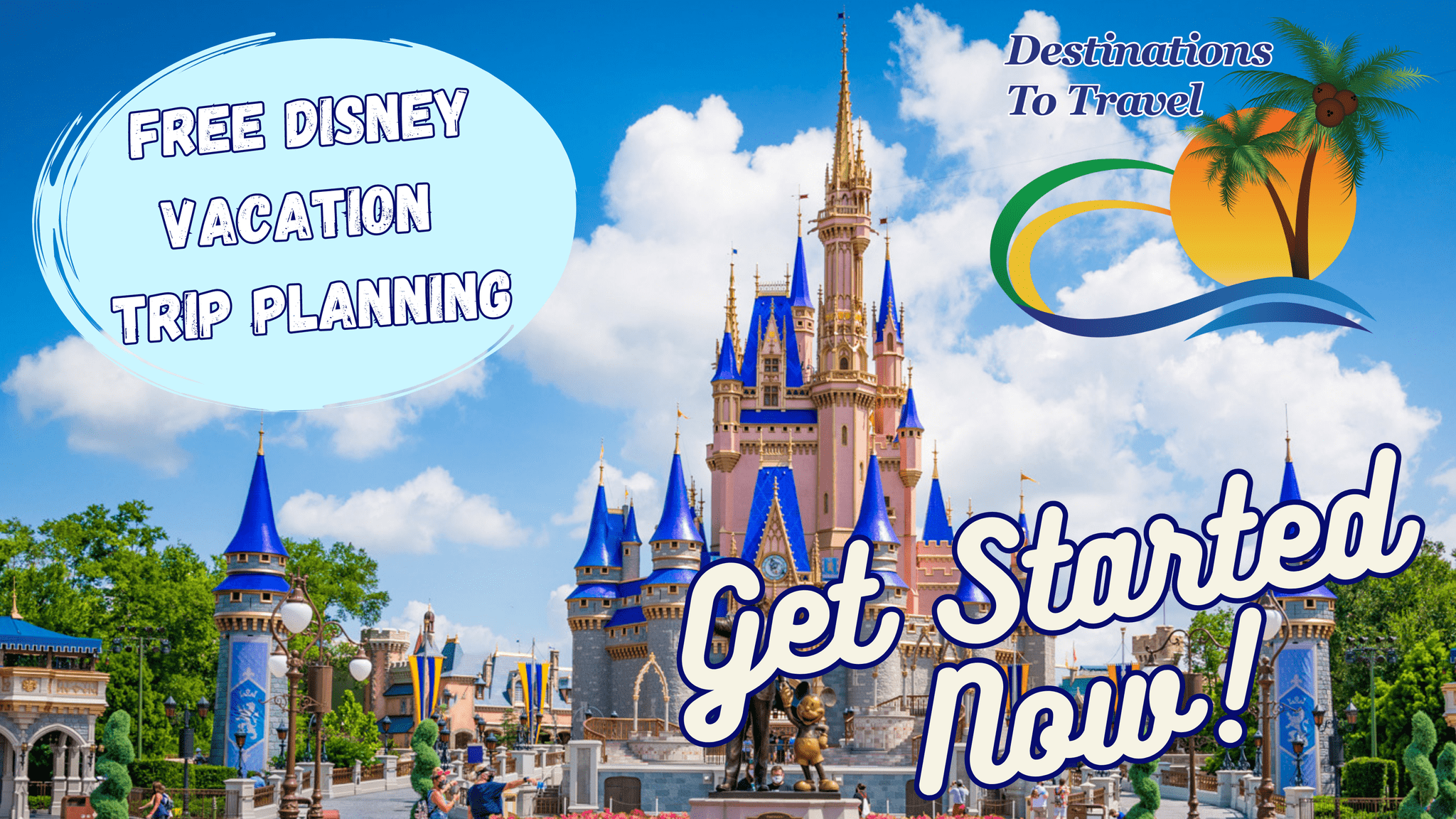 Let our friends at Destinations to Travel help you book your next Disney Vacation. They are the preferred Travel Agency of Chip and Company and Disney Addicts, and who we use ourselves.
Get started Now for your FREE No Obligation Quote.
Book With our friends at Destinations to Travel