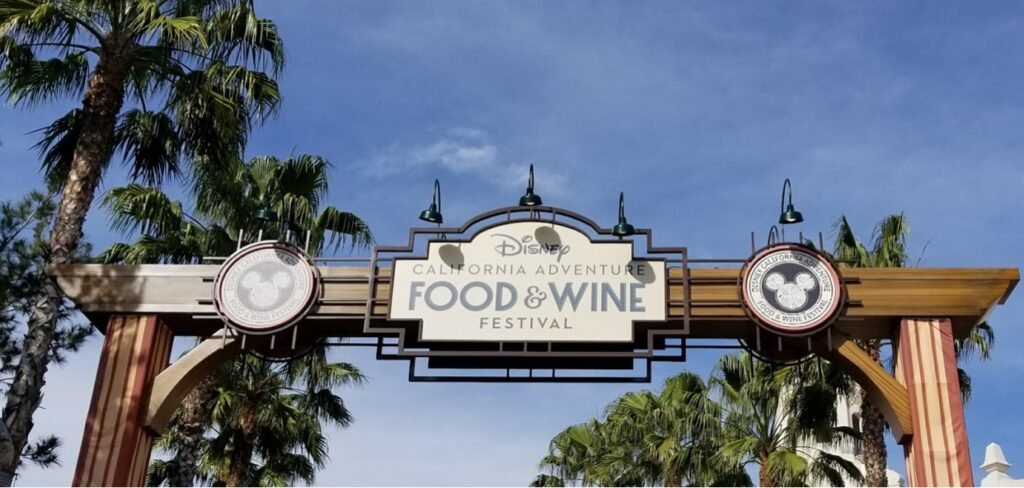 The Disney California Food & Wine Festival is returning to the Disneyland Resort from March 4 to April 26, 2022! During the festival, guests will get to experience local, celebrity and Disney chef demos and delight in a smorgasbord of delicious dishes curated by Disney chefs. Take a look at some of the highlights for this year's festival.
Related – Disney's California Adventure Celebrates 21st Anniversary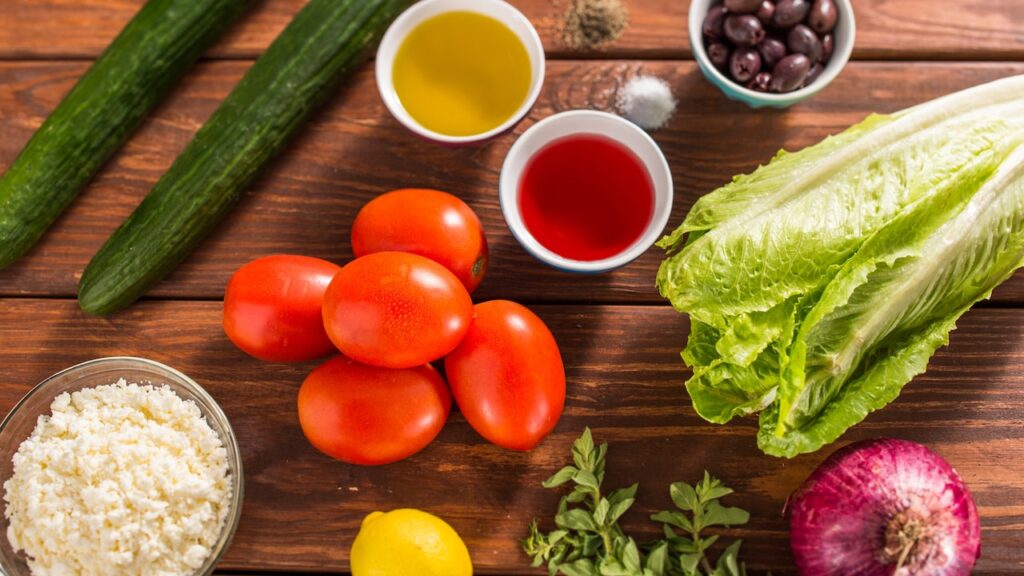 Culinary Demonstrations with Disney Chefs
Saturday, March 5: Stephanie Yee, Pastry Sous Chef
Sunday, March 6: Toby Hollis, Disney California Adventure Park Chef
Saturday, March 12: Brenden Neumayr, Elena Aranda, Alexander Fuentz Cardenas, Angie Arenas; Festivals Beverage Team
Saturday, March 19: Marcel St. Pierre, Chef de Cuisine
Sunday, March 20: Marcel St. Pierre, Chef de Cuisine
Saturday, March 26: Chris Maggetti, Executive Chef
Sunday, March 27: Moises Carranza, Festivals Chef
Saturday, April 2: Alex Flores, Chef de Cuisine
Sunday, April 3: Gracie Gomez, Pastry Sous Chef
Saturday, April 9: Markus Meza, Candy Maker
Sunday, April 10: Markus Meza, Candy Maker
Saturday, April 23: John State, Culinary Director
Sunday, April 24: Christina Orejel, Pastry Sous Chef
Culinary Demonstrations with Visiting Chefs
Saturday, March 5: Chef Steve Kling
Sunday, March 6: Chef Soon Teoh & Khim Teoh
Saturday, March 12: Chef Wing Lam
Sunday, March 13: Chef Jamie Gwen
Sunday, March 13: Rafael Molina
Saturday, March 19: Chef Bret Thompson
Sunday, March 20: Chef Shaun O'Neale
Saturday, March 26: Chef Alejandra Tapia
Sunday, March 27:Chef Omar Fierro
Saturday, April 2: Chef Michael Rossi
Sunday, April 3: Chef Rich Sweeney
Saturday, April 9: Chef Shachi Mehra
Sunday, April 10: Chef Justin Warner
Saturday, April 16: Chef Ernie Alvarado
Saturday, April 16: Chef Paolo Dungca
Sunday, April 17: Chef Jet Tila
Sunday, April 17: Chef Paolo Dungca
Saturday, April 23: Chef Kevin Bludso
Sunday, April 24: Chef Nyesha Arrington
Culinary Demonstrations with Festival Sponsors
Don't miss mini cooking demonstrations and educational farm-to-table presentations by some of the Festival sponsors involved in growing the foods we eat. Saturdays and Sundays.
March 12 – 13: California Milk Advisory Board
April 2 – 3: California Milk Advisory Board
April 16 – 17: Joffrey's Coffee & Tea Co.®
April 23 – 24: National Geographic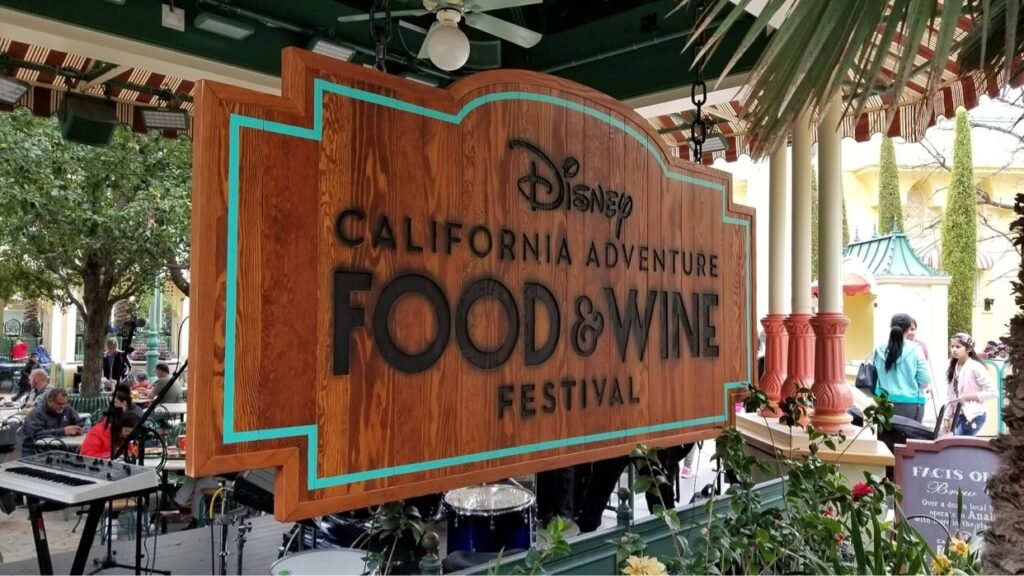 Festival Marketplaces
The Festival features irresistible small plates and beverages for sale at different outdoor marketplace kiosks. Each location's mouthwatering menu is inspired by fresh, California-grown ingredients like avocados, citrus, strawberries, peppers and artisanal cheese. You'll also discover a variety of locally brewed craft beers and wines from all across the Golden State.
Avocado Time – Indulge in flavorful medleys that make your mouth sing.
Berry Patch – Hail the big berry for top billing!
California Craft Brews – Cheers to a round from California's best local breweries.
Cluck-a-Doodle-Moo – Rally for these sliders, wings 'n' beer—a sports fan's dream!
D•Lish – Enjoy delicious sweet and savory dishes sure to delight!
Garlic Kissed – Stop by to savor mouthwatering dishes and specialty beverages.
Golden Dreams – Tempt taste buds with well-seasoned eats and nectarous drinks.
I Heart Artichokes – Partake in the thistle—prepared in 2 different ways!
LA Style – Feast on favorite southland food-truck flavors.
Nuts About Cheese – Let us introduce you to wine's best friends.
Peppers Cali-Ente – Snack on hot 'n' spicy fare with a Cali twist!
Uncork California – Sip vino by the glass or try a flight.
If you'd like to try multiple offerings from these marketplaces, purchase a Sip & Savor Pass. The pass provides a commemorative credential, lanyard and 8 convenient entitlement tabs that you can redeem for select food and nonalcoholic beverages at participating locations during the 2022 Disney California Adventure Food & Wine Festival.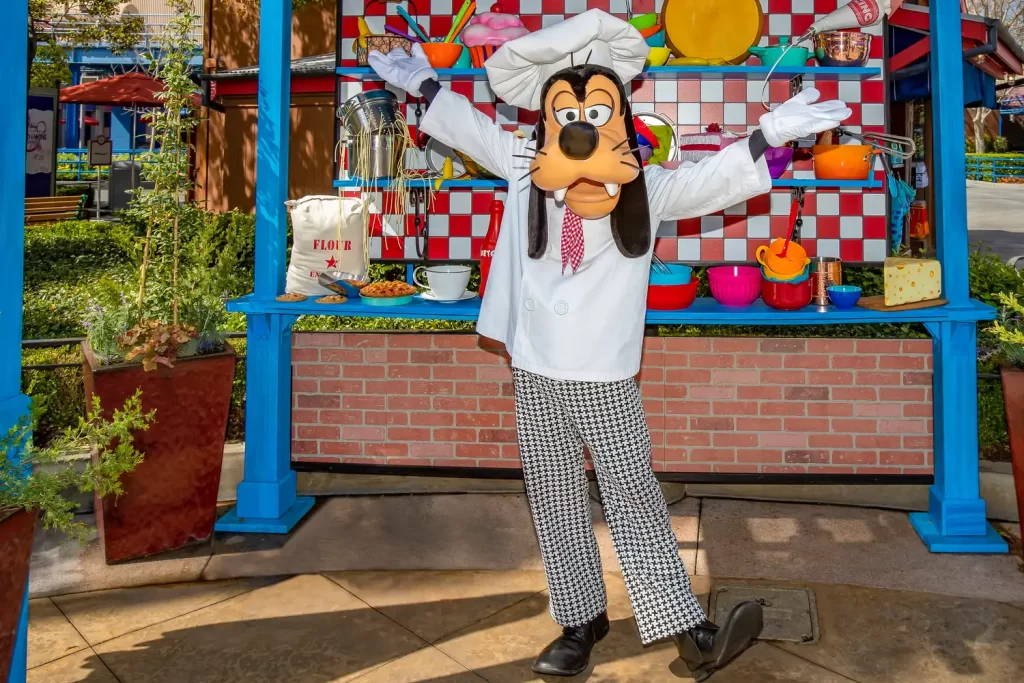 Family Activities
Alice's Wonderland Bakery Unbirthday Party
Calling all junior chefs! Sweet decorating magic awaits you at Alice's Wonderland Bakery, featuring special guest chefs at the Hollywood Backlot Stage in Hollywood Land. Guests ages 3 through 11 can express their creativity through hands-on cupcake decorating. Space is limited for this experience, and participant sign-ups begin 45 minutes before each show time.
See Goofy the Chef at the Hollywood Backlot
Craving super-sized fun? Head to the Hollywood Backlot for a deliciously wacky encounter with Goofy the chef! He's all dressed up and ready to flambé his way into your heart, so stop by to say hi!
Jammin' Chefs
The talented Jammin' Chefs serve up tasty rhythms with pots and pans in Hollywood Land! With your help, things really get cookin'—even Chip 'n' Dale add to the mix!
Live Festival Music
Enjoy a fresh sampling of musical styles by outstanding bands that share a passion for creativity and original sounds. Savor the authentic "California vibe" of the festivals engaging live music!
Festival Merchandise
Guests will find a new line of festival merchandise, and Disney Gift Cards, garnished with a new design for the 2022 festival, are also available. Artists including Jerrod Maruyama, Noah, Ashley Taylor and others will have special signing opportunities at Off the Page in Disney California Adventure or WonderGround Gallery at Downtown Disney District.
Related – Guide to Staying at the Disneyland Hotel at the Disneyland Resort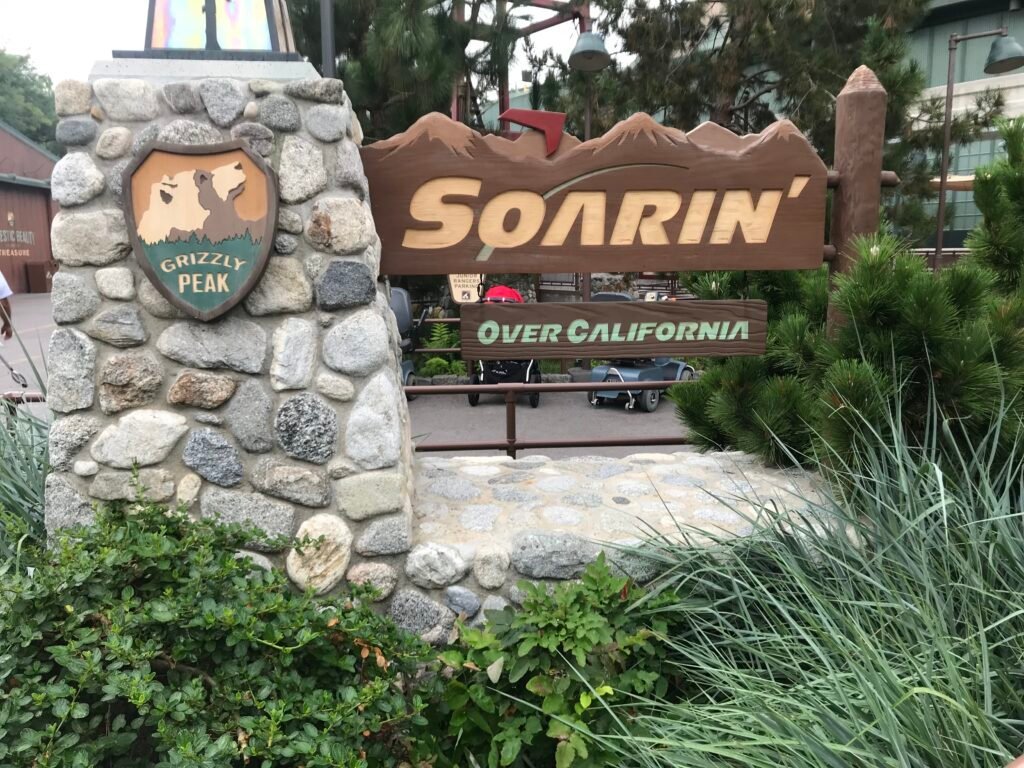 Adding to this bountiful celebration, Soarin' Over California is returning to Disney California Adventure for a limited time beginning March 4. This epic, aerial adventure takes guests gliding over the Golden State's natural and man-made wonders, from the iconic Golden Gate Bridge to the crashing waves of Malibu. Its immersive, 80-foot projection dome simulates the graceful motion of flight and teases the senses with iconic scents found throughout California.
Will you be visiting the Disneyland Resort during the Disney California Adventure Food & Wine Festival?
For help with planning your next Disney vacation, contact me today! I am a travel agent with Destinations to Travel, a Disney Earmarked agency, and my services are complimentary.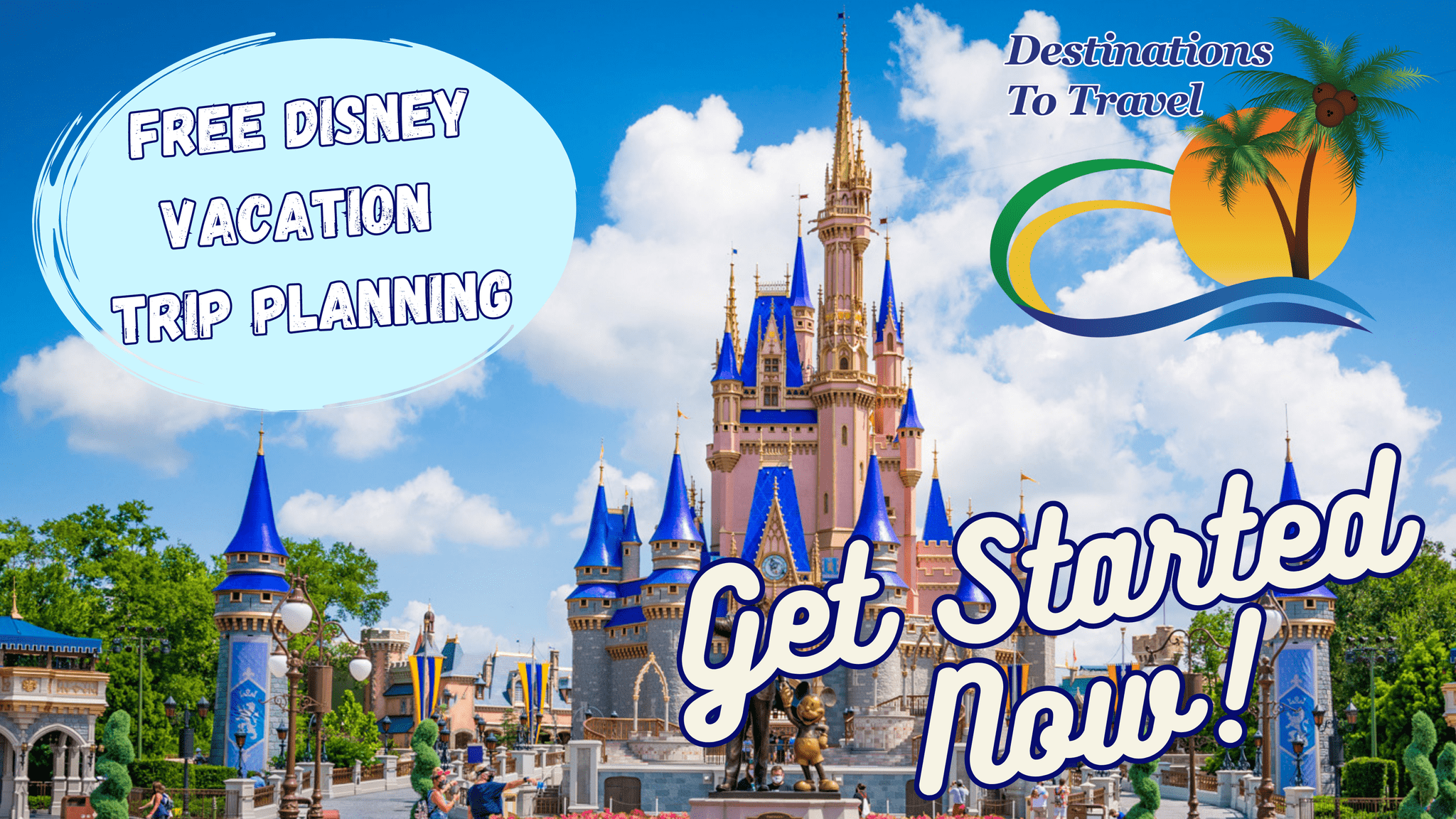 Let our friends at Destinations to Travel help you book your next Disney Vacation. They are the preferred Travel Agency of Chip and Company and Disney Addicts, and who we use ourselves.
Get started Now for your FREE No Obligation Quote.
Book With our friends at Destinations to Travel