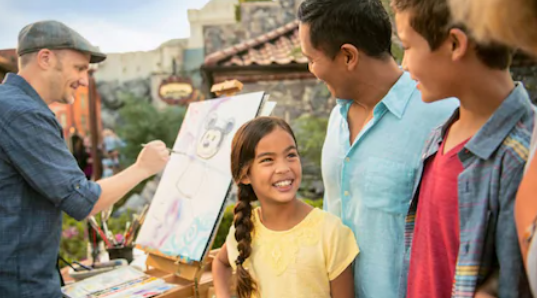 The Epcot International Festival of the Arts is returning in 2021! The Taste of Epcot International Festival of the Arts will run from January 8 to February 22, 2021.
This global celebration mixes visual, culinary and performing arts from around the world into an entertaining blend that's fun for the entire family. More than 100 Disney and visiting artists will display their work, and guests can show off their own talents by participating in interactive experiences such as a larger-than-life paint-by-number mural or learning to draw some of their favorite Disney characters. Guests can also step into famous works of art, thanks to artful photo ops.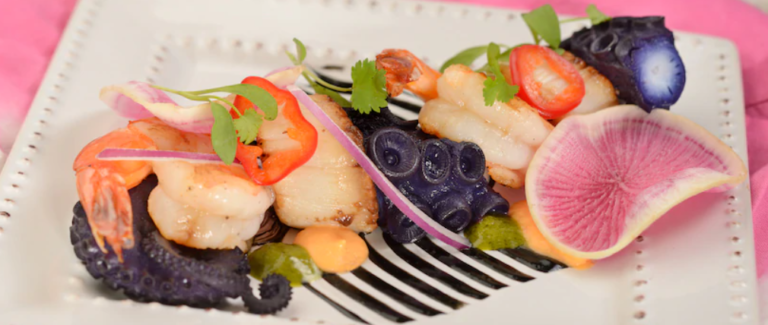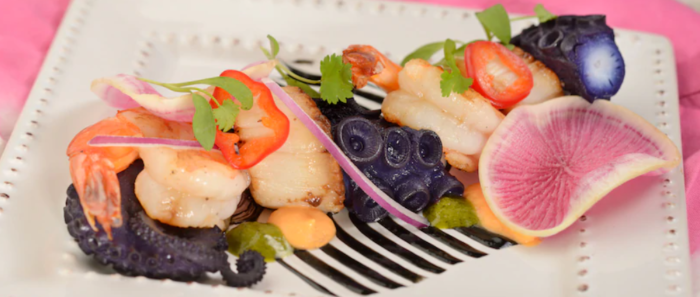 Guests can choose from a variety of Festival-exclusive food studios to please nearly every palate:
The Artist's Table (The American Adventure) Treat your taste buds to savory plates like beef Wellington and pan-seared scallops. Here, you'll also find the artist palette jumbo chocolate-chip cookie along with assorted beer and wine.
Citrus Blossom (Showcase Plaza) Refresh your spirit with beverages from Florida Orange Groves Winery or an orange cream shake served in a souvenir Orange Bird sipper cup.
Cuisine Classique (Germany) Prepare to be amazed with these hearty braised bites and traditional Old World delights—like red wine-braised short rib, coq au vin and opera cake. Pair your dish with a glass of wine or beer.
Decadent Delights (Promenade Refreshments) Satisfy your sweet tooth with raspberry or lemon soft-serve ice cream. Plus, discover a variety of refreshing beers.
The Deconstructed Dish (Showcase Plaza) Discover delicious dishes that dazzle! Enjoy a deconstructed take on favorite foods like the Reuben, BLT and strawberry cheesecake. Or, sip on chai tea shake that showcases favorite breakfast flavors.
El Artista Hambriento (Mexico) Embark on a culinary journey south of the border and sample Mexican-inspired cuisine like pork belly pastor, chile rellenos and chocolate tacos.
Goshiki (Japan) Stop by this food studio for popular items like sushi donuts and vegetable gyoza. Plus, sip on sake or try the pink snow—a refreshing beverage featuring sake, peach schnapps, cranberry juice and Calpico.
Festival Favorites (World Showplace) Discover Guest-favorite dishes, like charcuterie, Remy's ratatouille, the lemon blood-orange tart and a jumbo chocolate-chip cookie. Plus, sip on a coffee cocktail or tasty microbrew.
Painter's Palate (World Showplace) Sample this palatable assortment of delicacies—like prime steak tartare, salt-roasted beet tartare and a tantalizing pistachio cake with cherry mousse and Morello cherries.
L'Art de la Cuisine Francaise (France) Discover delightful French treats and baked goods, from savory to sweet—including warm brie in a bread bowl, a black winter truffle croissant and a trio of house-made macarons. Pair your dish with a French wine or frozen martini.
L'Arte di Mangiare (Italy) Get a taste of Italy, with a twist! This food studio serves up arancini, lobster ravioli and cream-filled Italian donuts—along with Italian beer, wine and cocktails.
Masterpiece Kitchen (Canada) Raise your glass and celebrate this fabulous fusion of food and wine. Highlights include wild mushroom risotto, the salmon and cream gâteau and a luscious panna cotta. Plus, discover wines to complement each culinary creation.
Mosaic Canteen (Morocco) Savor the bold flavors of Morocco in delectable dishes like harissa-roasted rack of lamb and a Mediterranean flatbread with Za'atar pesto.
The Painted Panda (China) Treat your senses to Chinese dishes, like pork and water chestnut meatballs or the Sichuan red hot mala shrimp. Plus, enjoy bubble tea, draft beer and a variety of Chinese-inspired cocktails.
Pop Eats (Showcase Plaza) Unearth the tasty treasures and tantalizing textures of modern art-inspired eats! Highlights include the colorful almond frangipane cake and the ever-popular Pop't Art—a modern-designed sugar cookie with strawberry filling. Plus, choose from savory dishes, like shrimp ceviche or tomato soup with grilled cheese.
Vibrante & Vívido – NEW! (Between Morocco & France) Enjoy bright, fresh flavors in dishes both savory and sweet—like a passion fruit mousse or a chilled seafood cocktail. Pair your food with an island-inspired smoothie, piña colada or daiquiri.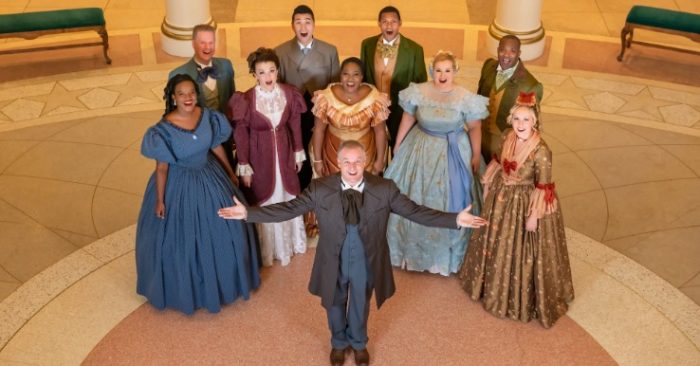 Festival Guests can behold awe-inspiring acrobatics or soak up the splendid virtuosity of international acts and entertainment all around Future World and World Showcase.
Highlights include:
Voices of Liberty – The Disney Songbook: New for 2021, Voices of Liberty will take to the stage at America Gardens Theatre with a brand-new showcase—the Disney Songbook. From "When You Wish Upon a Star" to "Let It Go," the Voices of Liberty will perform favorite Disney songs and celebrate the artistry of Disney composers and lyricists.
Art Defying Gravity (7-day offering): Enjoy the spectacle of thrilling strength acts defying gravity and imagination at World Showplace.
Epcot Pianist (7-day offering): Tap your toes to a variety of show tunes performed by a talented entertainer at World Showplace.
JAMMitors (7-day offering): Listen to the soothing sounds produced this fun group of musicians at the Mill Stage in the Canada Pavilion.
Visual Art in Performance (4-day offering, Thursday – Monday): Behold a high-energy, on-stage performance by a guest visual artist painting favorite Disney characters within World Showplace. In just minutes, colorful Disney images magically appear before your eyes.
Chalk Art – Future World East: Discover the work of imaginative chalk artists, then help create a chalk art masterpiece!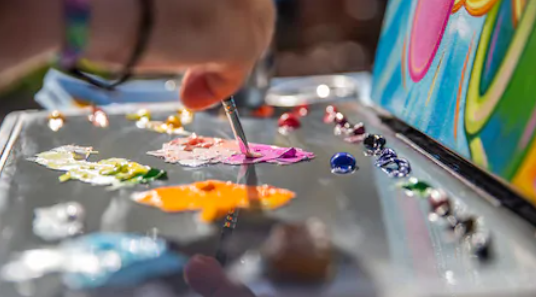 Guests can see renowned Disney artists create a dash of magic on canvas—right before your eyes. Watch in amazement and discover art on sidewalks, common spaces… and even surprising places!
Art Defying Gravity
Enjoy the spectacle of thrilling acts of strength—defying gravity and imagination.
Days: Sunday through Saturday
Location: World Showplace
Visual Art in Performance
Watch in wonder as a guest visual artist paints favorite Disney characters—images magically appear in minutes during this fun, must-see show!
Days: Thursday through Sunday
Location: World Showplace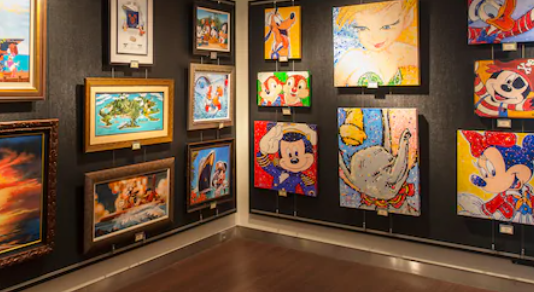 Guests can contemplate original works that exude nothing short of pure brilliance. These special shows provide an up-close look at the techniques that catapulted these creatives into superstardom!
Pavilion Exhibits
Art of Disney – American Adventure Pavilion
Shop at this art gallery featuring Festival merchandise, original artwork and more!
Mexico Folk Art Gallery – Mexico Pavilion
Celebrate the artistry and traditions of Día de Muertos with the gallery show, 'Remember Me!' La Celebración del Día de Muertos.
Stave Church Gallery – Norway Pavilion
Sail back in time with the Gods of the Vikings gallery show to discover the legendary gods and myths of the Vikings.
House of the Whispering Willows – China Pavilion
Discover the beauty and wonder of the Shanghai Disney Resort.
Bijutsu-kan Gallery – Japan
Delve into the origin and evolution of "kawaii," Japan's cute culture.
Creating Tradition: Innovation and Change in American Indian Art – American Adventure Pavilion
Behold an all-new exhibition celebrating American Indian art.
Race Against the Sun: Ancient Technique to Modern Competition
Discover 2 incredible modern-day competitions—Marathon des Sables (Marathon of the Sands) and Rallye Aïcha des Gazelles du Maroc (Rally of the Gazelles).
Tale as Old as Time: French Storytelling on Stage and Screen – France Pavilion
Explore 6 distinct gallery cases honoring the costumes, music and artwork that brought French literature to life through cinema, theater, ballet and opera.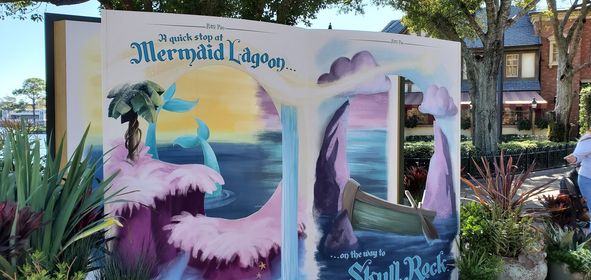 Guests can also enjoy picture-perfect spots along World Showcase inspired by these amazing works of art:
Homage to Frida Kahlo
Mona Lisa – Leonardo da Vinci
The Scream – Edvard Munch
Washington Crossing the Delaware – Emanuel Gottlieb Leutze
Luncheon of the Boating Party – Pierre-Auguste Renoir
Peter Pan Storybook
Birth of Venus – Sandro Botticelli
Café Terrace at Night and Sunflowers – Vincent van Gogh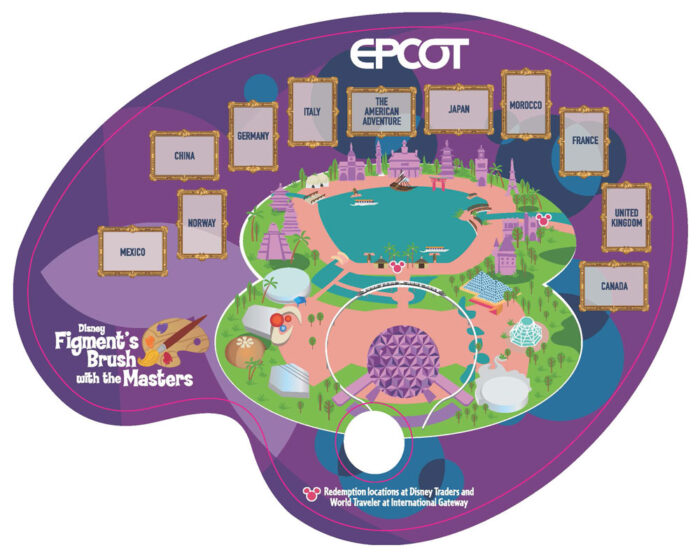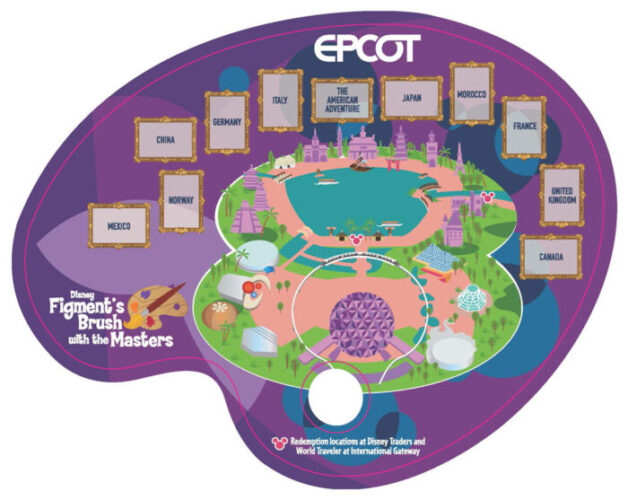 There are also interactive experiences where you can show off your creative side during entertaining activities with an artistic twist!
Enemy Ink
Using your artistic eye and impeccable fashion sense, choose color, design and style to create your own custom wearable masterpiece. Printed right before your eyes with live, on-site, custom t-shirt printing!
Expression Section: A Paint by Number Mural
Daily from Park Open to 5:00 PM
Join your fellow artists as you work together to complete a larger-than-life paint-by-number mural in this complimentary and one-of-a-kind experience.
Kidcot Fun Stops
Kids of all ages can pick their palette, grab their brushes and create their own masterpiece on an art-filled odyssey around Epcot's World Showcase. Each Kidcot Stop is re-imagined just for Taste of Epcot International Festival of the Arts.
Figment's Brush With The Masters
Help Figment learn about art on this scavenger hunt around World Showcase.
To get started, purchase your map and stickers at Disney Traders or World Traveler at International Gateway. Then, search for Figment hiding inside famous works of art at each World Showcase pavilion—just look for the Figment-themed picture frame. Every time you find Figment, add the corresponding sticker to the pavilion on your map.
Once your journey is complete, return your map to Disney Traders or World Traveler for an artful surprise!
Chalk Full of Character
Some special guests have decided to join the Festival fun! From Abu to Jiminy Cricket, charming chalk drawings of Disney Characters are waiting to be discovered in tucked away corners throughout World Showcase. How many can you find?
Animation Academy
Daily 12:30 PM and 1:30 PM at America Gardens Theatre
An Animation Artist leads Guests through a step-by-step lesson on how to draw some of their favorite Disney Characters. Guests receive their own artist board, paper, and pencil to use during the lesson.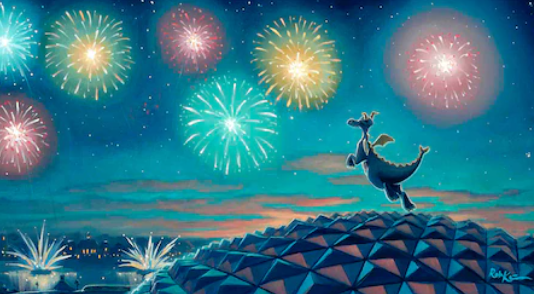 Commemorate your visit with artwork and colorful gift items—it's the perfect way to make memories last forever!
Event Merchandise
Apparel (Adult Tees & Spirit Jersey)
Baseball Cap
Adult Mask
Palette Plate & Drinkware (Mug and Stainless-Steel Water Bottle)
Keychain
Trading Pins
MagicBands
Event Poster
Figment's Brush with the Masters Scavenger Hunt
Passholder Merchandise
Adult Tee
Tumbler
Trading Pin
Will you be visiting Walt Disney World during the Festival of Arts? If you'd like help planning your next Disney vacation, contact me today for a free vacation quote!
---