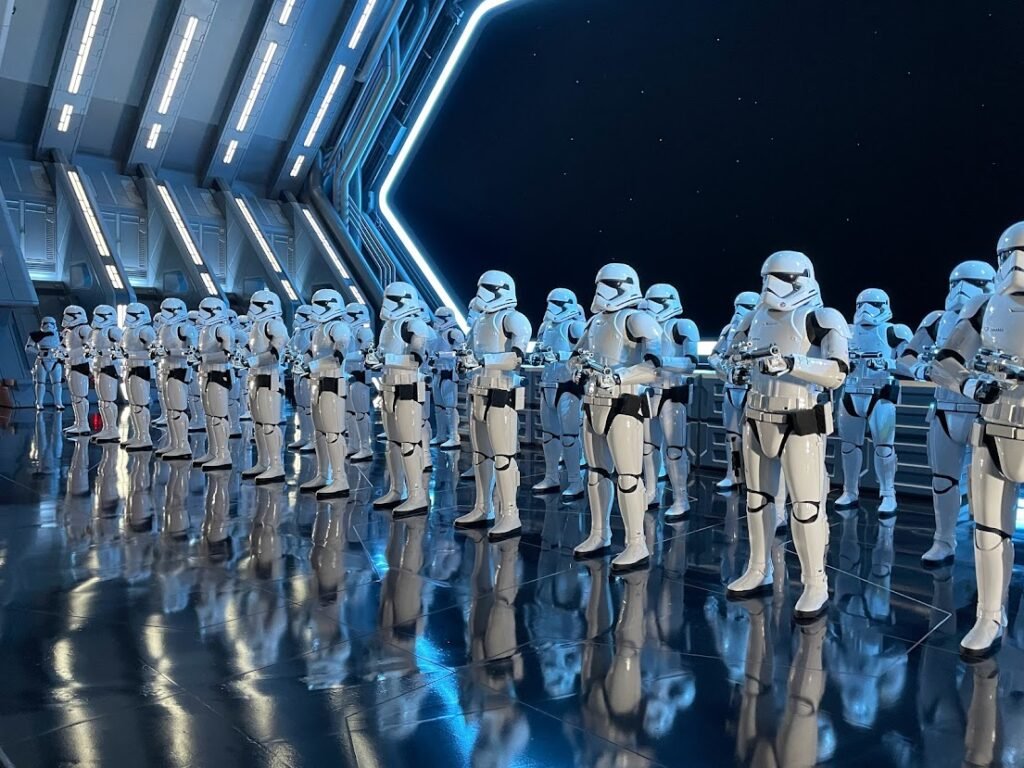 Money and Time-Saving Hacks to Galaxy's Edge
Disney's Galaxy's Edge is a dream come true for Star Wars fans. Whether you're a Jedi Knight or a Sith Lord, this immersive theme park land at Disneyland and Walt Disney World offers an unforgettable experience in a galaxy far, far away. However, a visit to Galaxy's Edge can be a costly adventure. In this blog post, we'll share five hacks to help you save money and maximize your time during your trip to Galaxy's Edge.
Plan Ahead and Make Reservations
Planning is key when it comes to visiting Galaxy's Edge. Make a list of the attractions, restaurants, and experiences you want to enjoy and prioritize them. One of the most crucial steps is to make reservations in advance. You can book dining reservations up to 60 days in advance, including popular spots like Oga's Cantina and the Droid Depot.
By booking early, you ensure you won't miss out on these must-visit locations. If saving money isn't a priority, you absolutely must customize and build a premium lightsaber at Savi's Workshop. We have an alternative if you have multiple kids or money is tight later in this blog. Having a plan at Disney is essential, but many of the magical extras at Galaxy's Edge can fill up quickly if you don't pre-book the experiences. So, make sure you have a good plan and make reservations ahead of your journey to Batuu.
Related: What is Disney Going to do with Star Wars: Galactic Starcruiser?
Use the Disney Genie+ System and Lightning Lane
To save time waiting in line, take advantage of the Disney Genie+ system. This paid service allows you to reserve access to select attractions, including Millennium Falcon: Smugglers Run. By securing your spots in advance, you can spend less time queuing and more time exploring Galaxy's Edge. It's a valuable investment for those looking to maximize their park experience. You can also purchase an individual Lightning Lane for Rise of the Resistance if you prefer to skip Rope Drop.
We have another hack to get on this blockbuster e-ticket attraction, but it could have its risks of not getting to ride. To save the cost of a Lightning Lane, your choices are to rope drop Hollywood Studios and take advantage of early resort access, or get in the queue at the very end of the night. If the ride goes down you might not get to experience it, but that's the risk you take with any attraction at the end of the park day.
Set a Budget
Visiting Galaxy's Edge can quickly add up, with the cost of admission, food, merchandise, and more. To stay on top of your spending, set a budget before your trip. Allocate specific amounts for food, souvenirs, and any extras you want to enjoy. This will help you avoid overspending and allow you to focus on what truly matters during your visit.
While the food in Galaxy's Edge is undoubtedly delicious, it can be expensive. To save money, consider bringing your own snacks and a refillable water bottle. There are water fountains available throughout the park where you can fill up, and having a few snacks on hand can keep hunger at bay between meals.
If you're eager to wield a lightsaber during your visit to Galaxy's Edge but want to save some credits, consider an alternative to the pricey "build your own" lightsaber experience at Savi's Workshop. Head over to Tatooine Traders, where you can purchase plastic "build your own" sabers inspired by iconic Star Wars characters.
These collectible lightsabers are not only more budget-friendly but also come in a variety of styles, including replicas of weapons wielded by Darth Vader, Luke Skywalker, and more. This is an excellent option for those looking to bring a piece of the Star Wars universe home without breaking the bank, and you can always enhance your lightsaber with custom accessories and blade colors later on.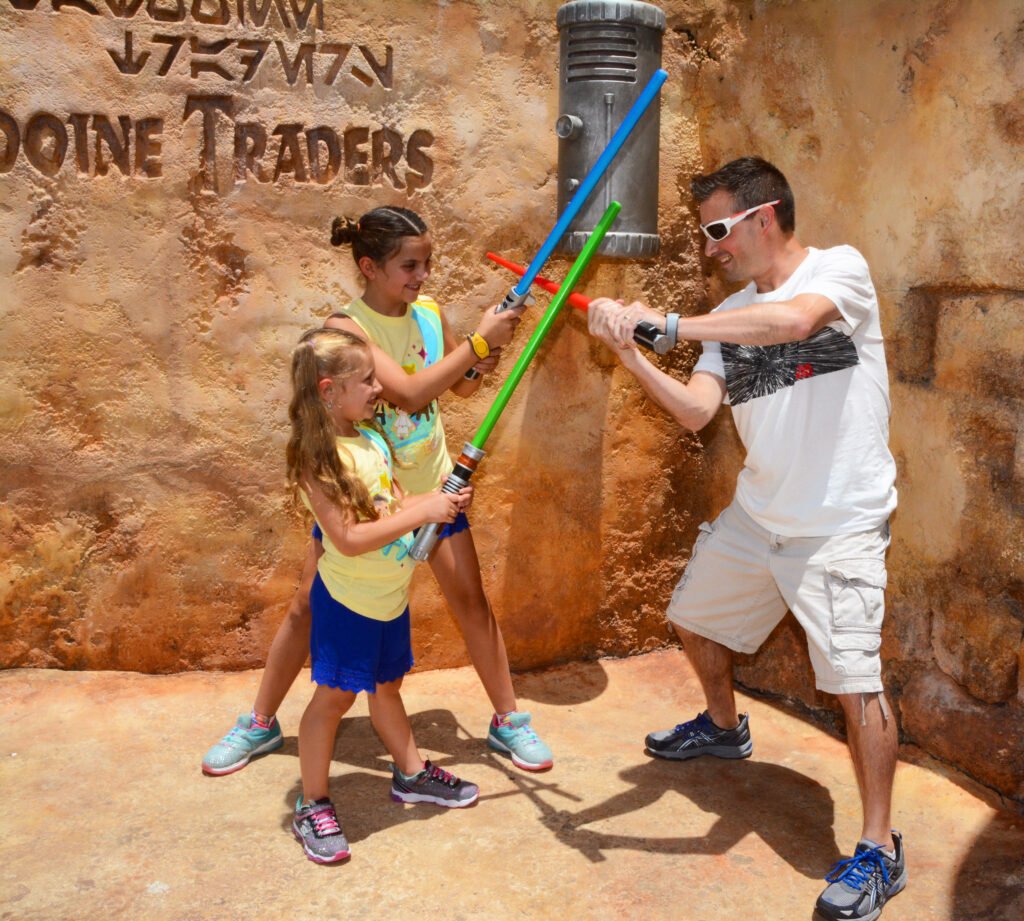 Utilize Rider Swap and DAS
If you're traveling with young children who can't ride certain attractions, make use of the Rider Switch system. This allows one adult to wait with the child while the rest of the party enjoys the ride. Afterward, the waiting adult can ride without waiting in line again. Additionally, Smugglers Run has a single-rider line, which can significantly reduce your wait times if you don't mind riding separately from your group. If you utilize this single-rider option, you will be the engineer of the crew.
The DAS system, or Disability Access Service System, is a service provided by Disney World to accommodate visitors with disabilities. This system is designed to make it easier for individuals with disabilities to access attractions and experiences within the theme parks while minimizing their wait times.
To utilize the DAS system, you'll need to visit Guest Relations at one of the Disney World theme parks. There, you can request the DAS service and provide information about your specific needs. A Disney Cast Member will talk to you about your disability and how it may impact your ability to wait in traditional attraction lines. They will then determine if you qualify for the DAS system.
If approved, you'll receive a DAS card or a DAS return time entitlement on your MagicBand or park ticket. This entitlement will be linked to your group or party, and it will be valid for the duration of your visit to Disney World. When you want to experience an attraction, you can approach the ride's entrance, and a Cast Member will scan your DAS card or MagicBand, assigning you a return time that is equivalent to the current standby wait time for that attraction. You can also book a DAS option via the My Disney Experience App.
You're free to enjoy other activities in the park while waiting for your return time. This is the perfect opportunity to grab a snack, take some photos, meet characters, or just enjoy the ambiance of Batuu.
Related: Could The Mandalorian And Baby Yoda Be Coming To Star Wars Galaxy's Edge?
Take Advantage of "Free" Activities
Meeting Star Wars characters at Galaxy's Edge is a truly immersive and thrilling experience that brings the magic of the Star Wars universe to life. As you explore the streets of Black Spire Outpost, you might encounter iconic characters like Rey, Chewbacca, Kylo Ren, Din Jarin, or even the lovable droids R2-D2 (Disneyland) and Chopper (Limited Time in Disneyland.)
These interactions are more than just photo opportunities; they are genuine, character-driven encounters that allow you to engage with your favorite heroes and villains from a galaxy far, far away. The attention to detail in their costumes, mannerisms, and dialogue creates a sense of authenticity that makes you feel like you've stepped right into the Star Wars saga, making it a must-do experience for fans of all ages. Whether you're joining the Resistance or pledging your allegiance to the First Order, these character meetings add a layer of magic and immersion that is unparalleled in the world of theme park entertainment.
You don't have to purchase anything to enjoy the easter egg hunt in Dok-Ondar's Den of Antiquities. The vendor is loaded with Star Wars creatures and artifacts from across the films. There's even an easter egg from Indiana Jones and the Raiders of the Lost Ark if you can find it. We recommend purchasing a "Spira" gift card from the Droid Building shop. If you're going to spend money on Galaxy's Edge, this is the perfect way to act like a local and use currency from Batuu. You get to keep the Spira and can recharge it for return trips to the planet.
Related: Top 5 Hidden Gems on the Galactic Starcruiser
Mobile Order Your Food and Drink
Mobile ordering at Galaxy's Edge in Disneyland and Walt Disney World allowed visitors to streamline their dining experience. Mobile ordering is available at several dining locations within Galaxy's Edge, making it easier to enjoy your meals without the need to wait in long lines. Keep in mind that the availability of mobile ordering options may change, so it's a good idea to check the latest information on the official Disney website or the Disney mobile app. You can mobile order at the following locations on Batuu:
Docking Bay 7 Food and Cargo: This quick-service restaurant offers a variety of Star Wars-inspired dishes, and mobile ordering can help you skip the line.
Milk Stand: Mobile ordering can be used to purchase the famous Blue Milk or Green Milk, the signature beverages of Galaxy's Edge.
Ronto Roasters: If you're craving a Ronto Wrap or other delectable snacks from this location, you can use mobile order to save time.
Kat Saka's Kettle: For a taste of the Outpost Mix popcorn, you could use mobile ordering here as well.
A visit to Galaxy's Edge is a magical experience for Star Wars fans, but it doesn't have to break the bank. By planning ahead, using the Disney Genie+ system, setting a budget, bringing your own snacks and water, making use of rider switch and single rider lines, mobile ordering, and taking advantage of the freebies, you can save money and maximize your time in this immersive theme park land. May the Force be with you as you embark on your journey to a galaxy far, far away!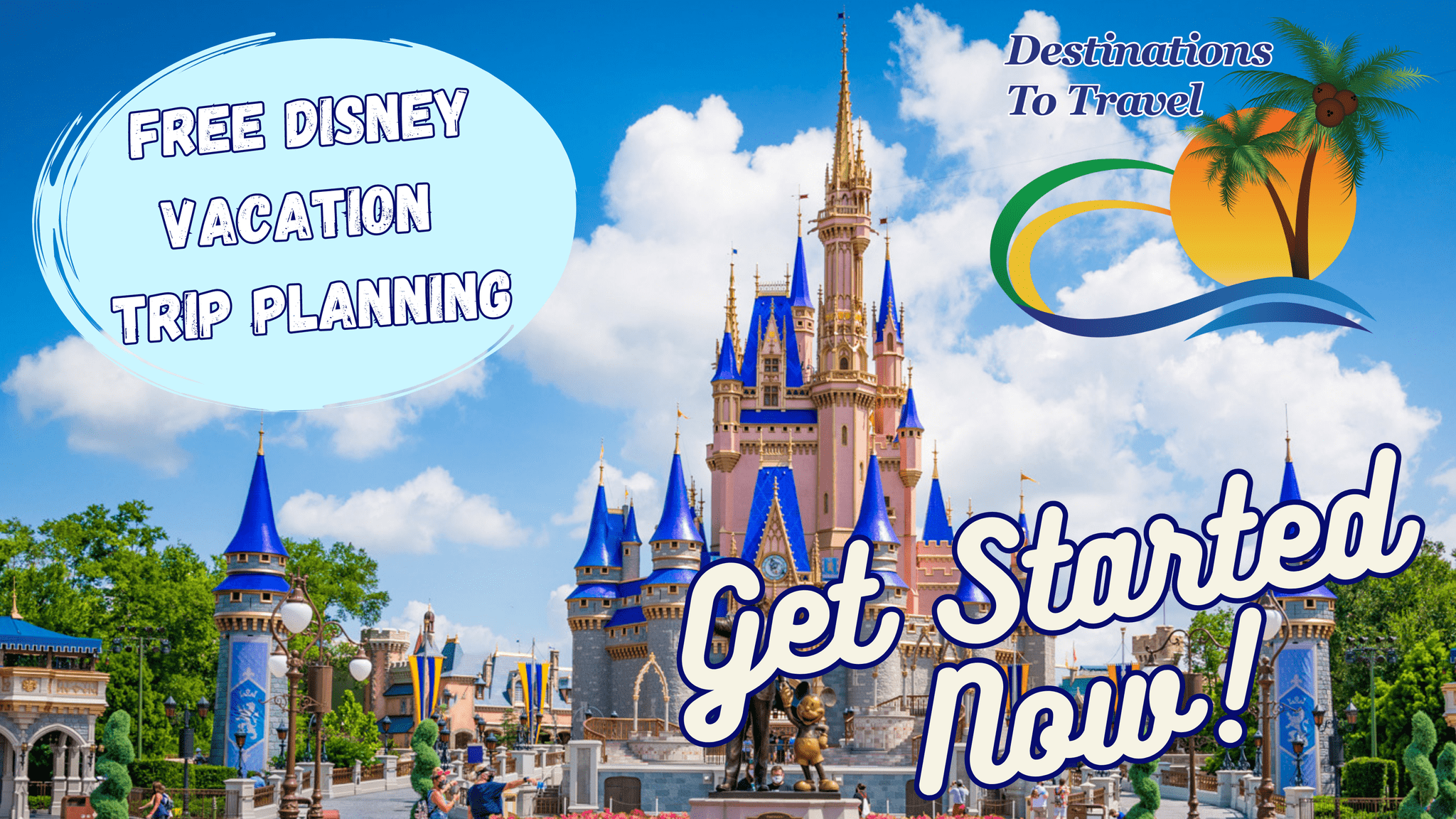 Let our friends at Destinations to Travel help you book your next Disney Vacation. They are the preferred Travel Agency of Chip and Company and Disney Addicts, and who we use ourselves.
Get started Now for your FREE No Obligation Quote.
Book With our friends at Destinations to Travel