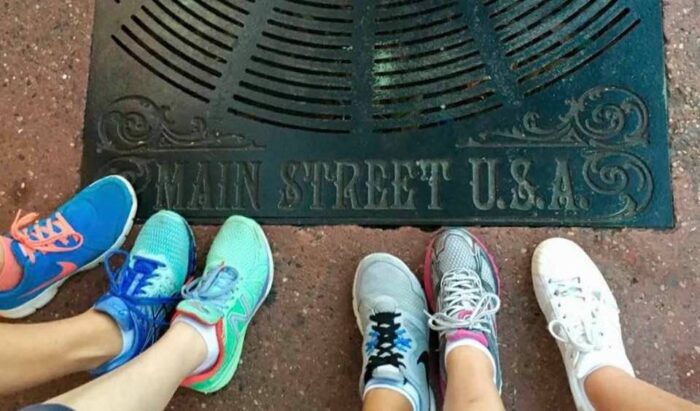 A Walt Disney World vacation is truly magical! By the end of the week your feet may disagree though. With one loop around Epcot's World Showcase alone registering at over 1 mile around, you could easily light up your Fitbit by day's end.  The good news is, there are some things you can do to help your feet enjoy the magic of Walt Disney World too!
SHOES:
After breaking my foot 3 times (that's a story for another day), I can attest to the fact that proper shoes are the most important factor in giving your feet the best chance of survival at Walt Disney World! So, which shoes are best? This really depends on you and your feet, knees, and back.
Some people need athletic shoes. These provide more support and stability for your feet, maximum shock absorption for your knees and back, and can even help with proper posture and spinal alignment.  This is what my podiatrist tells me. I do know that athletic shoes are definitely preferable to a cast or a walking boot.  Been there, done that. Not fun. Moving on.  With the runDisney New Balance collection, you can wear a great pair of athletic shoes and still show your #disneyside.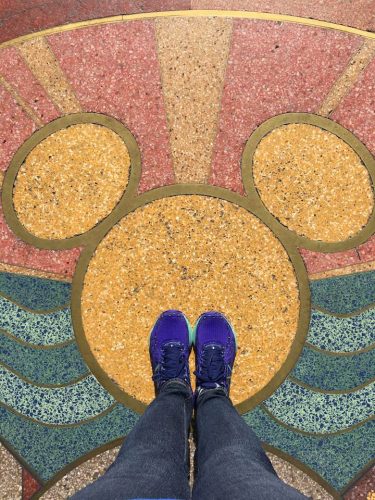 Some people prefer sandals. Sandals made for hiking, such as Teva and Keen, also offer quality support, cushioning, and traction. These are my favorites!  Sanuk Yoga Sandals are another popular choice.  According to the Sanuk website, they are "the squishiest, most comfortable sandals ever."  Sandals offer your feet the opportunity to breathe in the Florida heat and humidity.  Not to mention, they allow you to show off your Disney inspired pedicure!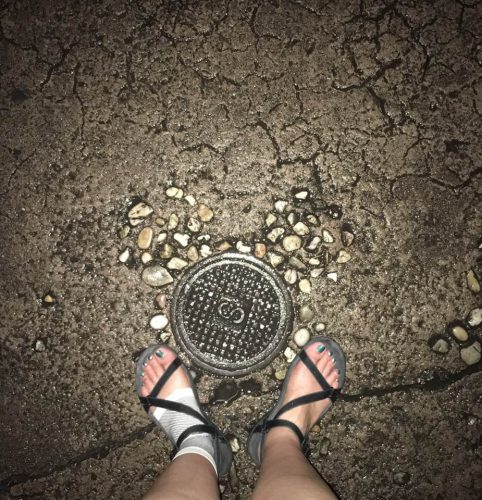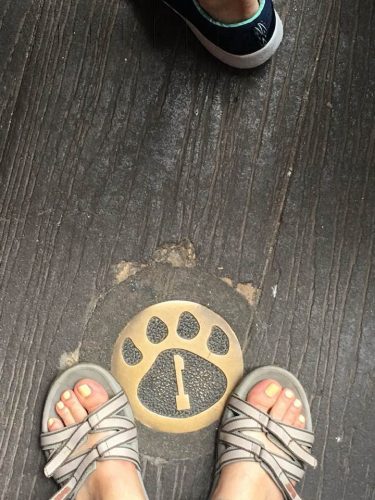 Flip Flops. I personally cannot wear flip flops for a day at Walt Disney World but I know many people who will wear nothing else.  These folks are happiest with their feet having more freedom. If this is you, I envy you.  While I love flip flops, they are my Disney pool day shoe of choice, not my park shoes.  If you aren't sure if your feet can make it all day in flip flops I suggest you wear your flip flops of choice and walk 5 or more miles in one day.  Maybe more like 8-10 miles.  If you feel fine, then flip flops it is!  If your tootsies are calling 911, you might want to reconsider.
Then there are the shoes that don't fit any particular category. Sanuk loafers, Vans, Skechers slip-ons, Tom's, and Crocs to name just a few. So many choices and styles, test out your favorites and see if they work for you!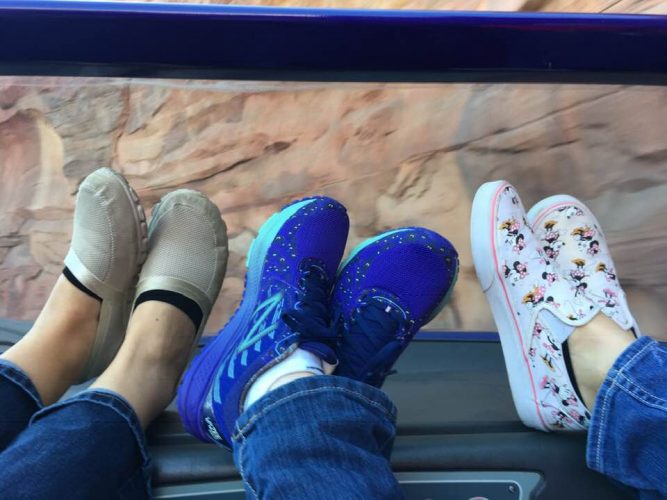 TIPS:
Regardless of the shoes you pick, now is not the time to try out a brand new pair! You will want shoes that have been tested, are broken in, and are proven to not cause blisters or other ailments. I'm positive Minnie doesn't just select shoes to match her outfit without making sure they are comfy too!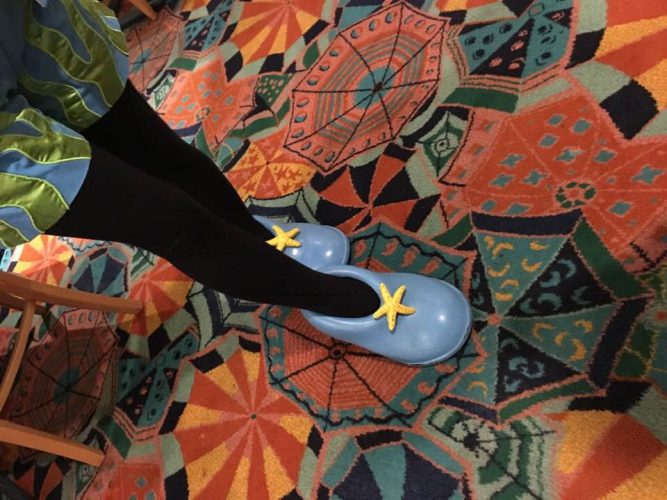 Aim for shoes that are breathable. Nothing worse than sweaty feet! You will also want shoes that dry quickly in case of rain (or Kali River Rapids).
If you wear shoes that require socks, I highly recommend moisture wicking socks. My favorite socks are the Balega Hidden Comfort running socks. I don't run but I love these comfy socks! Another tip is to make sure you pack extra. Nothing worse than being stuck with wet, squishy socks!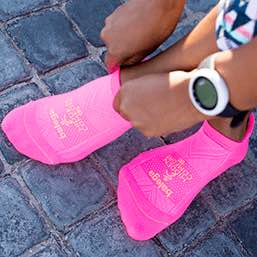 If blisters are not the souvenir you had in mind for this trip, moleskin is an excellent preventative. You can add moleskin to any area of your foot that you feel the potential for blister formation.  It is always a good idea to throw some in your park bag.
Body Glide and Blister Block are also preventative measures. Their purpose is to help block friction so that blisters will not form.
In case of blisters, you will want to make sure to have bandages on hand to cover your blisters as soon as possible. Padded blister bandages are a valuable addition to your travel first aid kit.
Should you be caught unprepared, each of the Walt Disney World Theme Parks has first aid stations that can provide assistance in the case of blisters or other foot ailments.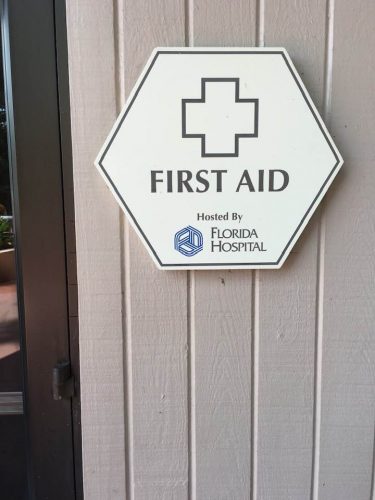 Treat your feet! Every night, soak those babies in some warm water in your room or visit the hot tub at your resort.  It is well worth a few minutes of your time to relax your feet and leg muscles before going to bed.
Remember it's ok to stop, sit, and relax.  You can rest your feet and enjoy the atmosphere.  Disney parks are full of theming and amazing details. Take the time to soak it all in.  Your feet will thank you! And you just might notice some things you would have otherwise missed!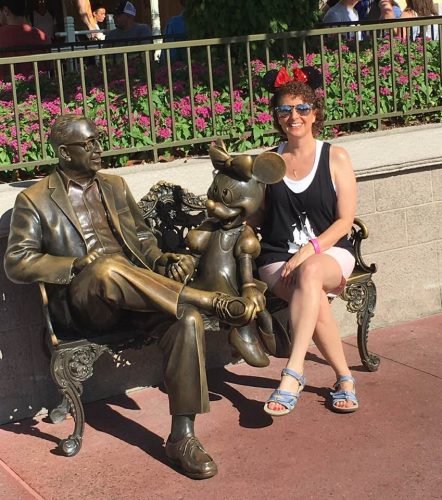 These are just a few things you can do to stop your feet from ruining your vacation.  You will still be tired, and you will still log miles like a marathoner, but at least you will enjoy yourself while doing it! After all, your vacation memories shouldn't involve blisters and pain. They should be full of pixie dust and Mickey Bars. With all that walking you will be doing, you can enjoy those Mickey Bars guilt free!
Photo of Balega socks courtesy of Balega®
Are you ready to create magical memories of your own?  Contact me via email or submit the form below for your free vacation quote! As a College of Disney Knowledge graduate and Senior Travel Planner with Key to the World Travel, the official travel partner of Disney Addicts and Chip & Co., I am your family's best resource for a stress free, magical vacation!  As a full-service agent, I am here to help you with all Disney destinations worldwide, Adventures by Disney, and Disney Cruise Line as well as all theme park vacations, all cruise lines, and more! Best of all, my concierge planning services are FREE to those who book their vacations through me! Contact me today and follow me on Facebook and Instagram for travel related news–Disney and beyond.
---
Latest posts by Theresa Perry
(see all)