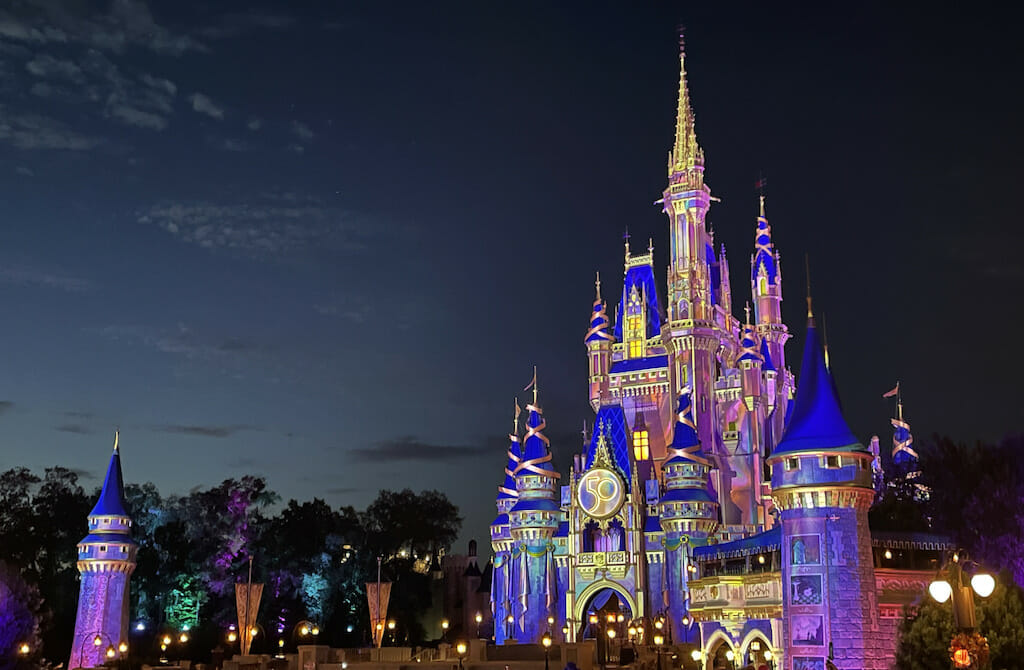 Checking the park calendar and refurbishment list are key aspects when planning your next Walt Disney World vacation
Planning your itinerary for a Walt Disney World vacation can be an arduous task. With four theme parks, two water parks, Disney Springs, and myriad of resorts with restaurant and entertainment offerings, you may find yourself on your fifth or sixth week-long trip and still have a long list of things to see and do. The park calendar and refurbishment list are two critical items to use when planning your Walt Disney World Vacation, as changes to operating hours, the addition of special events, and attraction refurbishments can derail your plans before your trip even begins.
Related: 5 Tips For Navigating a Hot Day at Walt Disney World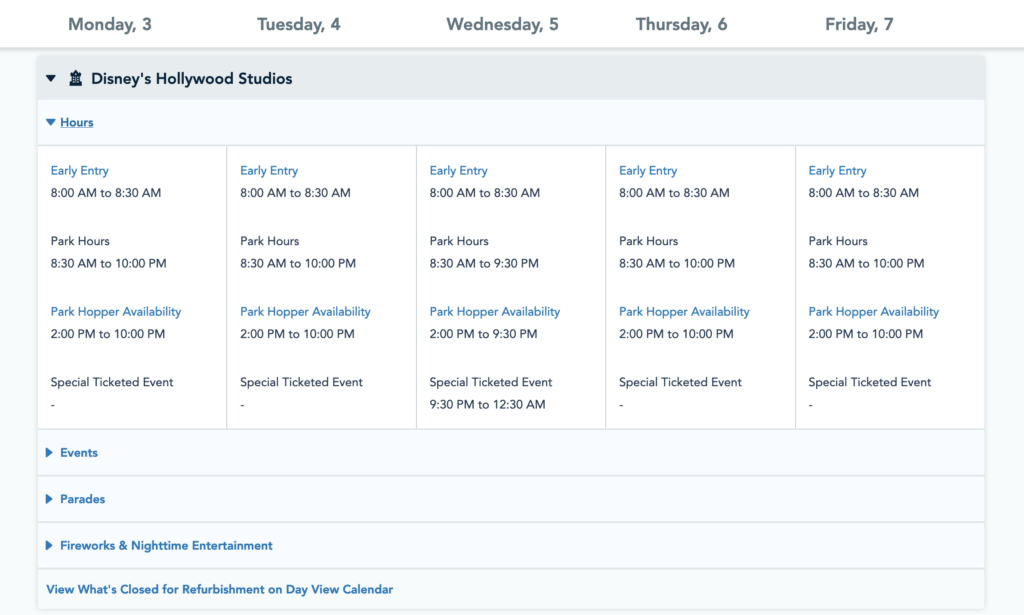 Those planning their first Walt Disney World sometimes operate under the false assumption that the theme parks operate under a consistent operating schedule throughout the week. In reality, park hours are often extended during peak seasons with short notice (sometimes just a few weeks), resort guests have rotating extended park hours, and deluxe resort guests may be able to enjoy exclusive extended evening hours.
We just found out in mid-March, for example, that Disney extended hours at Magic Kingdom, Hollywood Studios, and Animal Kingdom for the month of April. This is great news for guests as they get extra time in the parks without paying additional fees, however it does require a change to your itinerary (especially for days in which the extension results in the parks opening earlier).
Park hours are not consistent between parks either, with each park operating under slightly different hours. Here are the hours for the April 3-7, 2023:
Animal Kingdom: 8:00 am to 8:00 pm, early entry for on property guests starting at 7:30 am
Hollywood Studios: 8:30 am to 10:00 pm, early entry for on property guests starting at 8:00 am
EPCOT: 9:00 am to 9:00 pm, early entry for on property guests starting at 8:30 am
Magic Kingdom: 9:00 am to 11:00 pm, early entry for on property guests starting at 8:30 am
Resort transportation typically starts one hour prior to the earliest park opening, and will operate for each park one hour after each park closes (when planning your Animal Kingdom day given the above hours, for example, you will want to be sure you are hopping on that Disney bus by 9:00 pm to be sure you don't miss it!).
While the above week has early entry each day of the week for all four theme parks, other times of the year may see only one or two parks offering early entry each day. Note that, at times, parks may close early due to special ticketed events, further highlighting the need to keep track of the park hours via the calendar when planning your schedule for each day. You certainly don't want to find yourself in a situation where the only Magic Kingdom day you have planned is a day in which the park closes at 6 pm for a private event, resulting in a short day and no chance to watch Happily Ever After!
Guests staying at Deluxe Resorts or Deluxe Villa Resorts can also currently enjoy extra hours in the evening at EPCOT and Magic Kingdom. These extra hours not only afford additional park time, but also allow for an additional opportunity to enter the virtual queue at EPCOT to ride Guardians of the Galaxy: Cosmic Rewind (no official word yet on if the additional virtual queue will also be available for TRON Lightcycle/Run at Magic Kingdom). For the same week noted above, April 3-7, 2023, extra evening hours are offered as follows:
EPCOT: April 3, 9:00 pm – 11:00 pm
Magic Kingdom: 11:00 pm – 1:00 am
The weekly park calendar affords the easiest method to plan your week, as you can see the park hours for all four Walt Disney World theme parks for the entire week on one page. You will need to switch to the day view, however, to view the refurbishment list when planning the itinerary for your trip. The refurbishment list is located at the bottom of the day calendar under the heading 'closed for refurbishment' and will list the attractions that are closed for each theme park.
In the screen shot above, the Tomorrowland Launch Depot is closed for refurbishment on April 3 at Magic Kingdom while in the screen shot below, Rock 'n' Roller Coaster is closed for refurbishment at Hollywood Studios. The refurbishment list can provide a heads up that a favorite attraction is closed when planning your trip, avoiding disappointment when you arrive for your vacation. Guests wishing to ride a specific attraction may find themselves changing their vacation dates to work around the refurbishment schedule!
Related: Walt Disney World Extends Theme Park Hours Through April 29th

Events
The park calendars are also your best bet to easily plan your day around events you wish to see, such as parades and fireworks. Both the day and 5-day calendar view provide this information for each park, as well as any special events that are scheduled. In the screen shot example below, you can see the Festival of Fantasy Parade is being offered twice (at noon and 3:00 PM), and Happily Ever After is scheduled for 9:00 PM.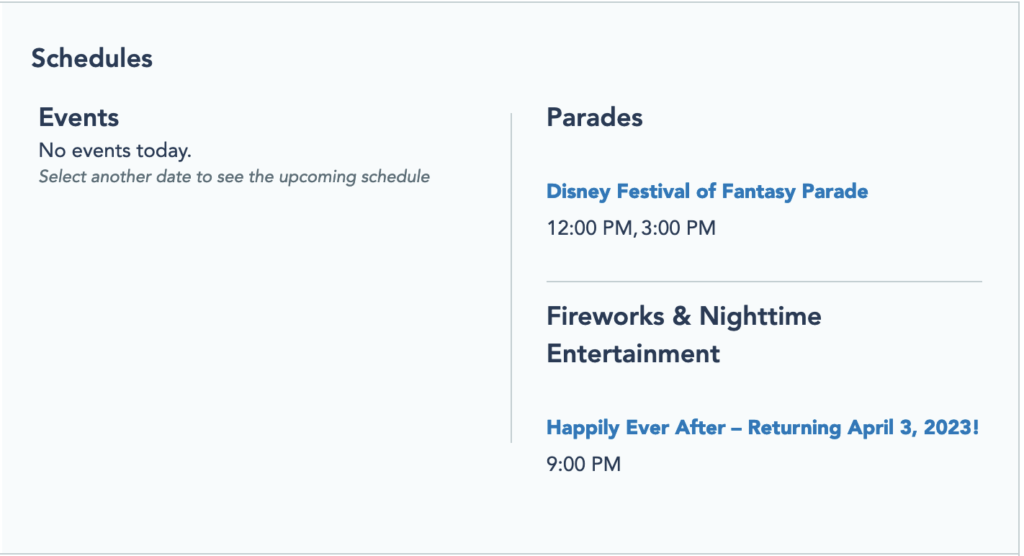 The ever-changing operating hours, special events schedules, fireworks and parade times, and extra hours make planning a Walt Disney World vacation a complicated task. Do you have any experience with a change in park hours impacting your trip? Any specific tips for planning your day? Let us know in the comments!
---
Ready to book your next magical vacation, but don't know where to start? Want to enjoy a Walt Disney World vacation without the stress of planning, booking, and tracking trip changes and promotions? Contact me today! As an agent with Destinations To Travel who specializes in Disney destinations, I can help you stress less and enjoy your vacation more! The best part? My services are provided at NO ADDITIONAL COST when you book your Disney vacation package through me!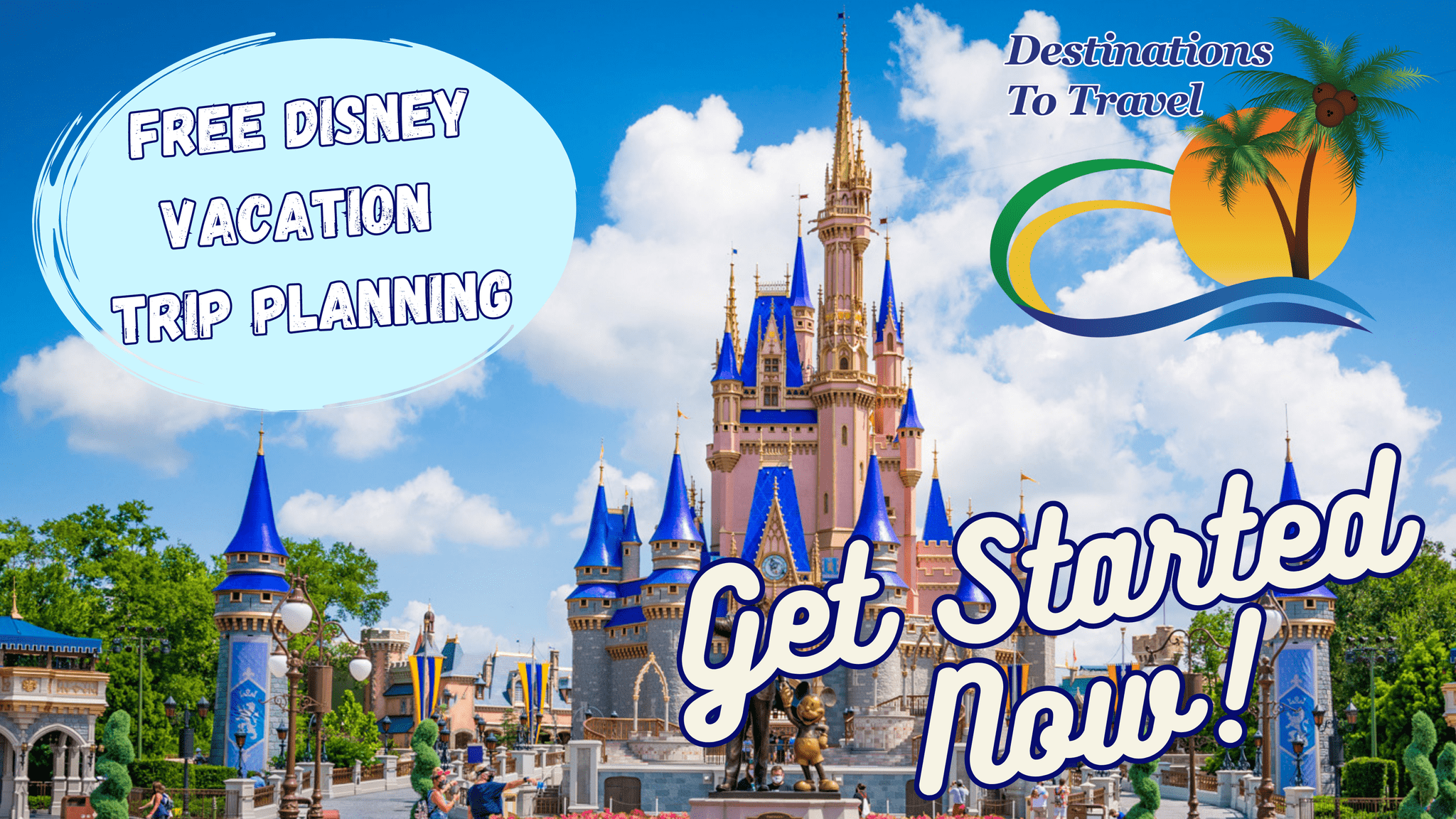 Let our friends at Destinations to Travel help you book your next Disney Vacation. They are the preferred Travel Agency of Chip and Company and Disney Addicts, and who we use ourselves.
Get started Now for your FREE No Obligation Quote.
Book With our friends at Destinations to Travel