The Wilderness Lodge Visitors Guide
Welcome, nature enthusiasts, adventure seekers, and fans of rustic charm! Today, we invite you to embark on a journey into the heart of the wild, where rustic elegance meets the great outdoors. Disney's Wilderness Lodge is a hidden gem nestled close to Disney's Magic Kingdom Park, offering a unique blend of natural beauty and Disney magic. Today we explore our favorite things to do at this enchanting wilderness retreat.
Even if you're not staying at the Wilderness Lodge, you can discover that the resort's attractions and dining experiences are open to all visitors. From savoring the delectable dishes at Whispering Canyon Café to immersing themselves in the enchanting world of Storybook Dining at Artist Point, there's no shortage of adventure and magic for you to enjoy, making it a memorable part of their Disney vacation.
Adventure Begins with Lunch:
Our adventure begins with a culinary expedition at Geyser Point Bar and Grill, the quick-service dining gem at Wilderness Lodge. If you prefer a dining experience with a view, look no further than Geyser Point Bar & Grill. This waterfront dining spot offers stunning views of Bay Lake and features a diverse menu that includes artisanal burgers, refreshing cocktails, and campfire-inspired desserts. Dining al fresco while watching the sunset is an absolute must-do here.
The Bison Burger is a true culinary delight that captures the essence of the great outdoors. This mouthwatering burger features a juicy bison patty, cooked to perfection and infused with rich, natural flavors. Topped with Tillamook cheddar cheese, crispy bacon, fresh lettuce, and ripe tomato, it strikes a harmonious balance of savory and fresh elements. The finishing touch is a zesty marionberry barbecue sauce, adding a sweet and tangy kick that elevates this burger to a whole new level of deliciousness. Served on a warm brioche bun and accompanied with sweet crispy onion straws, this Bison Burger is a must-try for those looking to savor the flavors of the American wilderness right here at Disney's Wilderness Lodge.
Related: 5 Reasons we Love Disney's Wilderness Lodge Resort
Enjoy the Architecture:
The heart and soul of Disney's Wilderness Lodge lies in its awe-inspiring lobby, a true testament to the harmonious blend of rustic charm and architectural grandeur. As you step into this magnificent space, you'll be transported to a bygone era, reminiscent of the grand lodges that once graced the American Northwest. Towering above you are the massive totem poles, intricately carved with breathtaking detail, each telling a unique story of the wilderness.
The imposing stone fireplace, adorned with wildlife motifs, radiates warmth and invites you to cozy up in its embrace as you take in the breathtaking views of Copper Creek Springs that flow beneath it. The soaring, eight-story-tall atrium is a masterpiece of timber and stone, with hand-crafted wooden beams and wrought-iron accents, making it impossible not to be captivated by its rustic elegance.
Related: Top 3 Disney World Deluxe Resorts You Need to Stay at!
This architectural marvel pays homage to the natural world, with the lobby's design inspired by the great outdoors. The lobby's vast windows allow natural light to flood the space, showcasing the lush landscaping and bubbling springs just outside. Massive, rough-hewn logs support the upper levels, and the wooden railings and balconies echo the aesthetics of a wilderness lodge.
It's a space where every detail has been meticulously crafted to immerse you in the tranquil beauty of the wilderness while providing all the comforts and luxury you'd expect from a Disney resort. The Wilderness Lodge's lobby is not just a place to pass through; it's a destination in itself, where you can sit by the fire, gaze at the stunning chandeliers, and let the atmosphere of this architectural wonder envelop you in its embrace. During the Christmas season, this is the best lobby on the property and a must-visit even if you are not staying at the resort.
Two Choices for Dinner:
Whispering Canyon Café at Disney's Wilderness Lodge is more than just a restaurant; it's a rollicking, rootin' tootin' good time that promises a dining experience like no other. As you step inside this rustic and lively eatery, you'll be transported to the Wild West, where friendly servers playfully engage in good-natured banter and create an atmosphere that's as entertaining as it is delicious.
The menu is a hearty celebration of American cuisine, with all-you-can-eat family-style offerings that include sizzling skillets of smoked ribs, pulled pork, and tender chicken. And when it comes to sides, expect to be served with generous portions of baked beans, coleslaw, and cornbread. The dining adventure here is interactive and full of surprises, from napkin twirling to ketchup "races", making it perfect for families and those looking to add a bit of excitement to their meal.
Related: 4 Ways To Find Disney Characters At Walt Disney World Hotels!
But the fun doesn't stop with the food; Whispering Canyon Café is also home to a whimsical atmosphere that complements its Wild West theme. The décor is filled with charmingly quirky touches, and the spirited energy of the servers, the hearty fare, and the playful antics all come together to create a memorable dining experience that's bound to have you laughing, smiling, and feeling like a true pioneer of the Old West. So, whether you're celebrating a special occasion or simply looking for a memorable meal, Whispering Canyon Café promises an unforgettable dining adventure at Disney's Wilderness Lodge.
If character dining is on your family's to-do list, then look no further than Storybook Dining at Artist Point. Storybook Dining at Artist Point is a dining experience like no other, where classic Disney tales come to life in an enchanting forest setting. This restaurant offers a captivating journey through beloved fairy tales, with each moment carefully curated to transport you into the pages of a storybook. As you step into the enchanted forest, you'll be greeted by Snow White, Grumpy, Dopey, and the Queen herself. The character interactions are not only delightful but also provide an opportunity for guests of all ages to create magical memories with some of Disney's most iconic characters.
The culinary adventure at Storybook Dining is equally enchanting. The menu is a symphony of flavors inspired by the forests of the world, with dishes like the Wicked Shrimp Cocktail, Royal Prime Rib, and the delightful "Poison" Apple dessert. The standout, however, is the "Shared Wishing Well," a dessert featuring sweet sponge cake, chocolate gems, and a raspberry center, all presented with a surprise reveal that captures the essence of Snow White's iconic tale. Combined with the immersive setting and character interactions, Storybook Dining at Artist Point offers a truly magical dining experience that will leave you feeling as if you've stepped into the heart of a Disney fairy tale.
Memories around the Campfire:
As the sun sets over the wilderness, gather 'round the campfire near the main pool area. Here, you can enjoy a complimentary marshmallow roast and stargazing experience. It's the perfect opportunity to bond with fellow adventurers and share stories under the twinkling Florida night sky.
Related: When will 2024 Vacation Packages open for Disney World?
You can also Cap off your evening by watching the nightly Magic Kingdom fireworks from the sandy shores of Bay Lake. Gather with other guests and feel the magic as you watch Cinderella Castle light up the night sky. It's a serene and enchanting way to end your day at Wilderness Lodge.
Disney's Wilderness Lodge is a treasure trove of experiences, whether you're a guest staying at the resort or simply stopping by to immerse yourself in the natural beauty and architectural wonders of its lobby. From the awe-inspiring totem poles and roaring fireplace to the soaring eight-story-tall atrium and mesmerizing copper creek springs, the lodge's lobby is a destination in itself. You can enjoy one-of-a-kind dining experiences, or explore the grounds at your leisure.
It's a place where you can marvel at the intricate craftsmanship, cozy up by the fire, and let the atmosphere envelop you in its embrace. Wilderness Lodge offers a unique opportunity to step into a rustic wilderness that's right in the heart of the Walt Disney World Resort, promising unforgettable moments and a genuine connection to the magic of nature and Disney's rich storytelling tradition.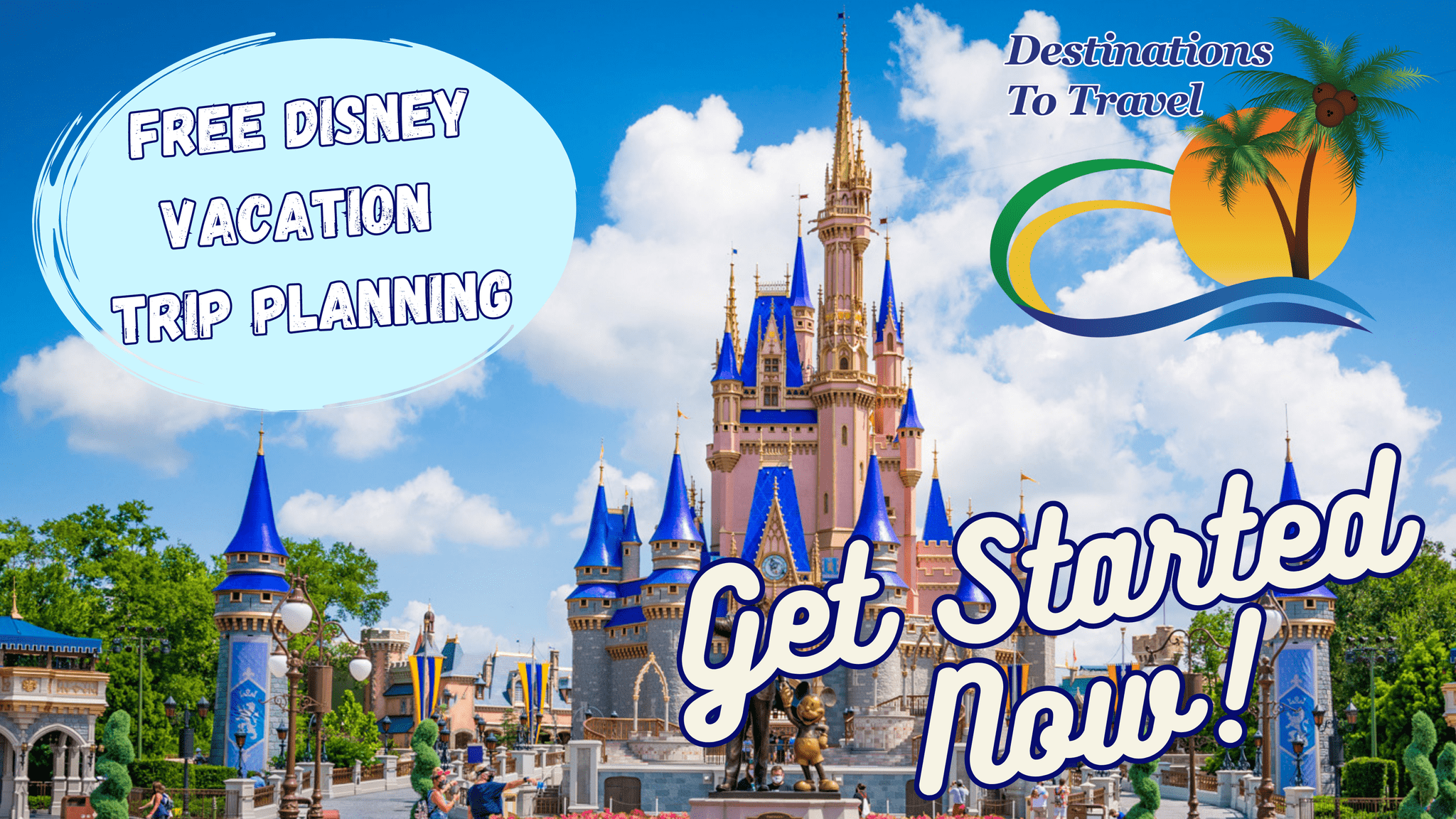 Let our friends at Destinations to Travel help you book your next Disney Vacation. They are the preferred Travel Agency of Chip and Company and Disney Addicts, and who we use ourselves.
Get started Now for your FREE No Obligation Quote.
Book With our friends at Destinations to Travel