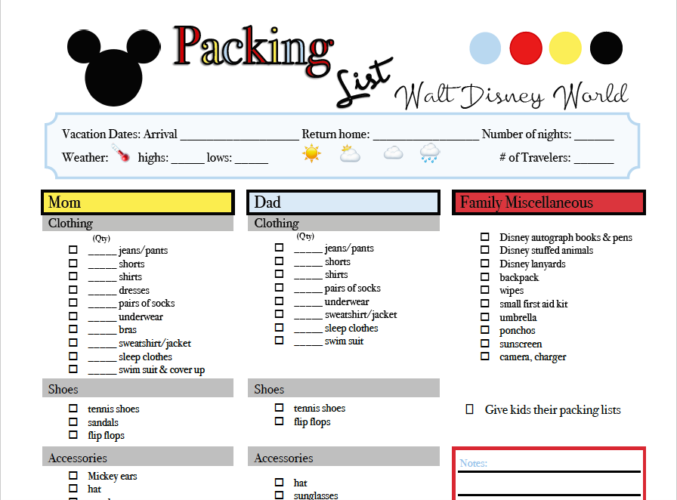 Packing for any vacation can be overwhelming! In fact, my daughter just came up to me and said she has this fear that she is going to forget to pack something and she'll remember what it is when she is on the airplane. I reminded her she had her packing list and there are stores where we are going!
There are sample Walt Disney World packing lists out on the internet, so what makes mine different? My list isn't the end all be all. It's the advice that goes with the list that makes it so valuable.
In this article:
How to build your own packing list
My kid's packing lists
Downloadable PDF of kid's packing list
What's on my packing list
Downloadable PDF of adult's packing list
Packing tips
My top 2 Most Important Things to Pack
Where to Start
Start by creating an "Essential Packing List." These are basic things you will always need no matter where you are traveling. Create an editable document, whether that be in Microsoft Word or another word processing program.
When creating this list make sure to remember things that your family uses. For example, I wear contact lenses. On my packing list, I need to include extra lenses, a lens case, and solution.
Some situations you might want to keep in mind: do you have a baby? Then you will need diapers, wipes, cream. Does your child bottle feed, use a pacifier? Do you have a child that wears braces? You might need a special toothbrush or wax. My daughter wears a retainer, so she needs her case. Other essentials might be specific medications, vitamins, and a phone charger.
When creating this list I like to put a line before the item. This way I can just re-print out the list each time I need it. Then I just fill in the line with the number of that item that I need. For example, if I'm going to Disney World for 7 days, I would list 8 shirts. I like to always have one extra of everything, just in case.
Make Your List Specific for your Vacation
Look up the weather in Orlando Florida before you go. Take note of the highs and lows, rain predictions, and humidity levels. Yes, I know the weather can change minute to minute in Florida, but having a rough idea will help. Are the highs going to be in the 50s? You probably don't need to bring shorts and sundresses.
People generally tend to overpack, especially if they do not have a plan. Look at dining reservations you have made. Do you need to bring fancy clothes? Can you re-wear jeans? If you go into packing with a plan you are less likely to over pack.
Create a Packing List for Each Child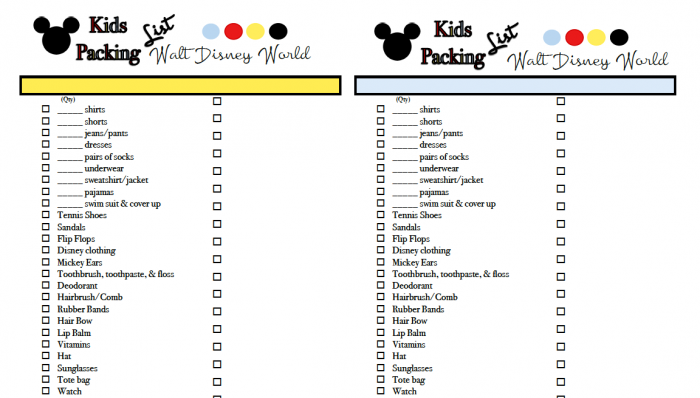 Traveling with kids? When my kids were around 5 and 7 years old, I created separate packing lists for them! I print it out, cut it in half, and write on the list how many pairs of pants, shirts, etc. are needed for the trip and I send them on their way. I have them put their items next to their suitcase and I fill them. That way I can double check what they are packing. This is a great skill for them and they can get excited about the vacation! This step is my biggest time saver!
Download WDW Kids Packing List PDF
What's on My Walt Disney World Packing List
I have my list split into categories. I start with a Mom category, then Dad category, then one for the family that one of us would need to pack (not the kids). Then I break it down even further into Mom: Clothing, Shoes, Accessories, Toiletries, and Miscellaneous. Then Dad: Clothing, Shoes, Accessories, Toiletries, Miscellaneous. Items on our Family Miscellaneous list are things like ponchos and Disney lanyards.
I choose not to do laundry while on vacation. If you want to, all of the resorts have laundry facilities.
Download the WDW Packing List PDF
Packing Tips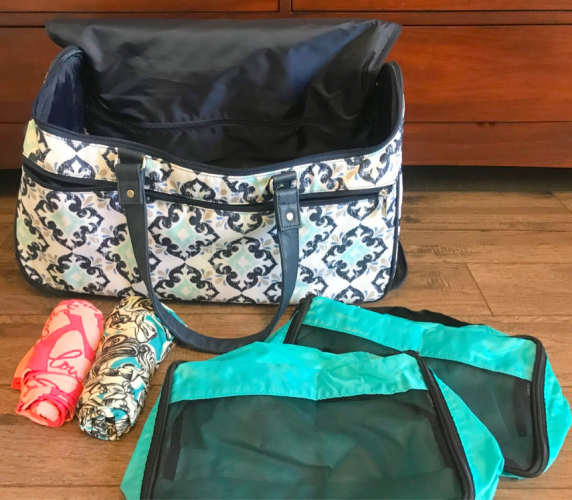 Use a soft-sided bag as a carry-on
More and more airlines are restricting the number of carry-ons passengers can bring. Airlines have size limitations on their carry-ons. In the past, they have been lenient in what gets brought on but, on all of my recent flights at the boarding gate, airline employees are enforcing the dimension limits. If you have a hard or stiff suitcase, they are more likely going to measure your bag. If you go with a soft-sided bag they are more likely to let you on.
Packing Cubes
This was one of the new techniques I tried and I love the cubes. In the past, I used gallon sized ziplock bags that I labeled with the day of the week and I packed my clothes and the kid's clothes in these bags. It made it super easy for the kids to get dress each day. But, my husband's clothes were too bulky to fit in the bags, so when I discovered packing cubes I fell in love!  I was able to organize all of our stuff!
Roll, don't fold
One, it saves space. Two, you will have less ironing to do while on vacation.
Pack outfits together
Group outfits together. Put your pants, shirts, underwear, socks, and bras for each day together. Then try to pack them in the order you will take them out of your suitcase. It makes it very easy to find what you are looking for. Plus, I always like to pack my pajamas on top because that's usually what I change into first and I don't want have to dig through my suitcase to find them.
Know the 3 -1 -1 rule
You don't want to be "that guy" at security checkpoint that's holding up the line. My husband was "that guy"! He brought a full-size bottle of shaving cream (1/4 of the way full) in his carry-on bag. Needless to say, he had to buy a new one at our next stop. Make sure you know how much liquids you are allowed to bring in your carry on. According to the Transportation Security Administration, you are allowed to bring a quart-sized bag of liquids, aerosols, gels, creams, and pastes. These are limited to travel-sized containers that are 3.4 ounces or less per item.
Pack shower items together
This goes along with the idea of packing like things together. I get really annoyed when I go to take a shower and I realize that I left my razor in my bag on the bathroom counter. If I keep it in the bag with my shampoo, conditioner, body wash and body sponge I know I have everything I need!
Mix family items into different suitcases
Unfortunately, sometimes luggage gets lost or take a detour. Mix up for family's items into different suitcases. That way if one goes missing you still have clothes in the other suitcases. This happened on my honeymoon and all of our snorkeling gear made it to the Bahamas, but my husband's clothes were nowhere to be found.
Have kids carry their own suitcases
My kids love to feel like grown-ups. Let them carry their own suitcase. It helps spread the load.
Bring a Pop-up laundry basket with a large trash bag
We put the pop-up laundry basket in the closet with the trash bag inside and as we wore our clothes we put them in the basket. When the basket was full, we pulled out the bag with all of the dirty clothes and put them in an empty suitcase and put another trash bag inside the laundry basket. This was perfect because when we got home we already had our dirty clothes separated from our clean clothes.
My top 2 Most Important Things to Pack:
Positive attitude
I know this sounds cliche, but it is so true! If you remember you are at the Happiest Place on Earth all will be okay!
Pack extra space
The last one is usually the most important! Make sure to pack extra space in your suitcase! You will always come home with more! You don't want to have to buy an extra bag and pay to check it for your flight home.
Relax knowing you have everything that you will need for your next vacation on your packing list!
Happy Travels!

Let's book your magical vacation today!   As an agent with Key to the World Travel, I can help you with everything from Disney Destinations, a cruise, a beach getaway or even a trip to Europe. Contact me today for your free, no-obligation quote at l.brown@keytotheworldtravel.com  and follow me on Facebook to hear about the latest Disney updates and travel tips! Or, you can fill out and submit the form below.  I look forward to helping you plan the most magical vacation for you and your family.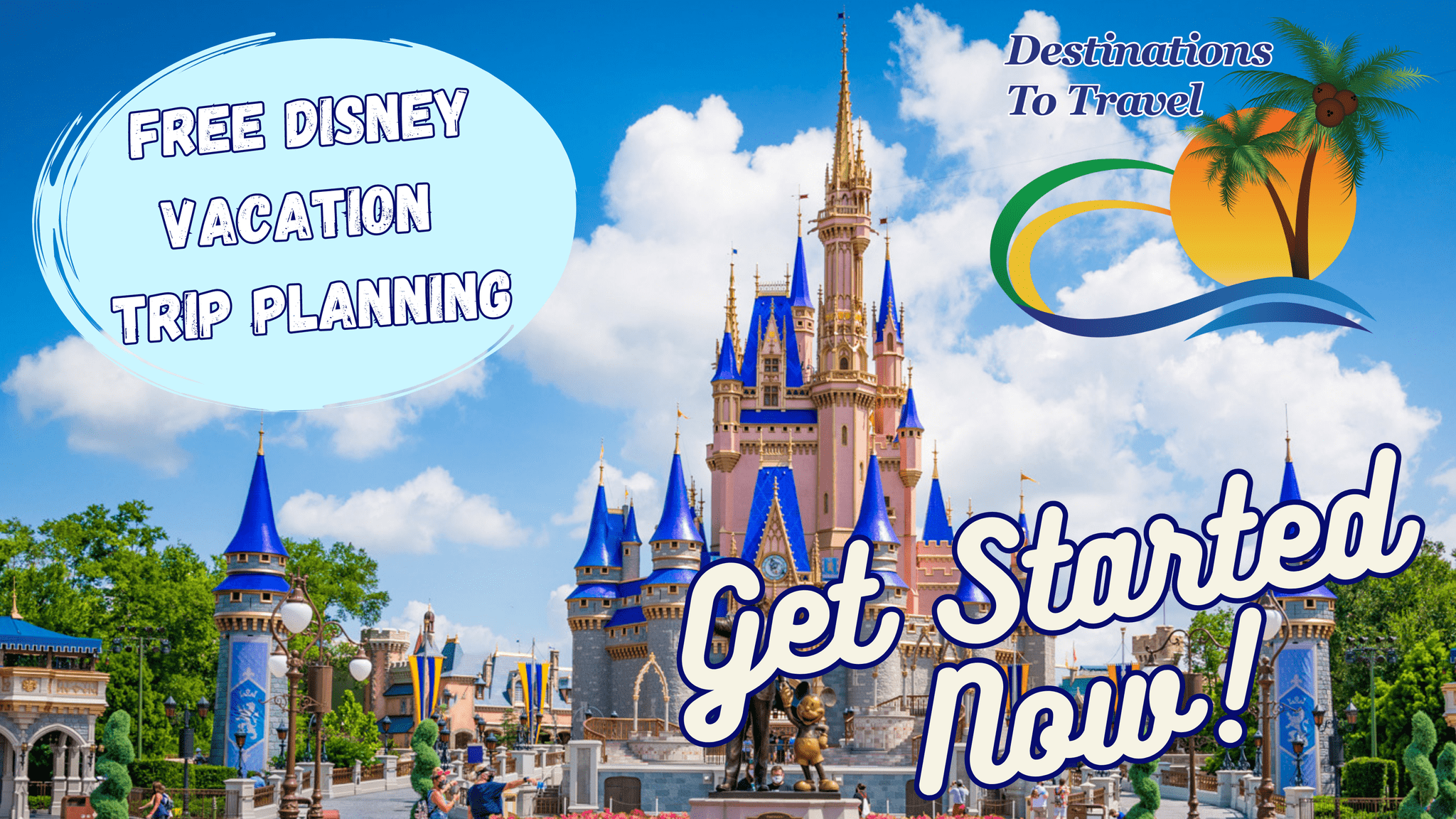 Let our friends at Destinations to Travel help you book your next Disney Vacation. They are the preferred Travel Agency of Chip and Company and Disney Addicts, and who we use ourselves.
Get started Now for your FREE No Obligation Quote.
Book With our friends at Destinations to Travel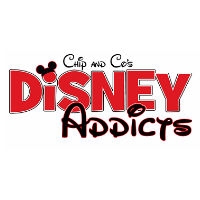 Latest posts by Disney Addicts Past Writers and Friends
(see all)