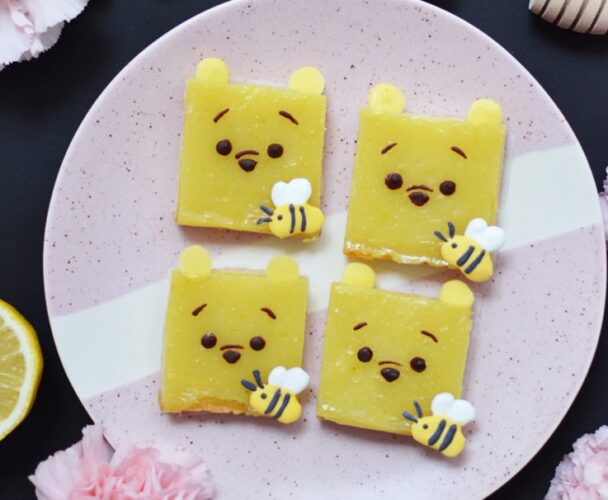 It's summertime and that means more picnics, barbeques, and backyard dinners. What better way to add some magic to your summer meals than to make some Disney-themed food? We've got a few recipes for you to try out!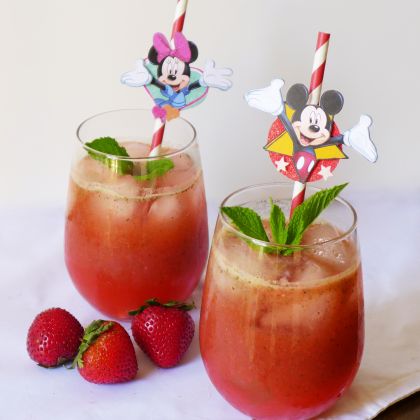 Strawberry Basil Mint Lemonade: What better way to cool off than with a tall glass of strawberry basil mint lemonade?! Now, this is not your typical lemonade. This lemonade is tart and sweet with a minty zing you'll love. The pureed strawberries bring all the flavors together to make this refreshing drink a summer favorite to enjoy at the beach or poolside.
Ingredients
3 cups freshly squeezed Meyer lemon juice
1 cup granulated sugar
2 cups strawberries, hulled and cut in half
6 basil leaves
8 mint leaves
6 cups cold water
Directions
Combine the lemon juice with the sugar and mix until the sugar has dissolved in a pitcher.
Puree the strawberries, mint and basil in a blender until smooth, then add to the pitcher.
Mix in the 6 cups of cold water and serve over ice.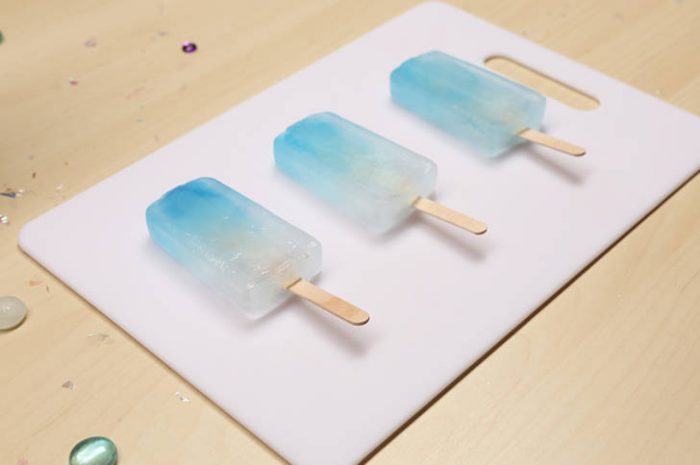 Elsa's Frozen Popsicles: Make magic in your freezer with Elsa's Frozen Popsicles. If cold never bothered you anyway, now the summer heat won't either.
Ingredients
Blue sports drink
Purple sports drink
Cold water or lemon lime soda
Blue crystal sprinkles and snowflake sprinkles
Popsicle mold
Popsicle sticks
2 plastic food storage containers
Directions
Pour blue sports drink in storage container. Pour purple sports drink in second storage container. Freeze overnight.
Carefully break frozen sports drink ice block into pieces.
Place a few pieces of each sports drink color in each popsicle mold.
Pour cold water or soda into popsicle molds. Do not overfill.
Sprinkle blue sprinkles and white pearls into popsicle molds.
Freeze overnight.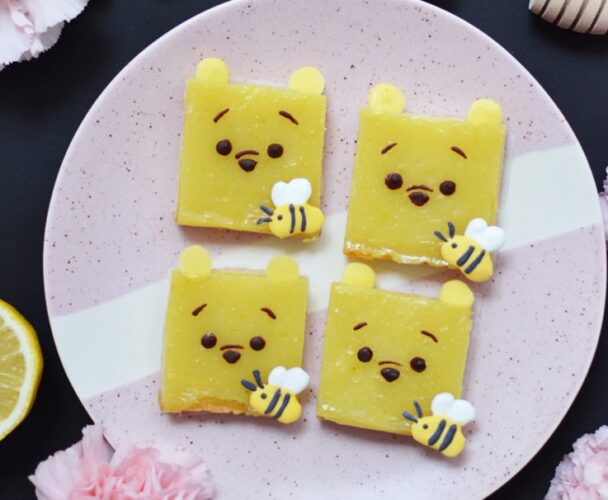 Winnie the Pooh Lemon Bars: Delicious lemon squares are a classic treat. Make them even sweeter by combining them with our favorite silly old bear! With their crisp, buttery crust and creamy lemon filling, these little Winnie the Pooh Lemon Bars pair perfectly with a summer afternoon or evening.
Ingredients
BEE DECORATION:
1 Tbsp meringue powder
1/4 Cup warm water
1 Cup powdered sugar
1/8 Tsp vanilla extract
Yellow and black gel food coloring
CRUST:
1/2 Cup sugar
2 sticks unsalted butter, room temperature
2 Cups flour
1/8 Tsp salt
LEMON FILLING:
4 large eggs, beaten
2 Tbsps lemon zest
1/4 Cup cornstarch
1/3 Cup lemon juice (3-4 lemons)
1/2 Cup granulated sugar
1/2 Tsp baking powder
Yellow gel food coloring
POOH'S FEATURES:
Yellow candy melts (for ears)
Dark chocolate, melted (for facial features)
MATERIALS:
Piping bag and tip (#1)
Parchment paper
Toothpicks
Directions
For the bumble bee decoration, start by creating royal icing. Add powdered sugar, meringue powder, vanilla extract, and water into the bowl of a stand mixer with the whisk attachment. Start mixing on low until incorporated and then beat on medium-high until stiff peaks form (around 5 minutes).
Divide the icing into separate bowls to mix the icing colors (yellow, black, and white). Then set up a piece of parchment paper on a baking sheet. Using a piping bag with piping tip (#1), pipe the shape of a bee in yellow on parchment paper. Pipe on its wings with white, and stripes, eyes and antennae with black icing. Set aside to dry (about 1 hour). Image source: Joanne Lu | Disney Family
Create Pooh's ears with melted yellow candy melts. Using toothpicks, draw small circles on parchment paper. Set aside to dry.
Next, prepare the crust. Preheat the oven to 350° F. Cream the butter and sugar until it's light and fluffy—in the bowl of an electric mixer with a paddle attachment. Combine the flour and salt into the butter mixture until it's just combined.
Place the dough onto a well-floured board and gather into a ball. Flatten the dough with floured hands and press flat into a 9" x 9" baking sheet lined with parchment paper. Bake the crust for 15 to 20 minutes, until lightly browned. Let it cool on a wire rack.
For the filling, beat eggs together then set aside. Next beat the lemon zest, cornstarch, and lemon juice until combined. Sift in sugar and baking powder, then add it to the egg mixture. Finally, pour the whole mix over the cooled crust. Image source: Joanne Lu | Disney Family
Bake for 20 minutes.
Let it cool, then cut into 9 equal squares. Draw on Pooh's face with melted dark chocolate. Add the ears and the royal icing bees with a little melted chocolate. Enjoy!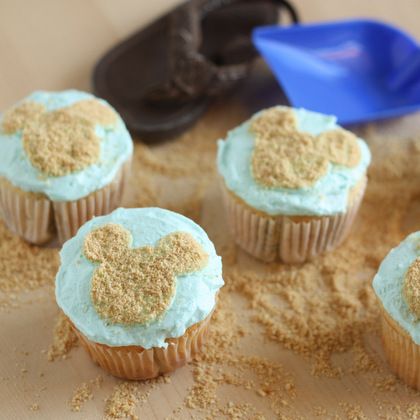 Mickey Mouse Beach Cupcakes: This fun technique is the perfect way to easily decorate some cupcakes with any design you'd like.
Ingredients
Cupcakes
Frosting
Knife or frosting spatula
Freezer Paper
Craft Knife
Crushed graham crackers or sprinkles
Directions
Cut a square of freezer paper that is slightly bigger than the top of your cupcake (3.5 inch square shown). You'll notice that one side of the paper is shiny and one side is matte. On the matte side, draw or trace your design.
Using a sharp craft knife, cut out your design (this is a job for adults!).
Frost your cupcakes with a knife or spatula. Lay your stencil, shiny side DOWN, on top of the frosting and press gently around the edges to make sure your crumbs or sprinkles won't leak out.
Pour graham cracker crumbs or sprinkles all over the top of the cupcake and then shake it gently over a bowl to remove the excess. Repeat.
Carefully peel off your stencil and repeat on remaining cupcakes. You may want to use a paper towel or napkin to wipe any excess frosting off the stencil between cupcakes.
Which recipe(s) will you try this summer?
Photo credit & source: Disney Family
---