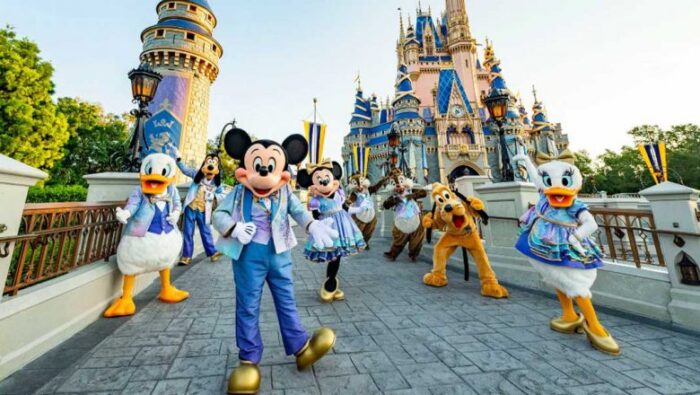 We are just 47 days away from Walt Disney World 50th Anniversary!
The World's Most Magical Celebration on Earth will kick off on October 1st with new attractions, shows, decor and more! It's a celebration 50 years in the making so of course is going to be fabulous. If you are planning on visiting the resort later this year, then you should pay attention to this list we put together of everything that is coming to Disney World soon:
CASTLE MAKEOVER
Cinderella Castle got a royal makeover for the celebration! The castle is now adorned with extra sparkle and shine thanks to a special 50th anniversary crest, as well as, gold embellishments and other sparkling decor.
The decor is subtle but extremely pretty, so make sure to take plenty of pictures here when you visit Magic Kingdom Park!
DISNEY OF "FAB 50" FRIENDS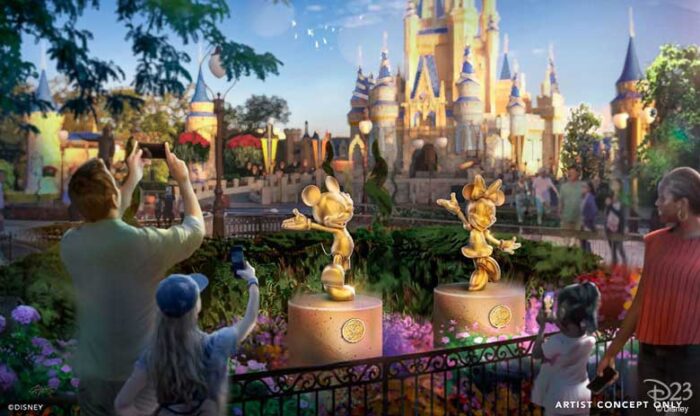 A collection of 50 golden character statues are being unveiled across Disney as part of the countdown to the world's most magical celebration. We have already seen statues like Mickey, Minnie, Edna Mode, Orange Bird and more!
BEACONS OF MAGIC
The four theme park icons will illuminate at night at the same time to celebrate Walt Disney World 50th anniversary! You will also be able to hear music made specially for this celebration with different lyrics depending what park you are visiting that day, cool right? We can't wait!
CHARACTER CAVALCADE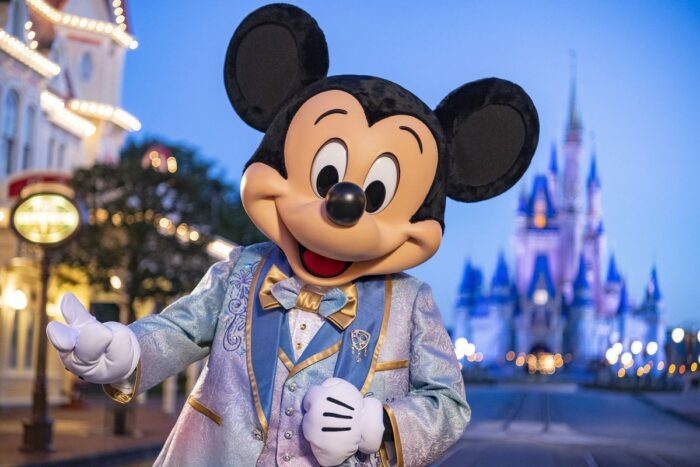 Mickey and his friends are dressing up for the occasion with new earidescent attire that match the castle decor perfectly!
You will also be able to see them during a new cavalcade in honor of Walt Disney World 50th anniversary!
DISNEY ENCHANTMENT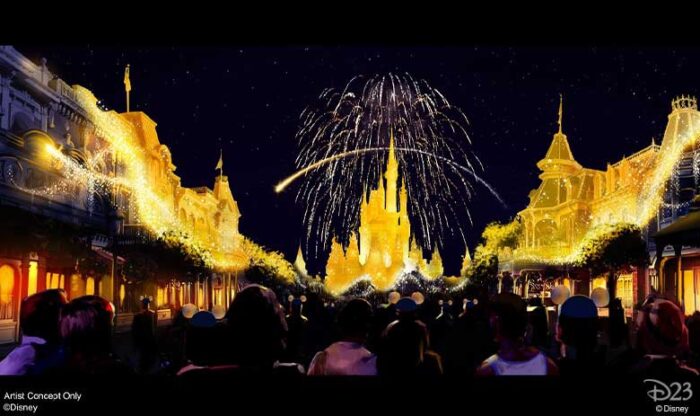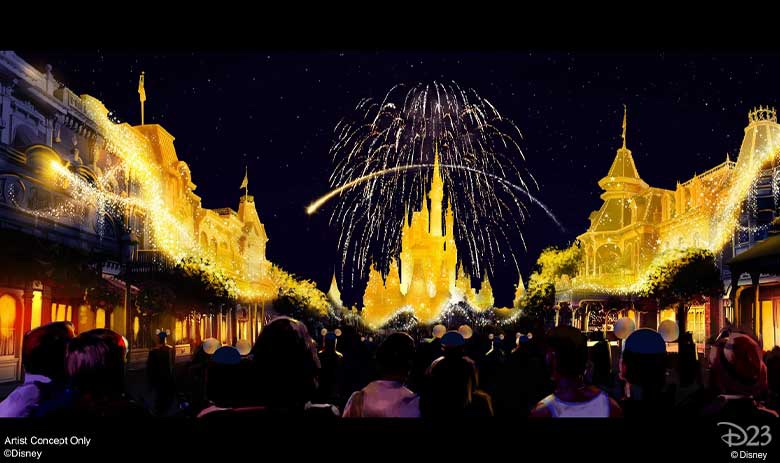 Magic Kingdom will debut a new nighttime spectacular called Disney Enchantment! The show will feature music, enhanced lighting, stunning fireworks and for the first time ever, immersive projection effects that extend from Cinderella Castle down Main Street U.S.A.
Related – Are Fireworks Returning to Disney World & Disneyland?
HARMONIOUS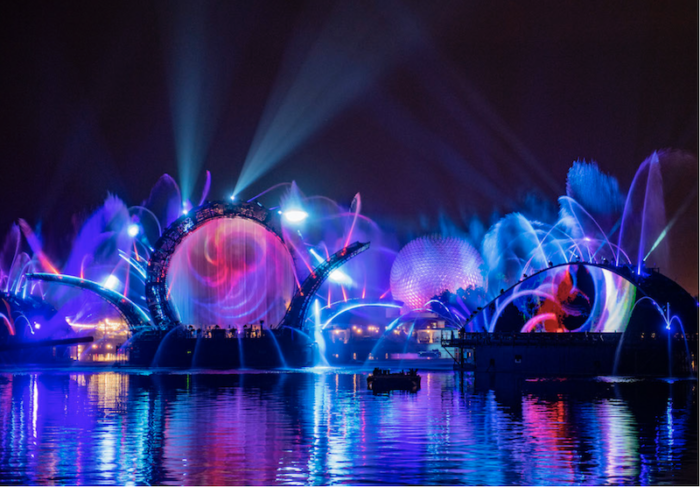 Epcot will also debut a new nighttime show called Harmonious embracing new technical magical that incorporates pyrotechnics, choreographed moving fountains, lighting and media in new ways.
The show is a celebration of Disney music that inspired people worldwide, you'll hear new interpretations of classic Disney songs as you've never heard them before, reimagined in more than a dozen languages by a diverse group of 240 artists from around the world.
DISNEY KITETAILS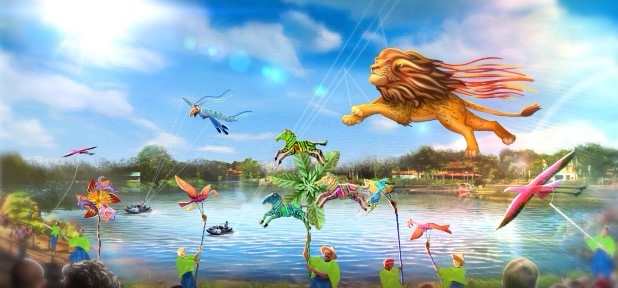 Over at Animal Kingdom, you can enjoy a daytime show called Disney KiteTails several times a day. In the show performers will fly windcatchers and kites of all shapes and sizes, while out on the water elaborate three-dimensional kites, some stretching to 30 feet long will depict Disney animal friends, including Simba, Zazu, baloo and King Louie.
REMY'S RATATOUILLE ADVENTURE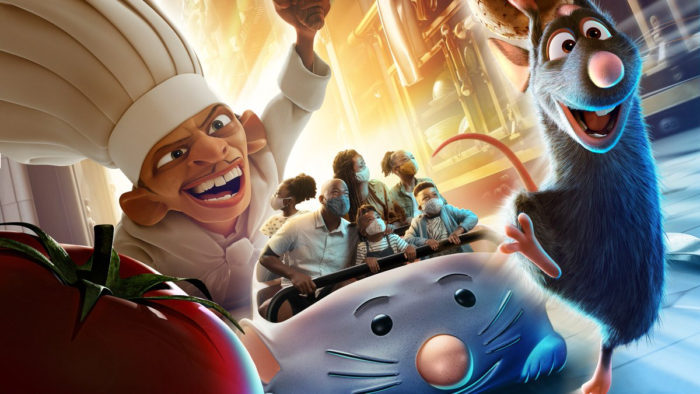 Remy's Ratatouille Adventure will finally open on October 1st at the France pavilion in Epcot!
On this ride you will drink to the size of a rat and embark on a journey across Chef Gusteau's restaurant kitchen in Paris! We can't wait to go on it.
Related – A Look at Remy's Ratatouille Adventure Coming to Epcot
LA CREPERIE DE PARIS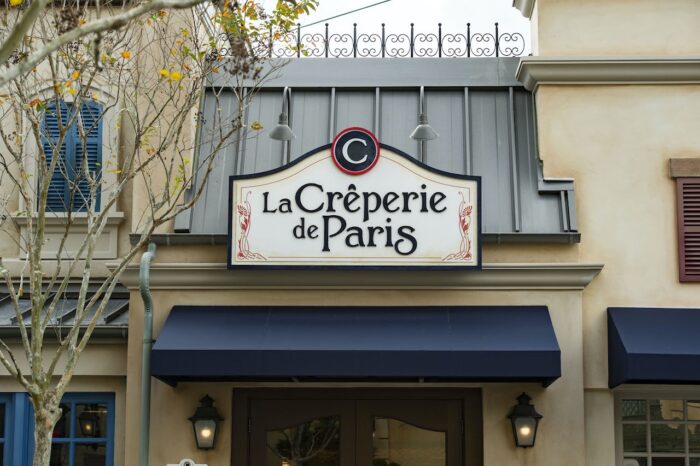 Just next to Remy's new attraction, you will find La Creperie de Paris! Here you will find both table-service and quick-service options with a menu created by celebrity chef Jerome Bocuse.
NEW COCO SCENE AT PHILHARMAGIC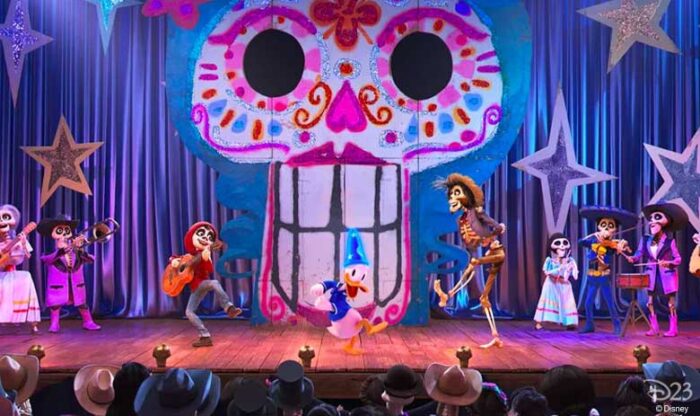 Philharmagic is updating the show by adding a new scene featuring Coco as part of Walt Disney World 50th anniversary! We can't wait to see it!
NEW MERCHANDISE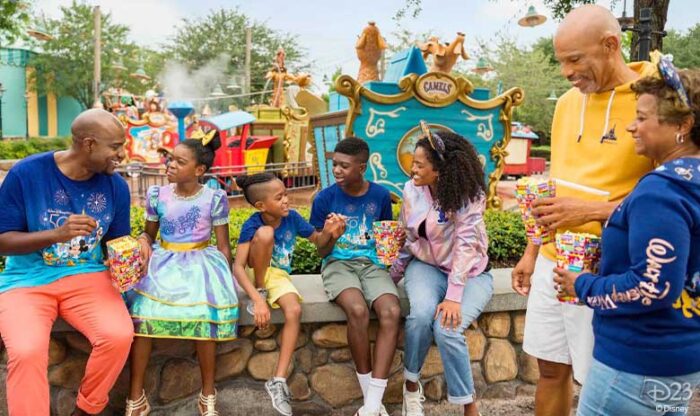 From classic to contemporary styles, and everything in between, you can take home the magic of the 50th anniversary celebration when the merchandise debut this fall!
Related – Dazzling Walt Disney World 50th Anniversary Merchandise Collections Unveiled!
DISNEY MAGIC FROM THE START OF YOUR TRIP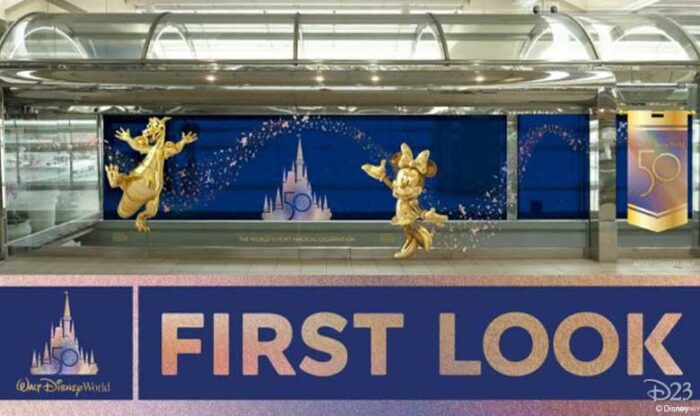 When you arrive at MCO, you will see different Disney touches including a wide-spanning art installation in the terminal train stations featuring favorite Disney characters, new magic engaging passengers as they walk through a glistening glow of projected earidescent light patterns, and an immersive photo opportunity with a re-creation of a Disney ride vehicle to capture special memories as they make their way through the airport.
This is what we know so far about Walt Disney World 50th anniversary starting on October 1st! Keep checking back for more details as the date gets closer.
Credit: Disney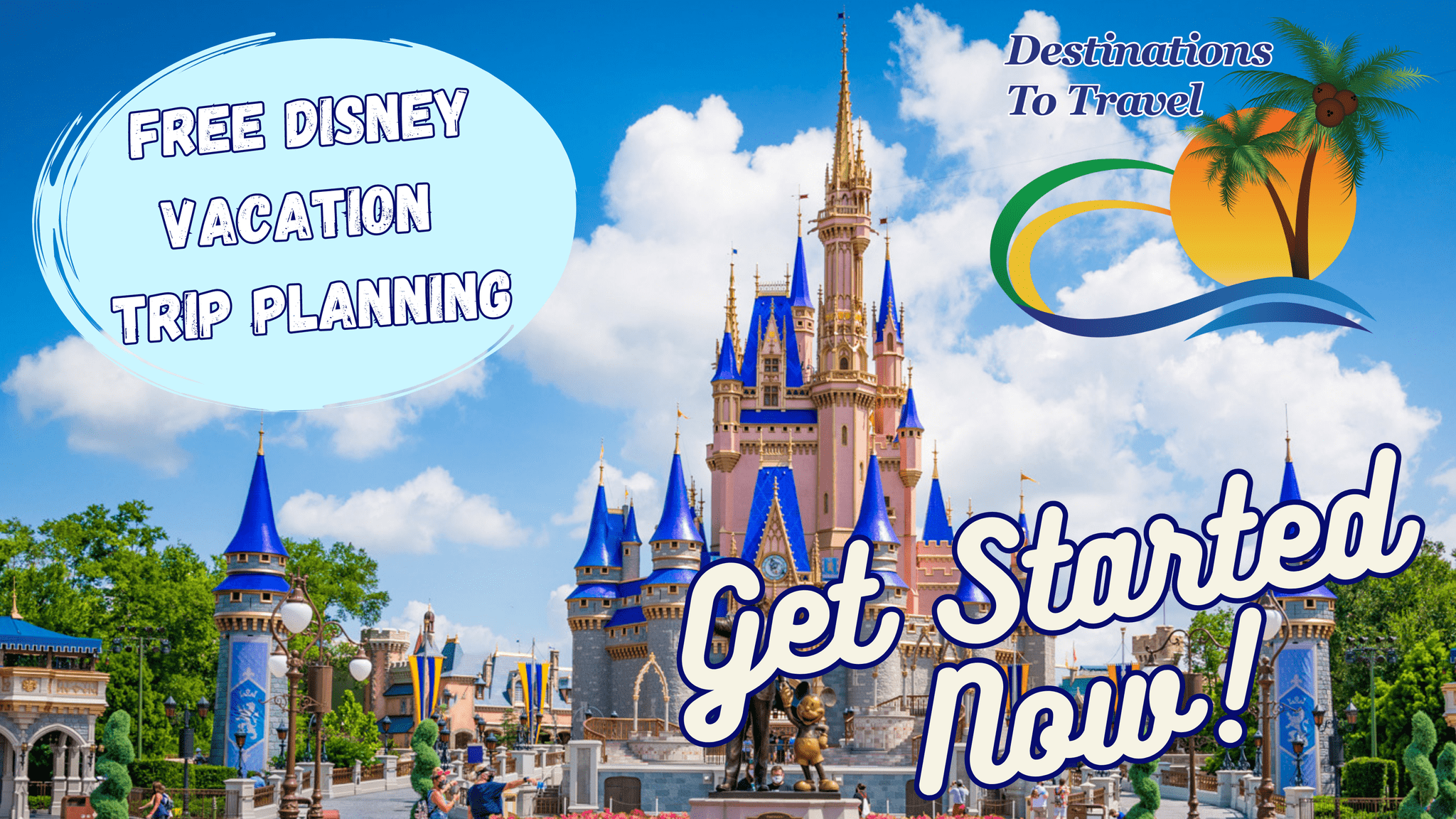 Let our friends at Destinations to Travel help you book your next Disney Vacation. They are the preferred Travel Agency of Chip and Company and Disney Addicts, and who we use ourselves.
Get started Now for your FREE No Obligation Quote.
Book With our friends at Destinations to Travel