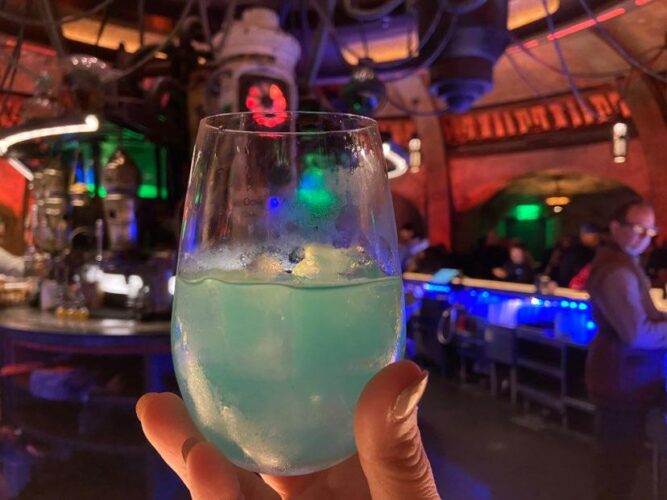 Star Wars Galaxy's Edge is a land far far away. It is otherworldy stepping foot in Batuu. There is a little lounge tucked in the middle of the Black Spire that is a hot commodity to get into called Oga's Cantina. I strongly suggest if you are wanting to go while you visit Galaxy's Edge in Disney's Hollywood Studios that you get a reservation in advance. You need one to get inside, so if there are no time slots still available you will not be able to enter. Perhaps you would like to try some of the drinks while we wait to visit. Lucky for you we have put together some of the Catina recipes for you to try out for yourself. We are talking Outer Rim drinks, and I don't mean the glass. There are a few alcoholic ones and a few nonalcoholic ones, but you could tweak them as you see fit. Each recipe makes one serving of the drink.
The Jedi Mind Trick
2 tablespoons white grape juice (I suggest Welches) 
2 tablespoons John D. Taylor's Velvet Falernum
3 tablespoons Ketel One Botanicals Grapefruit and Rose Vodka
1 teaspoon Bols Blue Curacao
1 dash of Fee Brothers Grapefruit Bitters
1 teaspoon freshly squeezed lime juice
Instructions:
Add all the ingredients in a shaker. Shake and stir. Pour over Ice.
This is drink is as photoed above. It has a beautiful blue hue to it. It is Delicious too!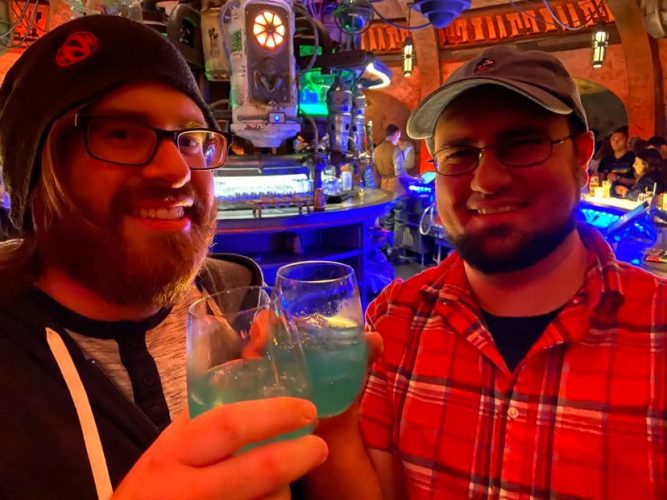 Cliff Dweller 
3 oz Pineapple Juice
3 oz Orange juice
1 oz cream of coconut
1 oz Lime Juice
1 oz ginger ale
1/2 oz Hibiscus grenadine
Instructions: Mix all ingredients in a shaker except the ginger ale. Shake with ice. Pour into a tall glass and top it with the ginger ale.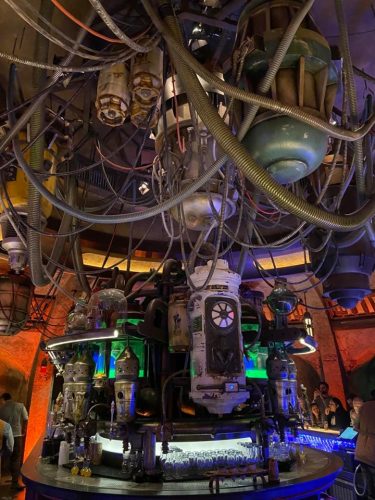 Yub Nub Cocktail
1/2 C Mango Juice
1/2 C Orange Pinapple Juice
1 1/2 Oz Pineapple Rum
1 1/2 Oz Spiced Rum
1 Tblsp Passion Fruit Simple Syrup
Passion Fruit Simple Syrup
1 cup Passion Fruit juice and 1 cup granulated sugar
Instructions: Add contents in a shaker mix and pour it into a glass over crushed ice. To make the passions fruit simple syrup add the sugar and passion fruit juice into a small saucepan. Mix and bring it to a boil. Reduce heat and let it simmer for about 10 minutes. Allow mixture to cool before using it. Add to drink.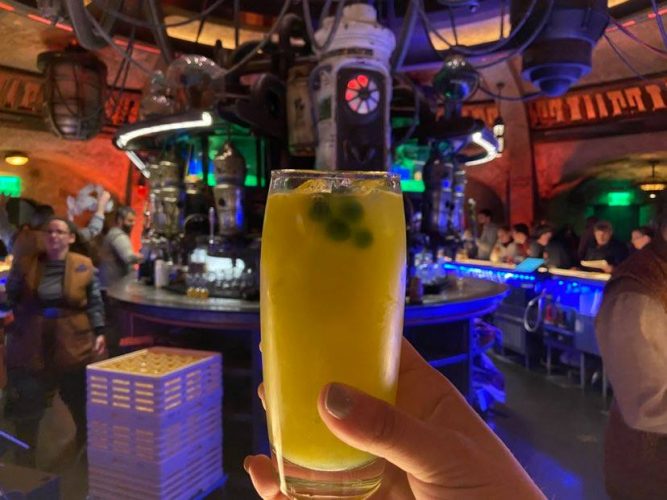 Jabba Juice
Ingredients
2/3 cup Simply Orange with Pineapple Juice (you could use orange juice and pineapple juice) 
2 tablespoons Monin Kiwi Syrup
1 tablespoon Monin Rock Melon Cantalope Syrup
Instructions: Combine the Juice and syrups and mix together. Pour mixture over ice and add the bobba pearls on top.
I loved, loved, loved this drink!!! You could easily add some rum to this drink to make an adult beverage out of it! Also I love that the bobba represents little worrt eggs, keeping with
Star Wars
the theme!
Dagobah Slug Slinger
1/2 oz ginger syrup
2 dashes of grapefruit bitters
1 oz orange-tangerine juice
3/4 oz Blue Curacao
2 oz Reposado Tequila
Instructions: Add all ingredients to a shaker. Strain into glass over ice. Garnish with a twig of Rosemary.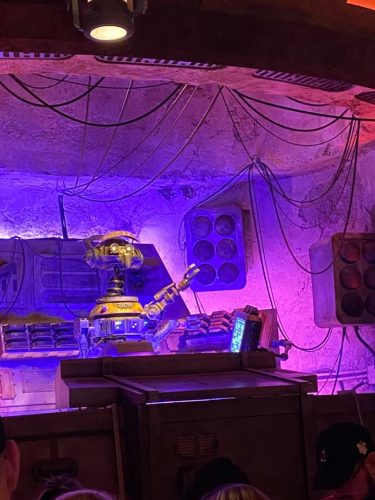 These are some pretty fun drinks. I hope you enjoy making and partaking in them. Until we can gather at our favorite cantina again, may the force be with you! Let us know your favorite Star Wars-themed drink at Disney Addicts!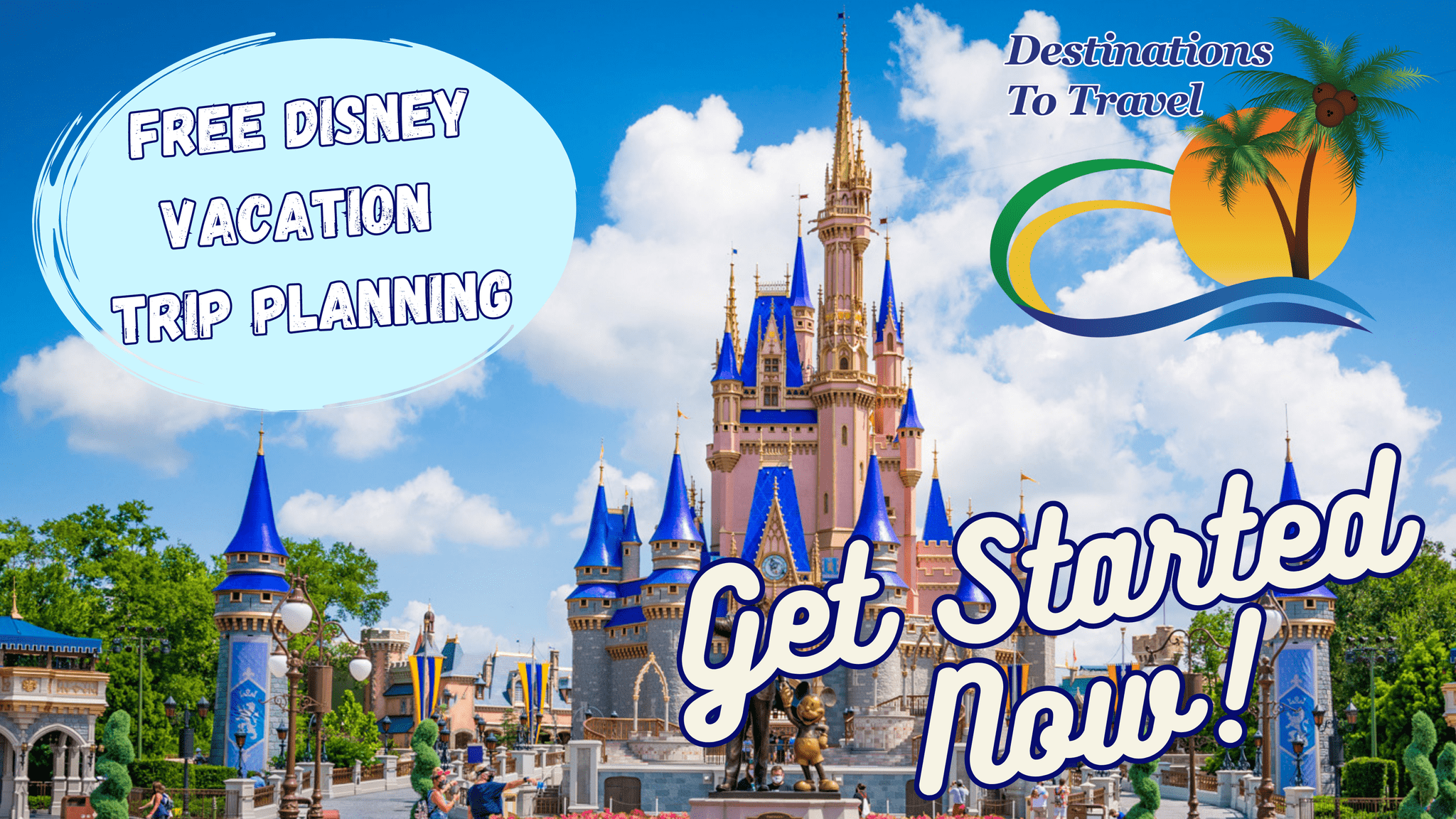 Let our friends at Destinations to Travel help you book your next Disney Vacation. They are the preferred Travel Agency of Chip and Company and Disney Addicts, and who we use ourselves.
Get started Now for your FREE No Obligation Quote.
Book With our friends at Destinations to Travel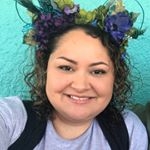 Latest posts by Jenna-Lee Languirand
(see all)