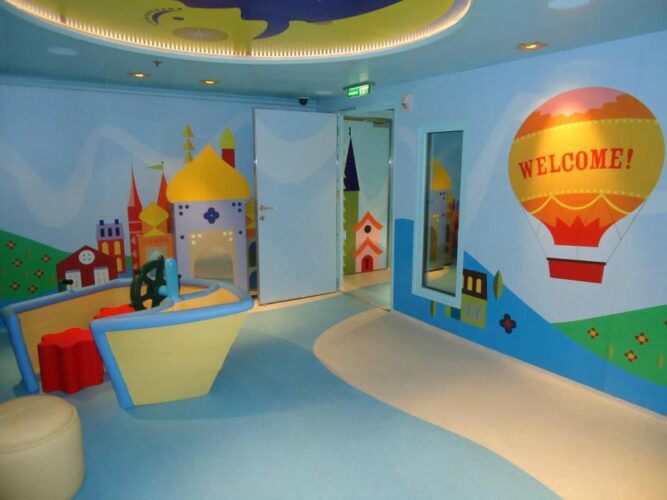 On a Disney Cruise there are plenty of things for kids and adults to do. What about adults with babies? If you are on the fence, here are 7 things to know about the "It's a Small World Nursery". It's the childcare services for kids not old enough for the other Kids areas. They are onboard all of Disney Cruise ships. Just like all the other kids' areas, they will hold Open Houses. You can go and check it out for yourself, talk to staff and feel comfortable.
     1. What age? "It's a Small World Nursery" is for your little ones 6 months to 3 years old. 1 – 3 years old on select cruises (minimum age restriction on some cruises; Panama canal etc)
    2. Peace of mind. In your Disney Cruise stateroom, you will have 2 Wave Phones. If you don't know what they are, they are 2 phones for you to use while onboard your ship or even at Castaway Cay. You can call or text each other, or others onboard as well. You can also get calls from the Nursery (the Oceaneers Club/lab, Edge and Vibe too) If they need something, have a question or concern, they will give you a ring. You are never too far from the Nursery and always able to be in contact. Also, know that your baby is being cared for by expert Disney counselors.
   3. Cost. Childcare is available at $4.50 per half hour ($9/hr) for the first child and $4.00 per half hour for any additional children in your family (Same stateroom) There is a minimum of 1 hour per reservation. It will be charged to your stateroom directly after pick up. Cancellation must be 4 hours prior to avoid a fee. Less than 4 hours will be penalized half the cost of the childcare. No Shows pay the entire cost of childcare that was reserved.
  4. Security. Just like older kids, you will choose a secret word for pick up. Along with your Key to the World card and sign them in and out. You can add additional adults to pick up. Friends and family, you may be traveling with. They provide a bag you put supplies in at every drop-off. There is a single gate, they will come get your babies and also bring them to you at check out after getting the official call once all the procedures are complete. There is a little 2-way mirror you may be able to sneak a peek of your kiddo. No pictures are allowed by parents. Privacy concerns. Characters will come to the Nursery. Sometimes you will even get a pic from a counselor at check out. Super cute!
   5. Reservations. Space is limited. Reservations can be made onboard on a first-come, first-served basis. The best time is during the Open House on Embarkation day. They can be made anytime throughout the cruise. Availability will vary. Advance reservations are required and can be made online for up to 18 hours during your cruise (so try for those MUST have hours to begin with and add more onboard.)
Up to 120 days ahead for Concierge and Platinum Castaway Club Guests.
Up to 105 days ahead for Gold Castaway Club Guests.
Up to 90 days ahead for Silver Castaway Club Guests.
Up to 75 days ahead for all other Guests.
6. What they do. Everything. The counselors are angels. You drop off your sweet little babies and you get know rest easy knowing they are in good hands. Little one wants to lay down for a nap? Done. Hungry? They got it covered. Need a drink? Of course. Potty training? They continue the work! Seriously though. They play with them, watch movies, make crafts, Characters come and play with them, they can nap, fed bottles, have snacks throughout the day, and serve meals at mealtime.
7. What you need to know. You provide your own supplies. While they do have food, drinks, and snacks, you will have to bring diapers, wipes, ointments, etc. If you run out, Hakuna Matata, you can buy some at the shops. Children with Special Needs are welcome to the nursery! In stateroom, babysitting is now permitted or offered. You will fill out a form with all medical information, allergies, etc. So they are knowledgable about your child's needs. With the character interaction, if your child has fears, this is a great time to overcome them.
Basically, It's a Small World Nursery is nothing short of amazing. Even the littles get Disney Magic. Your child is completely cared for. If an issue arises they will be in contact with you. I didn't know what to expect going into it, but I couldn't have asked for more. At the beginning of the cruise, my baby was scared of the characters. The picture they took with Minnie, my little was literally running away. By the end, she was running UP to multiple characters. Tiana even told me how she was just in the Nursery playing with her earlier that day. How awesome!
Have you used It's a Small World Nursery? What did you go do? We took advantage of things we couldn't do together otherwise. My name is Jamie and I love all things Disney. I am an Independent Travel Agent with Amazing Magical Adventures and love being a part of the magic. I would love to help you plan your own vacation and help make the memories last. Feel free to email me Jamieporter@AmazingMagicalAdventures.com.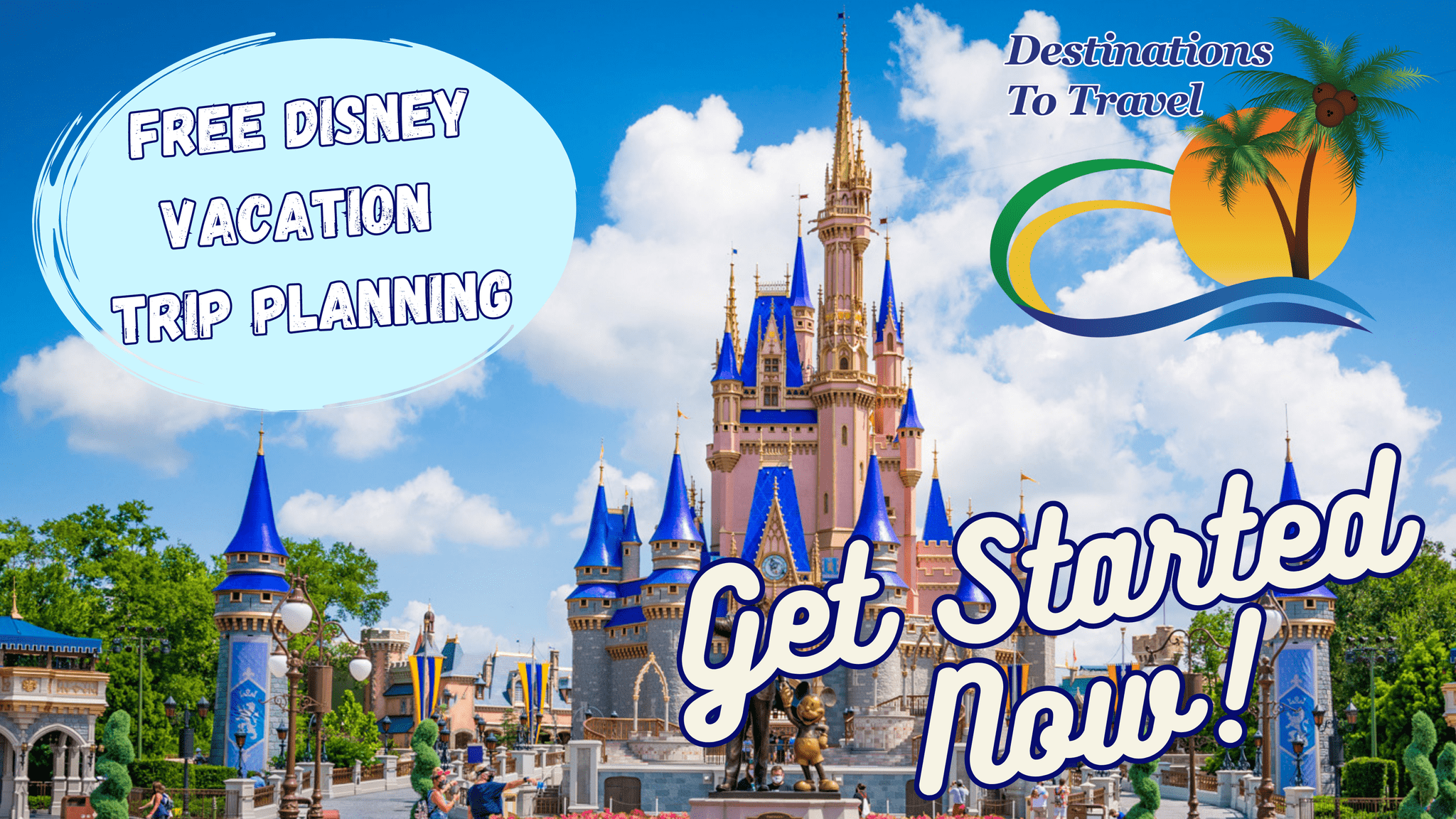 Let our friends at Destinations to Travel help you book your next Disney Vacation. They are the preferred Travel Agency of Chip and Company and Disney Addicts, and who we use ourselves.
Get started Now for your FREE No Obligation Quote.
Book With our friends at Destinations to Travel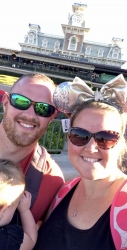 Latest posts by Jamie Porter
(see all)