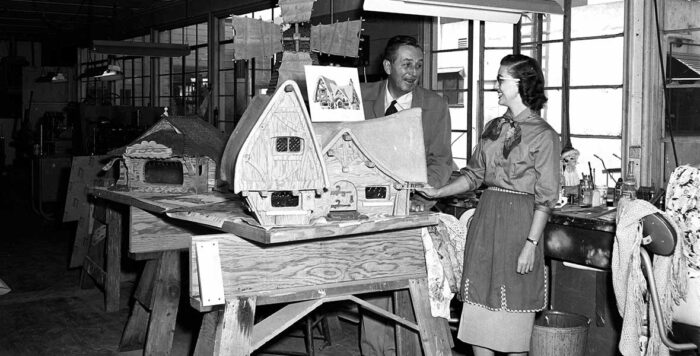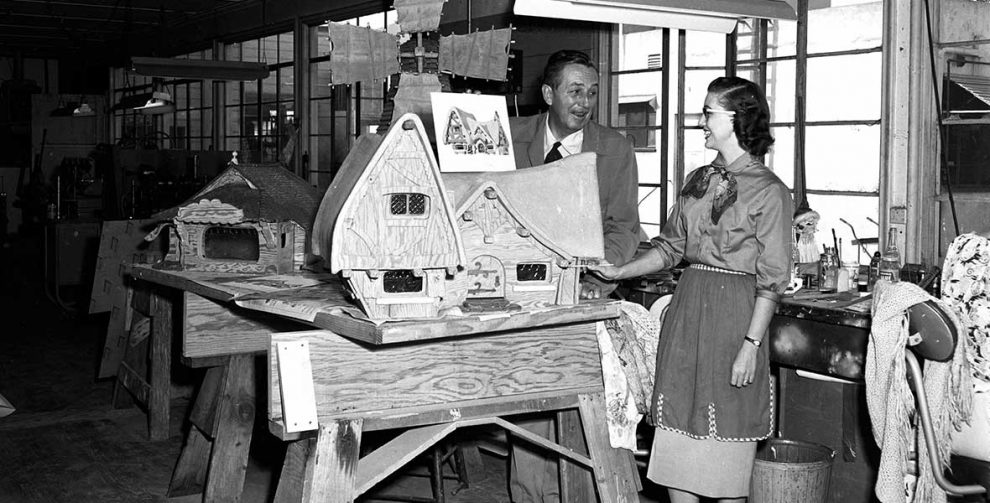 Walt Disney once said, "You can dream, create, design and build the most wonderful place in the world…but it requires people to make the dream a reality."  Harriet Burns, Disney Imagineer, helped create the dream into a reality as the first female Imagineer to be hired by Walt Disney.  Disney Imagineers is a term used by Disney to refer to the designers, engineers, architects, technicians, and others involved in creating the Disney theme park experiences. The term Imagineer is derived from the words imagination and engineers.  Originally known as WED Enterprises after Walter Elias Disney, the team was changed to Walt Disney Imagineering in 1986.
Harriet was born on August 20, 1928, in San Antonio, Texas.  Harriet later received her bachelor's degree in art from Southern Methodist University in Dallas before studying advanced design for another year at the University of New Mexico in Albuquerque.
In 1953, Harriet moved to Los Angeles with her husband and daughter where she accepted a part-time position at Dice Display Industries Cooperative Exchange. Here, Harriet helped design and produce props for television's Colgate Comedy Hour.  Also while employed at Dice Display Industries, Harriet also designed interiors and sets for Las Vegas hotels, including the Dunes before being asked to spearhead the creation of a Southern California tourist destination, Santa's Village, located near Lake Arrowhead.
Sadly, Dice went out of business in 1955.  Luckily for Harriet (and us!) a co-employee, who had once worked at Disney, headed back to the Walt Disney Studio and asked Harriet to come along. Harriet Burns was first hired to paint sets and props for the new Mickey Mouse Club television show. She quickly set to work by coordinating the show's color styling. Harriet also designed and built the famous "Mouse Clubhouse."
Harriet later officially joined Walt Disney Imagineering, labeled WED Enterprises at the time, as the first female Imagineer! Here, Harriet burns worked closely with the men in the model shop where she helped create Sleeping Beauty Castle, New Orleans Square, the Haunted Mansion, prototypes for the 1964 New York World's Fair, and more!  Harriet helped design many theme park attractions featured at both Disneyland and Walt Disney World! In addition, she also helped construct Storybook Land, which features miniature villages inspired by Disney animated movies such as Pinocchio.  Plus, Harriet designed all of the "singing birds" in the Enchanted Tiki Room, the first Audio-Animatronics® attraction at Disneyland.  Harriet worked on everything from figure finishing to stage design for attractions featured at the New York World's Fair in 1964, including Great Moments with Mr. Lincoln and the Carousel of Progress. Fun Fact: when Walt would introduce new theme park attractions to television audiences, Harriet would appear on segments of Walt Disney's Wonderful World of Color.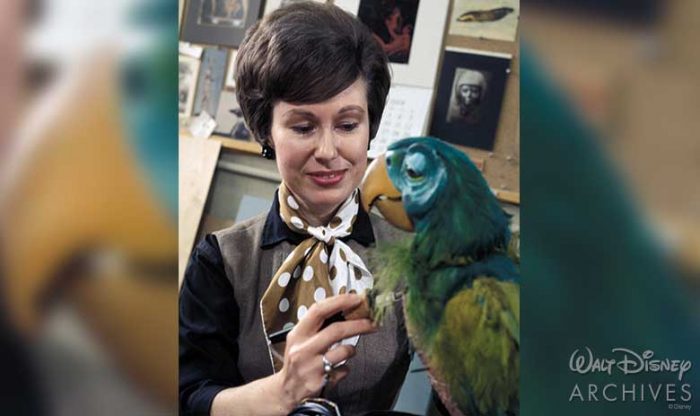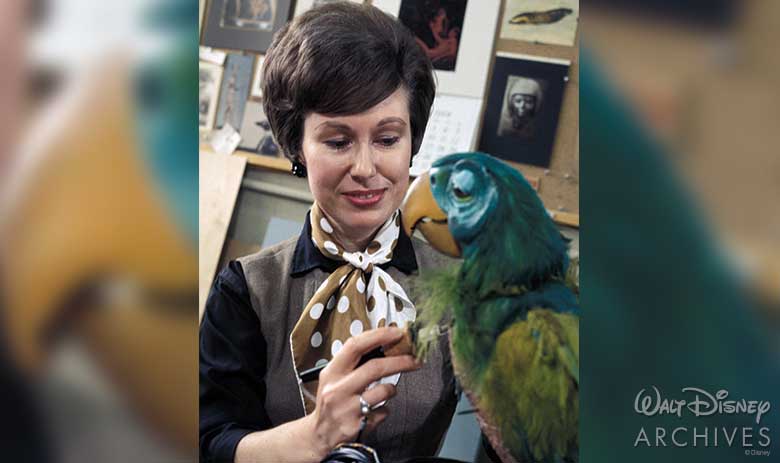 While she worked shoulder to shoulder with men in the model shop, Harriet was often seen wielding saws, lathes, and sanders while maintaining the best-dressed employee in the department.   Harriet later explains, "It was the 1950s.  I wore color-coordinated dresses, high heels, and gloves to work. Girls didn't wear slacks back then, although I carried a pair in a little sack, just in case I had to climb into high places."
Imagineer Karen Connolly Armitage remembers a conversation she once had with Harriet Burns during Karen's early days at WED.  Karen was singled out by a higher-up for wearing cowboy boots and jeans while working in the model shop, instead of the more traditional women's professional wear. When Karen told Harriet of the interaction, she replied, "Well, if he asks you again, you just tell him that if he can come here and work for a whole two days in three-inch heels, then you will gladly put yours back on!"  There is no mention if Karen was singled out again.
Harriet passed her influence onto other future Imagineers that would work for WED Enterprises, including to the Imagineers that worked under her!  Fun Fact: Harriet Burns had originally modeled for the mysterious fortune-teller floating in the Haunted Mansion, but unfortunately her features were too small.  Harriet graciously passed the role to one of the Imagineers who worked under her, Leota Toombs Thomas, whose face you see today in the Haunted Mansion attraction.
Harriet Burns passed away on July 25, 2008, in Los Angeles, California.
Source: D23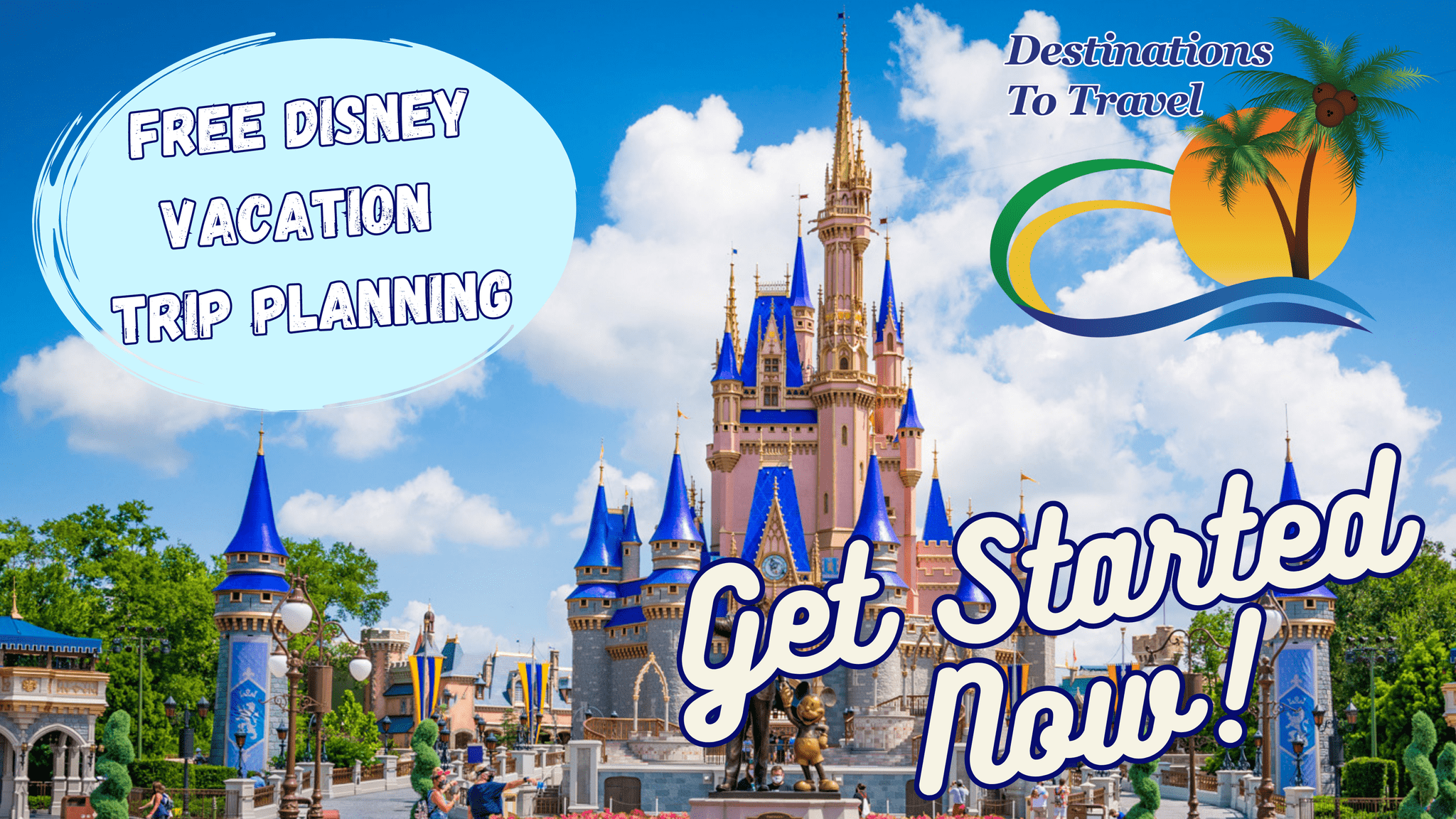 Let our friends at Destinations to Travel help you book your next Disney Vacation. They are the preferred Travel Agency of Chip and Company and Disney Addicts, and who we use ourselves.
Get started Now for your FREE No Obligation Quote.
Book With our friends at Destinations to Travel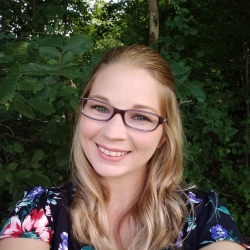 Latest posts by Jessica Jones
(see all)