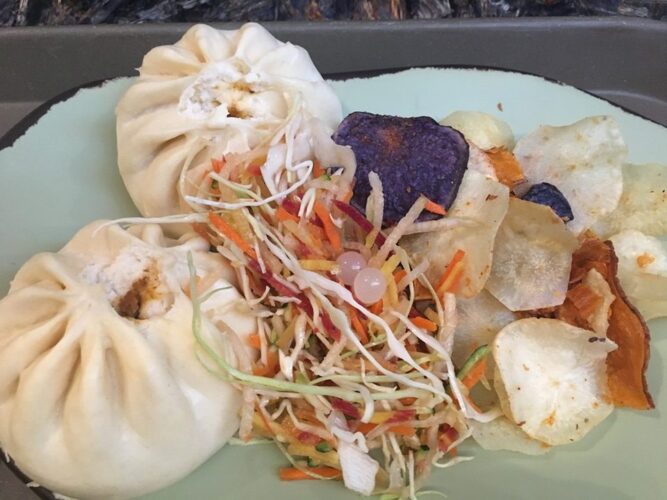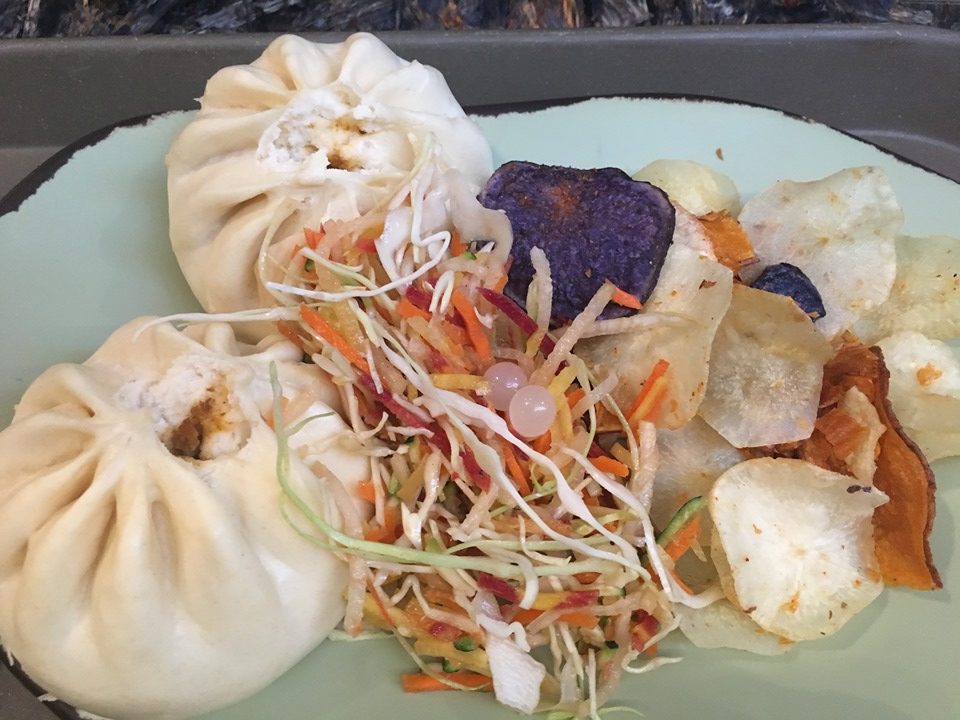 Hands down Satu'li Canteen in Animal Kingdom's Pandora is the best quick service spot in Animal Kingdom. Dare I say it might actually be the best quick-service restaurant in all of the Disney Parks. That might just be my opinion but I will tell you why. The food is delicious, nutritious, and reasonably priced. There is something for everyone here too. Vegetarian, vegan options, and it is super allergy-friendly for the top food allergies, with multiple options. It's a customizable meal so you can order what you like.
The bowls are my favorite. Pick your protein.   They offer wood-grilled chicken, slow-roasted beef, shrimp, or fried tofu. Then you choose your base which they have different options for that. The best is the hash its a combination of potatoes, sweet potatoes, onions, and peppers. Seasoned to perfection. Other base options are the quinoa and vegetable salad, romaine and kale salad and a mixed whole-grain and rice base, or newer to the menu, noodles. They added a new Shrimp and Noodle bowl as well.
You can choose from three sauces that complement these combinations well. A creamy herb dressing, a black bean vinaigrette, and a charred onion chimichurri sauce. All a bit on the zesty side, if that's not your thing ask for the sauce on the side. Definitely try one.   These bowls are then topped with a vegetable slaw with Boba balls that add a little burst of flavor and fun. Costs are between $12.49-$16.99 plus tax. They are filling! Honestly, you can't go wrong with one of the bowls. There are also combination platters if you can't decide or a family meal.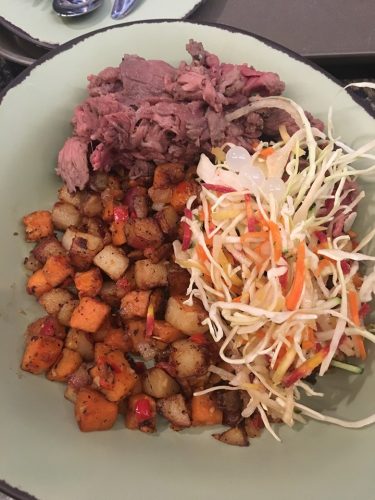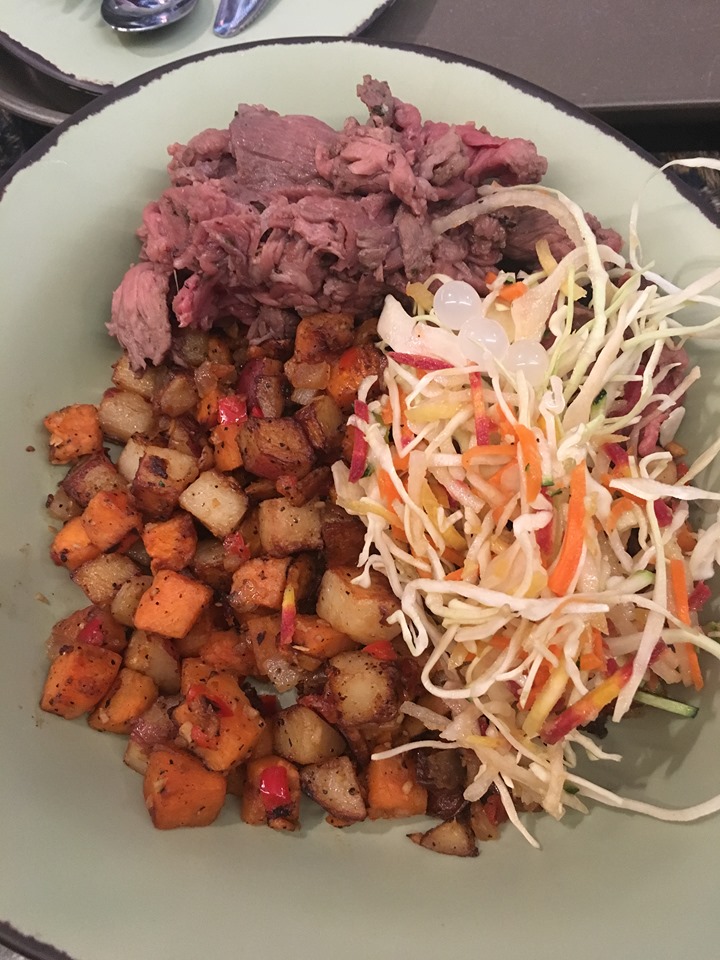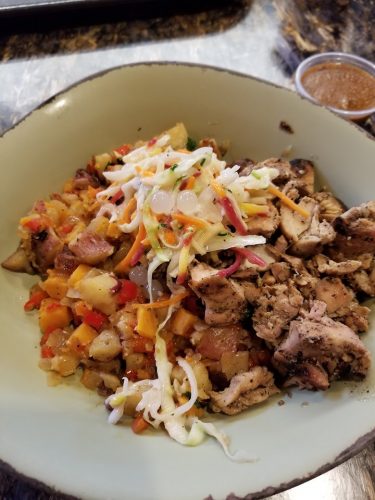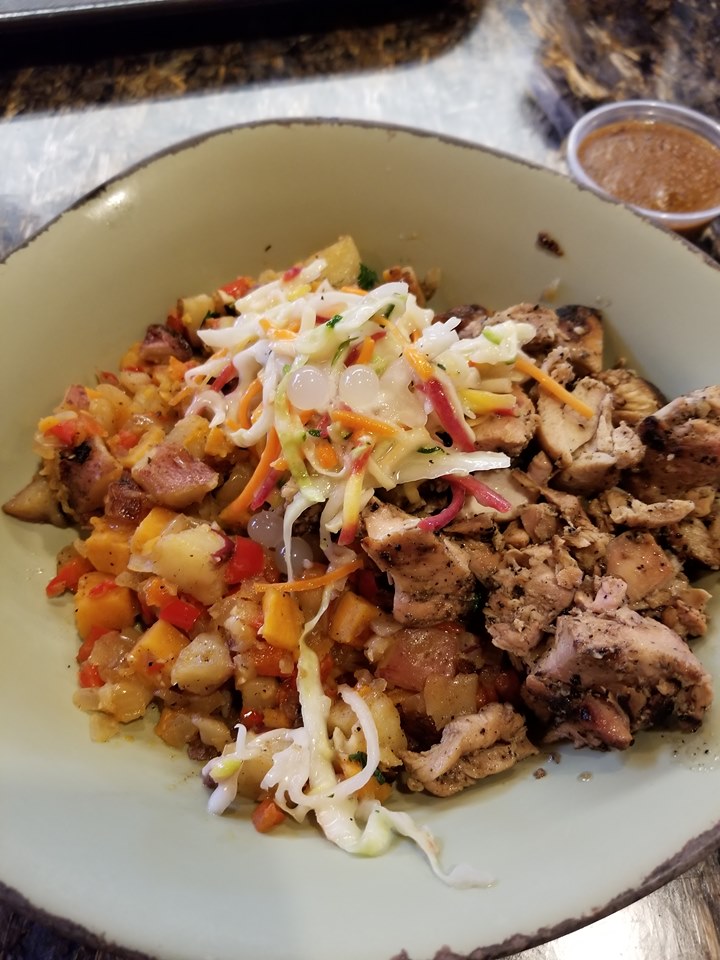 Satu'li has Cheeseburger pods.  Bao buns are filled with ground hamburger. Some people love them. Although interesting, I could go without these personally. The bowls are where it's at. But the chips that are served with the pods are addicting. They serve this in the kids' menu as well as a cheese quesadilla, and a hotdog wrapped in dough.
For dessert, they have some cute little options. The most popular would be this eye-catching blueberry cheesecake with a passion fruit curd. They also have a chocolate crunchy cake with banana cream and goji berries. The drinks should not be overlooked either. My favorite the Pandora Sunrise drink is a very tropical blend of fruit juices with hydrating melon flavored Powerade. They have a selection of beer and wine options, and even have a green beer!
Worth mentioning as well is they have a very large seating area indoors in the cool air conditioning or a large nice and shady outdoor seating area, with a great view of the floating rocks. Most quick-service restaurants don't seem to have as large of a seating area. So this is great. It also has refillable soft drink stations that are lacking in many quick-service spots around Disney. It's always nice to top off your drink before you head back out, especially on the hot Florida days. The thematic decor is also neat and makes you feel immersed in the land as it is supposed to be an old RDA Mess hall from the Avatar movie.
The Canteen also accepts the Disney Dining plans. Don't forget they have mobile ordering available here now, so if you are in a bit of a hurry this is a great option to save you some time. Overall the food here is great. You get your money's worth. You leave full, having had a flavorful, nutritious meal that can satisfy every diet in your party. It's a win-win all around. This is why it gets my vote, and recommendation when we have company and I'm showing them around the parks. It has been a hit so far.
Want more great dining option Ideas, stay connected with Disney Addicts to help you plan your next adventure.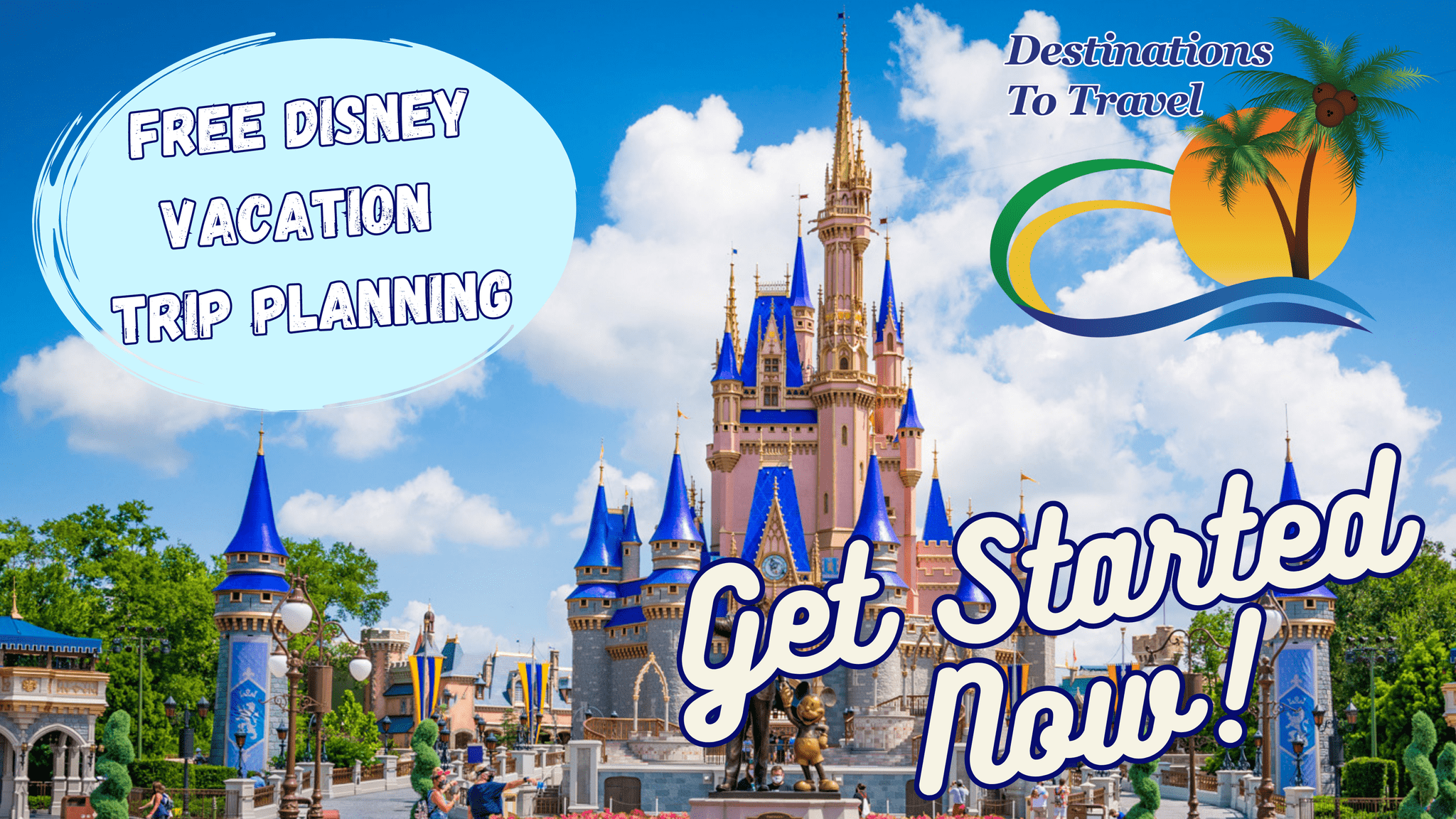 Let our friends at Destinations to Travel help you book your next Disney Vacation. They are the preferred Travel Agency of Chip and Company and Disney Addicts, and who we use ourselves.
Get started Now for your FREE No Obligation Quote.
Book With our friends at Destinations to Travel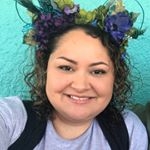 Latest posts by Jenna-Lee Languirand
(see all)